The New Review Hunt is a platform that we can make quests and earn cryptocurrency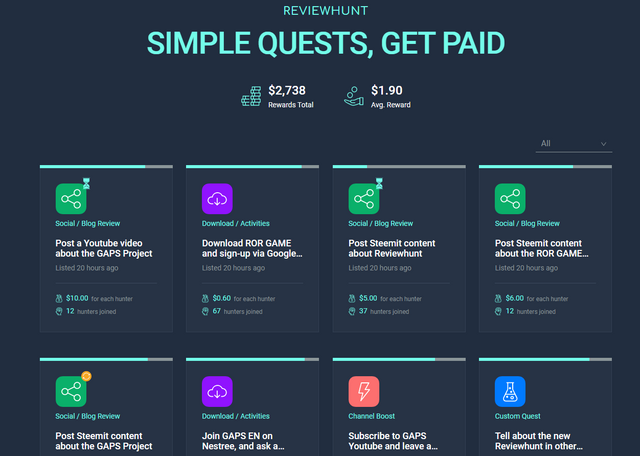 Review Hunt is a new platform that we can earn cryptocurrency
Review Hunt is a platform that we can earn cryptocurrency for doing simples tasks and reviewing products, apps and more, join and start earning cryptocurrency today.
Crypto-Tokens represents a true revolution in the process of buying and selling products and/or services nowadays. With just a few clicks and reduced costs, you can get goods from distant countries, with reduced costs. And best of all, without all the bureaucracy that existed before.
This is not surprising, because due to the decentralization of the cryptocurrency, it has become a very competitive differential for many companies, especially those that operate in the international market.
The evolution of money as we know will change, and the evolution of every industry all the time is fast, this strongly implies that Cryptocurrencies projects, probably in many forms, will be in our future.
USD Point System
HUNT token is a cryptocurrency whose market value constantly changes. So, the current reward unit based on HUNT token keeps fluctuating your actual fiat-reward. We will apply a USD Point-based reward unit system so that the fiat-based reward value will be maintained until you actually withdraw your reward credit into HUNT token.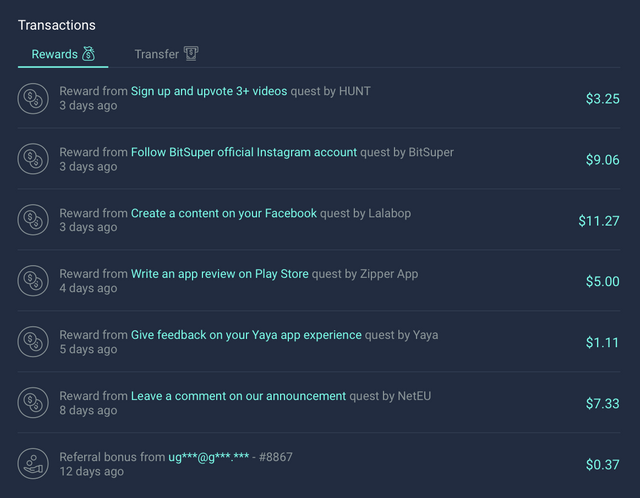 Reviewhunt is built on top of Steemhunt - the biggest tech community in blockchain. Our hunters love to dig out new products and talk about them with others. Over 70,000 new products are shared within the Steemhunt community, and they will be their early users in Reviewhunt.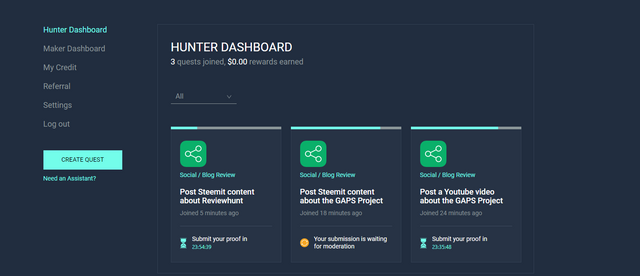 Shorter Payout Period
In the past, you have only got paid after the whole campaign was finished. But some campaigns lasted too long (even more than a month), which led to many issues. In the new Reviewhunt, you will be paid 4 hours after your submission has been approved by the maker regardless of whether the whole quest has finished or not.
Reviewhunt enables tech makers to run review campaigns for their new products with unique quests and mission bounties so that they can easily build a strong early user base and community exposure, hunter are awarded in Hunt tokens.
You can withdraw your rewards into HUNT tokens, but we will also add a gift card and shop to the withdrawal options. These additional options won't be included in this relaunch but will be added soon.
You can convert your hunt token into any currency through exchange.
For Hunters and makers
2,600+ hunters are signed up.
10,000+ quests are performed to help with marketing onboarding of the 30+ newly launched products.
3,400+ social/blog channels are registered with a combined total of 195,000,000 followers.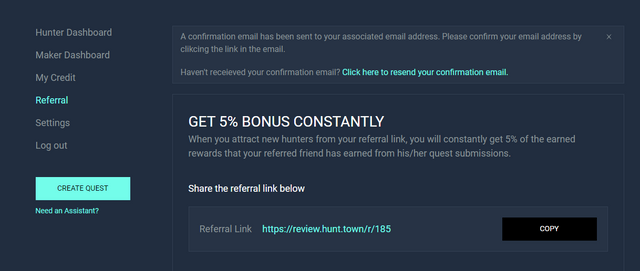 I welcome you, any kind of Bounty Hunter, to meet a very interesting and the unique platform, Review Hunt
Hunters Guidelines
All quests have a set of rules and guidelines called Quest Instructions that hunters who join must follow in order to gain rewards. Makers have the right to reject submissions or deny to give rewards if the hunter has not met the rules and guidelines of the Quest.
Once you have submitted your proof, your submission will wait for moderation by the maker directly. This process may take anywhere from a few hours up to 72 hours. If the maker does not perform the moderation process (approve or reject your submission) within 72 hours from the submitted date, it will be automatically approved.
If you receive a rejection to your submission, you can appeal to change the moderation result if you think the reason for rejection is not valid. You can perform the appeal process via the 'Appeal to the maker' tab on the quest page. When you submit your message and click the Send Email button, your appeal message will be delivered to the maker's registered email.
You will receive the quest reward in the form of USD Point 4 hours after your submission is approved by the maker. The reward will be distributed to your My Credit section on your Profile page. In that page, you can transfer your reward to the equal amount of HUNT tokens (a ERC20 based cryptocurrency) calculated by the market price at the point when you request to withdraw.
Do not submit non-relevant proofs to the quest instruction, plagiarise or fake your content, appeal to the maker without any valid appeal reasons, or interrupt the quest operation. If you do any of these things, we can blacklist your account. If blacklisted, you won't be able to receive Rewards from your Quest approval or withdraw the USD Point displayed on the My Credit section.
Makers can report your submission if they think it is an abusing attempt or your proof submission is far lower than the standard quality. If your account is reported multiple times, you will be banned from using Reviewhunt.
Please check carefully that you are qualified to run this quest. In each quest, there may be specific requirements that define which hunters can join the quest (e.g. device type, minimum number of followers of your social channel, language, etc.).
https://review.hunt.town/guidelines/hunter
---
Originally posted on PH Cripto. Steem blog powered by ENGRAVE.