Last week I recieve the fifth postcard from my postcard exchange experiment. I haven't done a proper analysis but I think this one must have arrived the quickest of them all. Less than two weeks! It came from @dkkarolien in Mauritius. And have you ever seen such a big postcard before!!!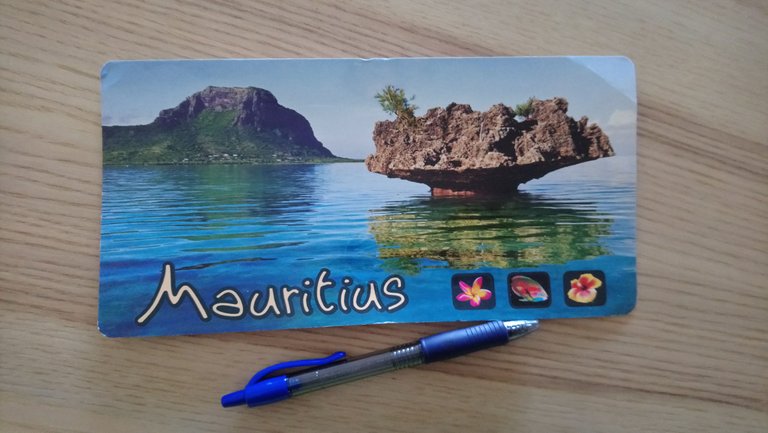 I always get Maritius and Maldives mixed up because they are both in the Indian Ocean and both are famous as a beautiful island. The two are in fact quite far apart. Maldives is above the equator just below the southern tip of India, whilst Mauritius is south of the equator, 3000 km away. I have an ex colleague from UK who's family home is from Mauritius and he has previously invited my over. That's a very tempting offer which I hope I can take up one day. In the meanwhile I am very happy to receive this beautiful post card from @dkkarolien.
The postcard shows the Crystal Rock. My research on the internet tells me that this beautiful natural rock formation sits 200 meters away from the coast in the middle of the ocean. It's formed by carbonate minerals building up layers of rock for which many reefs live off. Apparently Mauritius, being a volcanic island is slowly subsiding and it is beliefed that the Crystal Rock may some day disappear as well. That would be such a pity as it seems like such a unique natural beauty, in the middle of nowhere - literally!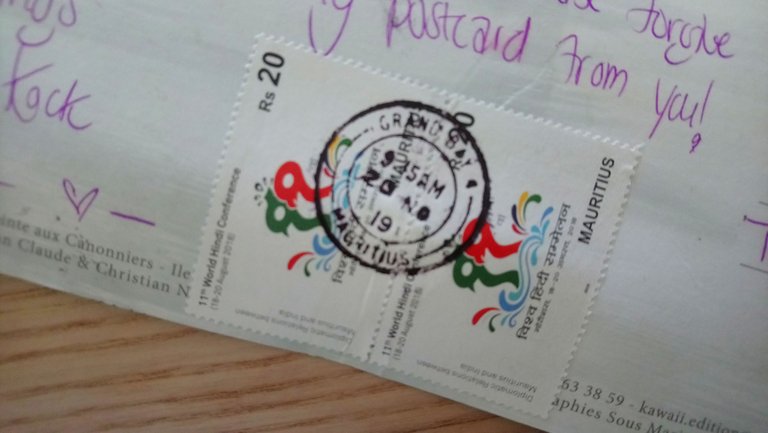 The stamps on the postcard is from the 11th World Hindu Conference held on the island in 2018 summer.
As a thank you to @dkkarolien for taking part in my social experiment, and sending me her lovely and massive (!) postcard, I have set 10% beneficiary of this post payout to her.
---
Last week I announced the Christmas edition of my social experiment. I sent out 7 beautiful Christmas cards to Steemians in Switzerland, Australia, Poland, Venezuala, Philippines, Romania and USA. I hope they will reach my friends before Christmas.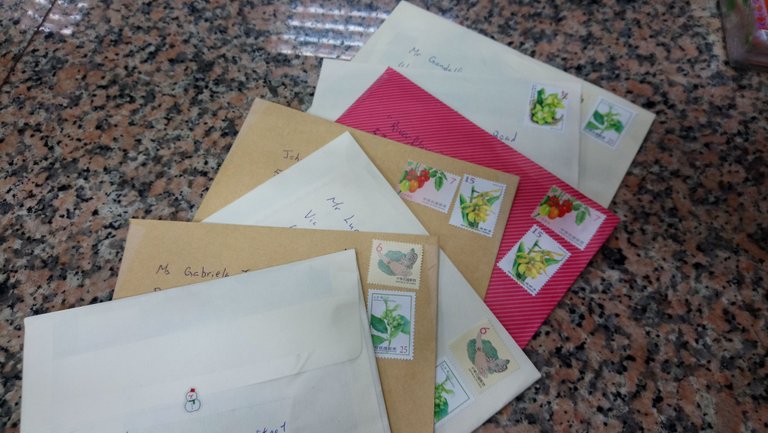 ---
You can find out more about my social experiment here. And if you would like to receive a postcard from me from Taiwan, please do drop me a message on Discord livinguktaiwan#6787 or Telegram @L_U_T or Steemchat livinguktaiwan.
Look forward to hearing from you!!!