Ecovillages.io is the most exciting project on the blockchain ATM, IMO.
@eco-alex seems to be the guy who initiated the project, so kudos to him, although there's plenty of other people involved.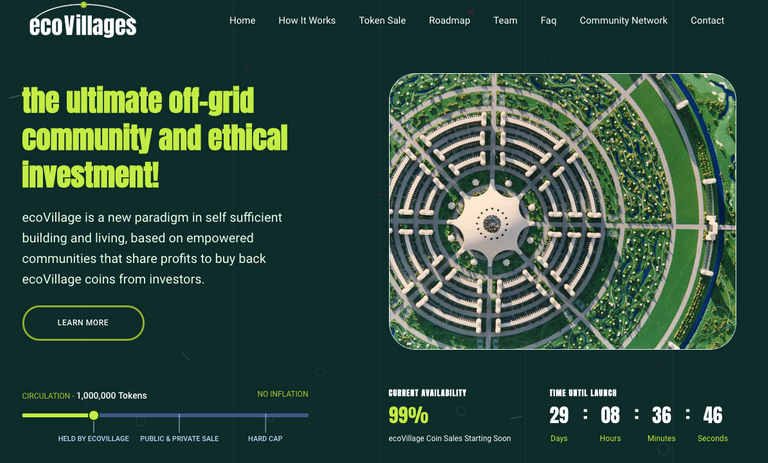 The general idea is to fund the development of a network of eco-villages through the sale of the ecovillage coin to investors, which you can buy right now on steem-engine. I just bought a few myself.
What I especially like about this project is that it's a real world use case for the Steem blockchain – using a Steem backed token to 'disrupt the cost of living industry', with the purpose of helping people to transition out of the usual high wage-high cost of living lifestyle into to a low-cost eco-friendly self-sufficient lifestyle.
I think the plan is that the initial investment in the ecovillage coin acts as seed money for land purchase and then people come together and build their own earth-ships, and from there establish land-based and virtual businesses to generate an income to buy back the ecovillage tokens and provide a return on investment, with a certain amount of income serving to fund further land purchase and carry on the 'cost of living industry disruption' process.
If I've understood this correclly, then It's an amazing idea:
With land, community, free labour, and time, the construction of earth ships and attendant eco-infrastructure (trees/ off-grid energy/ yogalates) we remove the mainstays of what I've long called (following Early Retirement Extreme guru Jacob Lund Fisker) 'the lock-in' – we remove the need for a mortgage, the need for individualized forms of transport (because people work on site), the need for high energy costs, and the need to pay for leisure, because meaningful work and community remove the false distinction between work and leisure.
And all this made global and virtuously cyclical via a blockchain.
Turns out that the project has recently had a boost by being gifted land from @orlev and according to the roadmap actual physical construction starts in Autumn next year.

I'd actually watched a few videos by @orlev on YouTube (sss) without even realising he was on Steem, so imagine my surprise when this link unfolded. He's just started doing live streams about Permaculture and his homesteading vision, which are worth checking out:
Harking back to my PhD
The ecovillage.io project actually reminds me of my abandoned PhD (almost 20 years ago now!) in sociological terms, this project, besides being eco-friendly, seems to offer people a real chance to 'decolonise their lifeworlds' (following Habermas) in that it ... (ready for this, irritating academic quote coming up….)
'challenges the environmentally destructive, inegalitarian distributive, alienating, centralising, rationalising, oppressive, homogenising, hierarchical, individualising, irresponsible and destabilising logics of a globalising political and economic system and corporate-lead media messages which encourage individuals to adopt a number of systems-legitimating identities as...
consumers, purchasing not only unnecessary items, but also accepting that they should consume as individuals via market mechanisms
as responsible reflexive actors dependent on expert advice and welfare systems
as largely passive political agents who limit their political agency to voting infrequently
as full-time career oriented individuals, needing to retrain to orient themselves to a volatile, unstable labour market
as vulnerable, in need of therapeutic (expert) assistance and
and as privatised, seeking meaning in family and friendship relationships which are fundamentally mediated by consumption practices.
In contrast, eco-villages have the potential to articulate a critique of the scale, structures and logics of the global capitalist political economy and disrupt the way in which global capitalism reproduces itself in the minds of individual identities at the level of the lifeworld.'
That was actually a slice of my PhD upgrading paper, and TBH reading it back I'm
A bit embarrassed because I'm obviously trying way too hard to sound academic
Kind of glad I had to quit shortly afterwards because I couldn't afford to carry on.
I think these days I'd be more inclined to say that this eco-village project looks nice because it's just a bit more human than interaction as usual in mainstream society!
NB
I'm not saying ecovillage.io actually stands for any of that (but it seems to on reading through the website), moreover (and importantly) it actually seems MUCH more focused on just the positivity of getting building an alternative and letting the critique take care of itself, which is easier on the head, heart and spirit, and which I'm totally down with these days!
A volunteering opportunity next autumn...?
If yer interested in volunteering to help build an earth ship later this year, this looks like a great opportunity!
I'm actually currently planning on getting the fuck out of England and probably head to Portugal anyway from spring/ summer next year anyway, and this looks like the best possible place to go! If they'll have me, I've no idea how open the invites are gonna be, and its not as if I've got any building skills - but I'm fairly sure I can figure out how to ram earth into tyres and the rest will just follow...