We just returned late Sunday evening, from our annual camping trip with the HEN (Home Education Network) of Ireland in the beautiful County Meath in Ireland. When the kids were finally in bed after a few long, exciting days, and I was wrecked. The car's unpacked and two huge heaps of laundry slowly diminishing, but I'm taking my time. I'm still recovering and catching up on sleep, and need some time to reflect and get back to myself.
To think that this year, we almost didn't go! I have been so busy lately, and the thought of having to set up tents, run around meeting people and to see if the kids are OK (and not in the lake somewhere, or stuck in a tree), sleeping in the cold, damp Irish outdoor climate and then packing it all up again after 3 nights, didn't entice me this time around, but I am SO glad I decided to go again this year.
We were off to a slow start. Only my daughter @skysika seemed to find old and new friends fairly quickly, but she always has. @marvelexpert was hanging around me for the first few hours, complaining: "I don't have anyone to play with..." I assured him that we were early and a lot of people wouldn't show up till the next day and that he'd be fine.
I challenged him to a game of table football in the big hall of Drewstown house and about 2 minutes into the game, a boy about my son's age gave the game some side-ways looks while he walked up the stairs slowly.
When I asked: "Would you like to play?" He put a huge smile on his face and joined my son. The rest of the evening the two of them were running around as if they'd known each other since birth. 'The: I-have-no-friend-problem tackled'
(GO friend-finder mommy!).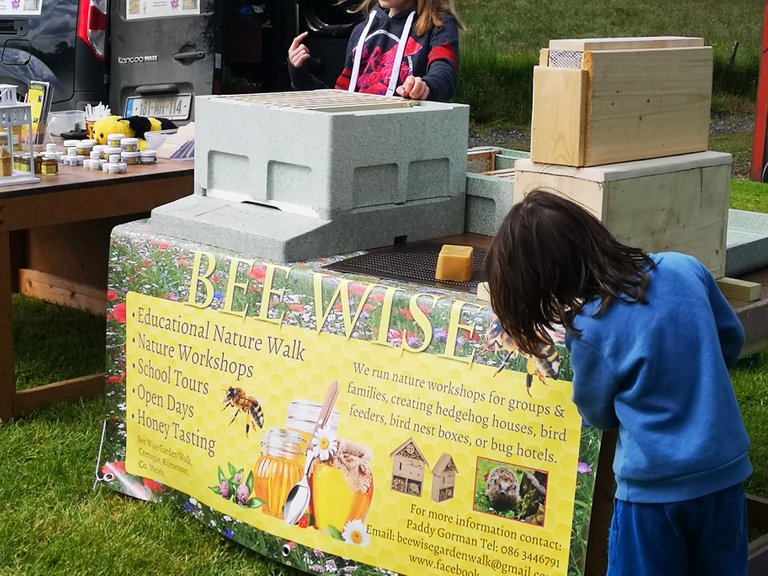 Bee keeping presentation
My youngest...well, what can I say? He turned 5 yesterday, and even though he's more independent than he was last year, it's really not the age to just let him run wherever and whenever without supervision. There's some dangers lurking at the campsite: one is a big lake and the other is the forest around the place. Both are places very attractive to a boy that age, but not good for the mother's heart. I still have to keep an eye on the bunch, just to make sure they're not in the lake (it's still damn cold) or stuck in a tree somewhere LOL.
For my youngest, this meant pretty much all of Friday and all of Saturday I was running after him or looking for him.
I sure had a great work-out!
On Saturday I knocked my knee into one of the wooden benches while carrying my youngest out of the restaurant area (he fell asleep), so I was happy that he stopped his running, because I was limping after that LOL.
History through weapons
This was really cool. The organization had arranged for a man to come down to tell the kids a little bit about history. However, not the 'regular' history, but through weapons. He had all kinds of weapons with him to show the children, and they were allowed to hold them or even wear the gear. This way, he told us about weapons used throughout our history, from the earliest days until now.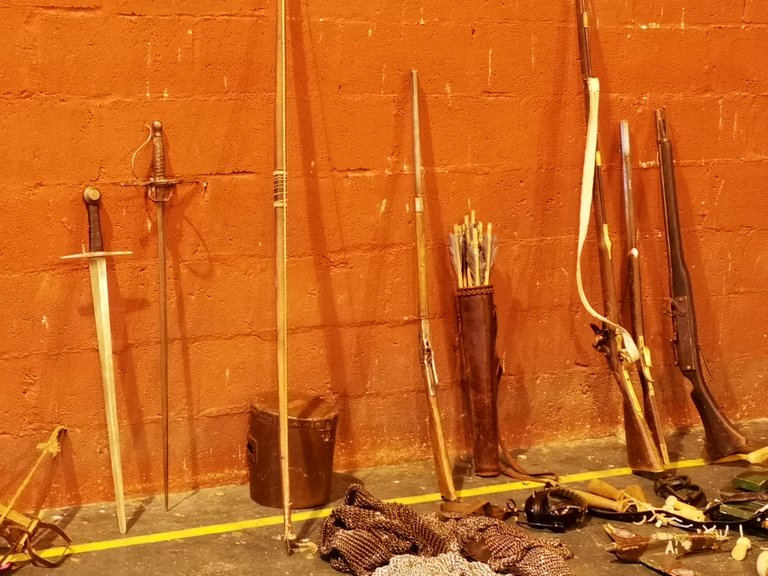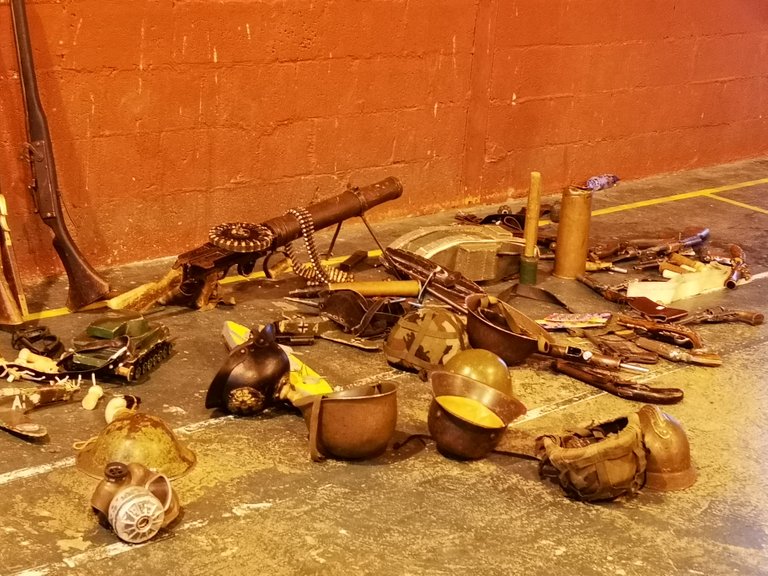 One of the highlights for me was probably the drum circle they had organized. It was so great to bang away on one of the African drums and just enjoy the moment. I recorded the session, which was pretty much improvised except for a few 'highs and lows' initiated by the leader, I'll see if I can upload that later.
On Saturday evening, each year there's a talent show. No prizes to be won, just the kids showing their talents.
My daughter and her friend did a song where she was singing and her friend dancing. They only practiced for about 2 hours and were great! So many talented kids out there showing us their talents. It was amazing to see what they come up with if you let them.
Another highlight was us meeting a great new family. My son hit it off with their son right away. They only just moved from the UK 2 1/2 weeks ago, although the father is Irish (A Kerry man). I had already met the mother the night before, when I was sneaking a cigarette in between running-after-son sessions, but I never really got to talk to her.
The next evening, I needed to charge my phone and ended up sitting at their table chatting with them.
The conversation led to Steem and cryptocurrency (as with pretty much all my conversations LOL).
Suddenly the mother was more than interested. She wanted to know more when she heard about the possibilities on the blockchain. Long story short: we're going to visit them in a few weeks time so we can have a proper talk about it.
She has been looking to start a charity in humanitarian aid and sees some potential here. Well, there sure is.
They asked me why I didn't do a talk at the meeting. I had thought about it, but so little time to put things together for that. However, it did give me the idea to try and talk to the several different homeschooling groups here in Ireland, maybe organize some meetups and tell them about crypto. Also for the teens who are homeschooled.
So you see, a thing we almost didn't go to, ended up turning into something quite productive and surely got my creative juices flowing.
Homeschooling camp for the win!
Thank you for reading!