Last week Thursday, that is last week, not last Thursday, our electricity kept tripping and the whole house without electricity. The lights were still on, since they're on a different line somewhere. But annoying nevertheless because it meant no fridge, cooker, TV or internet. And all that in the soaring Irish heat that we have been experiencing here. ☀️😂😆 By the way, 'soaring' heat here means around 22 degrees Celsius, but with the humidity it feels like it's 28, at least...
Anyway, not a great time to be without electricity, but at least I didn't need to have the fire on (the pump runs on electricity too) but this also means: no hot water.
On the same day, I walked into my bedroom and notice about 30 wasps either dead or dying. Strange. Maybe one of the farmers in the area had been spraying and they decided to fly into my open bedroom window and die in my room. So I didn't think any more about it.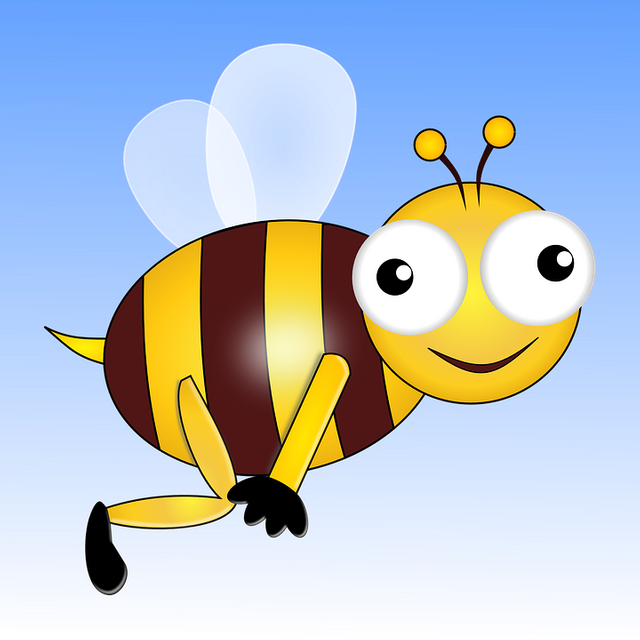 source
The electricity would come back on if I turned the switch, but soon the thing was tripping every minute or so.
After an hour of wondering and checking all the plugs in the house, I decided to check my bedroom again, only to find another 20 or so wasps just blindly walking around or dead. Strange, really strange...
But then I look up at the ceiling where the boiler pipes go up into the attic and see a spark and BAM, the electricity is off again.
So: there was a wire somewhere that's bare, and the wasps were coming from the attic. 😱 Crap!!! Not a place where you want a wasp nest to be. And of course the wasps were dying... They were getting electrocuted! Surprising to see how long those buggers can still survive after that.
So I called the exterminator and got in touch with the landlord for the electricity.
Of course no electrician will even go near a place that has wasps building their nest, so the exterminator had to come first. On the phone he informed me that I needed to be sure they were there because even if he wouldn't find a nest, he'd still charge me. The landlord was getting in touch with his trusted electrician and he'd get back to me.
One week later...🐭🐝
Yes, that's how long things can take here. Finally the electrician was going to come. I didn't get into the attic, but took a video that didn't show any visible signs of a nest or even wasps flying around. I wasn't going to pay the exterminator 60 Euro just to tell me that. But when the electrician came last Friday (read: 8 days without electricity) he did find some wasps, so he wasn't touching the wires.
He said there was a wire and some proof of rodent activity, so possibly the wasps had attracted mice and they happily chewed their way through the wires.
The wasps saved us from doom
OK, so it's not that tragic, but to be honest: if those wasps wouldn't have alerted me of the bare wires, who knows what could have happened...with sparks in the attic full of insulation material...
It would have been a different story if I would have had to call the landlord to inform him that unfortunately his house had burned down to the ground...
The tale of the exterminator and his bees
So I am on the phone with an exterminator again, a different one this time, since the other one seemed to be a bit of an extortionist aside from anything else.
I had a good chat with him about the situation and he decided to send his colleague out that same day. He didn't want to see us without electricity any longer! Bless him.
The guy that showed up asked if I could show him any of the dead wasps.
He took one look at them and said: they're honey bees. So I asked: "OK, are you sure because I am quite certain they're wasps." He goes: "No, wasps have yellow." "Yeah, but I've seen some yellow stripey things too." But he was adamant that they were bees.
Now, I thought my wishful thinking had brought them to me, because I've always wanted to keep bees. Just not in my attic.
Meanwhile, my problem didn't get solved of course, so I got in touch with my friend, who has 4 bee hives on her roof and has been working with a bee keeper on this. She got in touch with him and they came down today.
(10 days no electricity, meanwhile I pulled a cable from the shed to have at least the fridge on and the possibility to charge the laptop and phone).
This morning, two men and my friend came in all suited up in bee keeping gear. I told my youngest it was the Ghost busters...😂
So after some talk, I showed them the dead 'bees'. Guess what? NOT bees. But WASPS! Long story short, they happened to have some bug killing spray and helped me out of a hopeless situation. I hate having to kill anything, but this was a situation that wasn't going to be solved any other way. RIP poor saviour friends. I am truly sorry...
Anyway, here is some photo proof of my wasps/bees/wasps: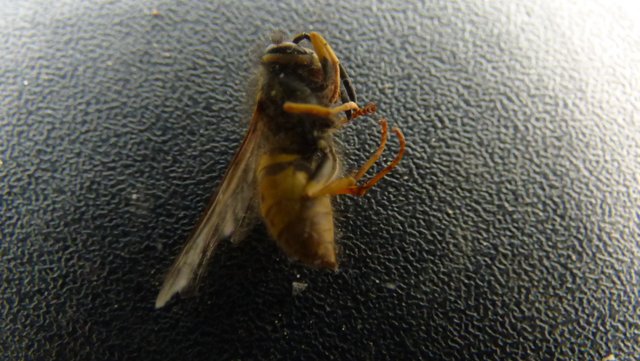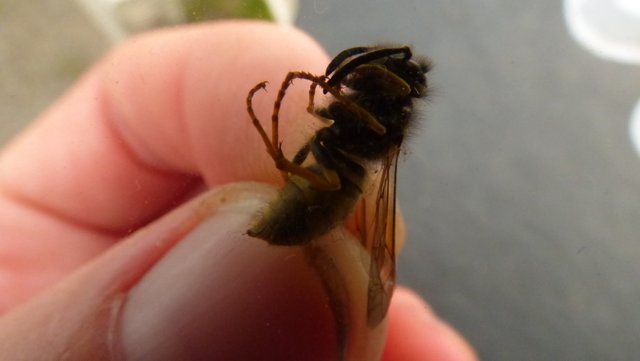 As you can probably tell: Unmistakably WASPS, not bees.
My friend even said: "I thought it was weird, because you would know your bees from wasps." And to be honest, I am relieved, because I took pride in knowing the difference. Even as a child, I used to point out to other kids that when they were screaming they saw a wasps, that they were in fact bees and nothing to worry about. I had started to doubt my self, but had been right all along.
I am going to send the exterminator a text to tell him he should send his colleague back to biology class and hire me instead 😆.
The reason why those 'bees' the guy picked up were not quite as yellow, is because they were young wasps that just hadn't earned their stripes yet.
The end of my bee movie
At the same time, I was a bit disappointed as well, since by now I was kind of hoping that the bees could be extracted and since this bee keeper needed space, he would leave them for me to tend to. But maybe one day...
Either way, this past week, we learned a lot about wasps and bees as I was looking up all kinds of information about them. Did you know what wasps eat? I do! They eat the larva's 'poo' which is supposed to be a sweet substance. Then when all the larva turned into wasps, the worker wasps go hungry and that's when they get aggressive. Wouldn't you if you had no food? It sure helped us understand them better.
It was a great week for us unschoolers. We learned about bees and wasps, and also about how much we all depend on electricity.
The electrician won't be coming till Tuesday since it's a bank holiday tomorrow and the poison needs 48 hours to properly work and kill the queen (if it was only that easy for the human version in the UK...)
Our next project will be making solar panels from scratch...
Thank you for reading!