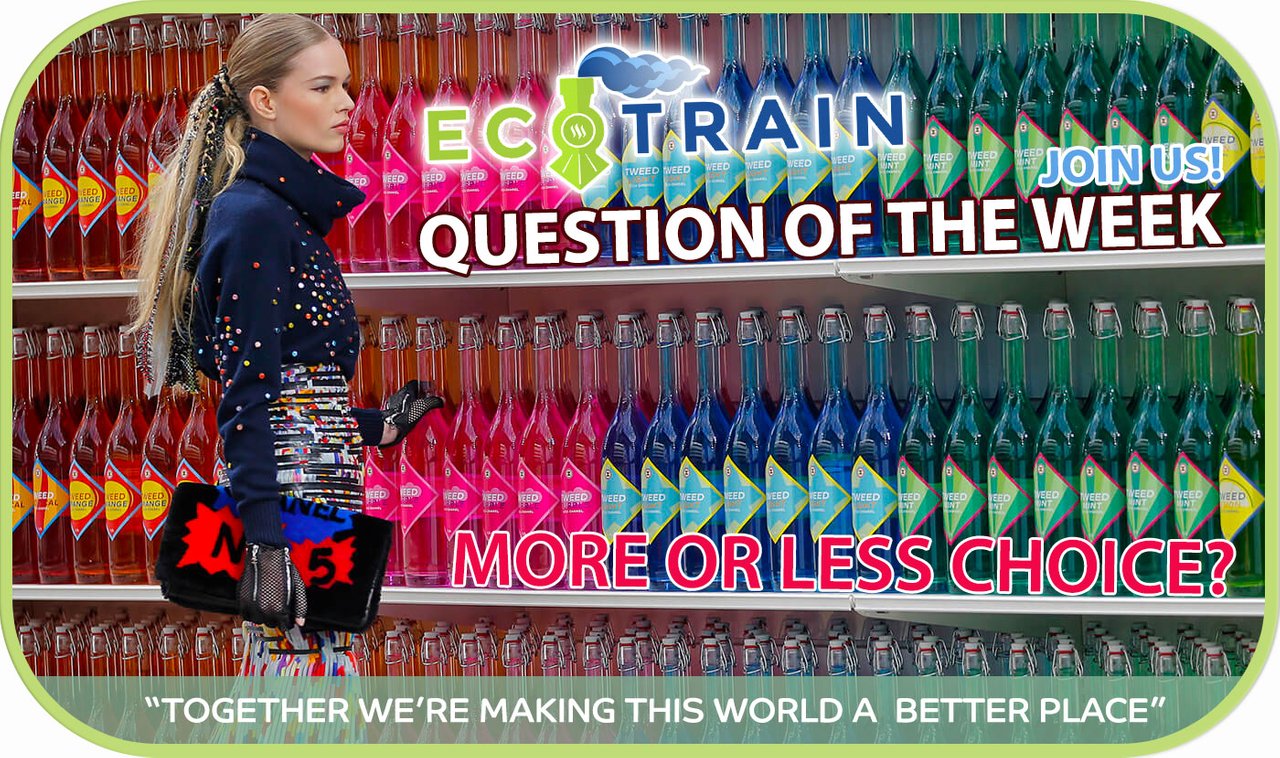 So, the question is.. do you think you are better off with more choice or less choice in life? Do you think we really need choice or does it just spoil us and make life overcomplicated?
This is a really hard question because there isn't any, that i can think of, examples of a proper amount of choices.
Take suburban houses. You want to find the perfect house, but is there really any selection?
In any given sub-division, there are four floor plans. A whole bunch of houses made with the same set of plans. And the suburbs are just a bunch of sub-divisions. Is there really any choice?
Say you want an adobe building, or say you want <gasp> an earth-ship. Are either of these options available?
So, you have lots of choice... that really is no choice.

Another example is the supermarket. Lots and lots of choice... but really, no choice.
Lets say you are upset at Gilette's latest advert, so you aren't buying from that corporation anymore, but at this store, can you really send your money to another group of people? No. You have a choice of five or six brands, that are owned by two or three corporations that are all controlled by one umbrella corp.
And so you are sick of that, so you want a straight razor like your grandpa had...
but there are none there.
You find hordes of disposable razors in every color imaginable. In differing numbers of blades. Tons of choices... that are all the same.

So, you go to the hardware store to buy a saw. And you want a good one that will last years like your father used to have.
Unfortunately, you find dozens of cheap saws with all kinds of various teeth patterns and gimicks and they are all the same quality... meaning, crap. Some say "Construction Grade" meaning that it should last through one construction project.
There are none there that you will pass down to your children.

What we have is the illusion of choice.
We have cheap Chinese crap everywhere by the bucket load.
You used to pay extra for quality, but today, its the same crap, with a different price tag.
So, the QOTW can't really be answered straightly. We are inundated with choices, that are really no choice. And being inundated with choices does make purchasing something, anything, more stressful. It is easy to get overwhelmed with features, and buyers remorse is much more prevalent.
In this way, we have way too much choice.
Seven different brands of water, with a dozen different flavourings added.
An entire supermarket isle of just water... and so you either buy the same thing, not thinking, or stress out over a million decisions. And most of it is the same. Sometimes from the same bottling plant with the same water. (And they don't have to tell you if they put fluoride in it)
All this does is overload your brain and get you to think you are missing out. That you will be unhappy with any purchase you made, and you will think that it is your fault.
So, in our first-world super-market, cheap Chinese goods environment, yes we have too many choices.
But really, we have no choice at all.

All images in this post are my own original creations.
ecotrain image from @ecotrain