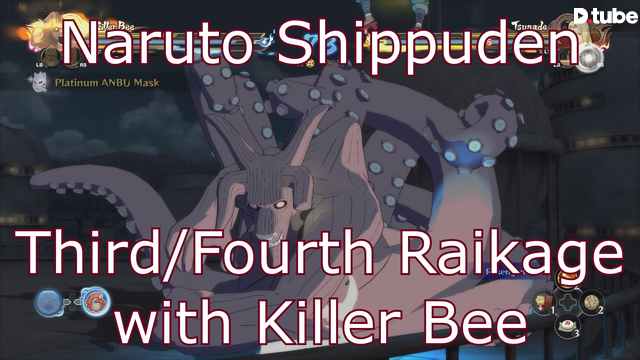 ---
Naruto Shippuden - Third/Fourth Raikage with Killer Bee
---
This is the second tournament I am doing to use a variety of different ninjas, team setups, face different varieties of opponent teams and overall enjoy the game.
For this tournament I decided to choose Third Raikage, Fourth Raikage, and Killer Bee as in the show, they are all family and an awesome team to use. A wide variety of ninjas are available in the game ranging from the kid versions of some, the adult version, other versions appearing in the show and reanimated versions (Edo-Tensei is what the reanimated versions get called).
Third Raikage is the strongest spear and shield and is very deadly and strong, Fourth Raikage is one of the fastest ninjas in the show and game when in his awakened mode, and Killer Bee is the 8 tails Jinchuriki, so he can transform into his tailed beast as you will see.
Watch a variety of moves, attacks and gameplay unfold as I show off the normal ability, ultimate ability, awakening mode WHICH IS AWESOME and what the game is like to play.
Will I win or will I lose? I love playing either way and can keep learning as I continue on with future tournaments.
Video cuts straight into the next fights so it is action-packed! The hardest difficulty provides for some intense fights if you are not careful or they have a better team than you do.
---
Join the OPGaming community, BattleGames community or SteemAce community to find great gaming content and like-minded gamers at the OPGaming Discord , BattleGames Discord & SteemAce Discord



---
▶️ DTube
▶️ IPFS