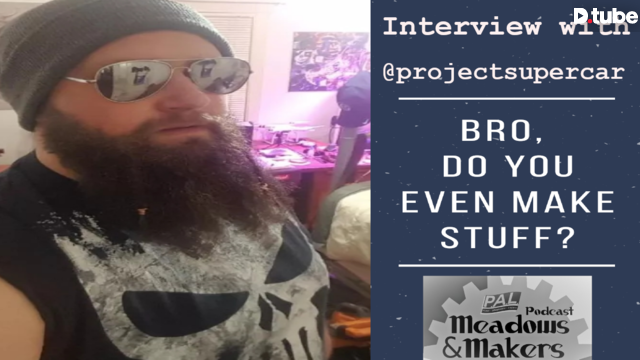 ---
Hello my brothers and sisters of Steemit!
Show disclaimer, the views and opinions reflected on this show are those of the hosts/guest and are for educational and entertainment purposes only.
Many thanks for the title image from @soundwavesphoton.
Show mantra "I will be an inextinguishable light of possibilities for myself and others"
In this episode I have on guest @projectsupercar who has been sharing his journey to build a diy supercar project of his own design on d.tube and Steemit. We discuss how he got started with the project and his vision for turning his prototype into a production kit. This was such a great conversation, and an inspirational project.
We also discussed some interesting topics about choosing to be the change you want to see in this world, solutions to change the current system, and chasing your dreams.
Please see the mirror on youtube if the dtube is not working well:
Join every Saturday 5-7PM UTC for the "Meadows & Makers" podcast. Maker and Homestead guests, Project discussions, Post curation, and Technology news. Join the PAL discord for the full podcast experience, or catch the stream on mspwaves.com.
Maker and Homestead Guests
Makers and homesteaders specialize in making difficult tasks easier through the use of modern, experimental, and well tested technology. We'll chat about their latest projects, interests, and involvement with Steemit.
This weeks guest:
Trying to make my dream, of building my own car, come true.
Aerodynamic Undertray on my DIY Supercar: Prototype Ep12
If you enjoy the show, consider some of the options below to help support.
Check out Steemmonsters! I've been playing and its a lot of fun.
https://steemmonsters.com?ref=makinstuff
If you're looking to onboard new users and would like to support myself and the show please use my referral link! https://account.steem.ninja?ref=makinstuff
Meadows & Makers Challenge Series
All liquid STEEM and SBD from Meadows & Makers posts are used for Meadows & Makers Challenge reward payouts from @meadowsandmakers. The Maker Challenge is a series of maker challenges presented by the Meadows & Makers podcast. Each challenge will allow 1-2 weeks for completion and entry. Top entries are announced on the podcast and rewarded with STEEM. Contact @makinstuff if you would like to donate to the reward pool or have an idea for a challenge.
Previous Podcast Recordings
Previous Meadows & Makers podcast recordings have been posted on @meadowsandmakers and @offgrid-online. Contact @makinstuff if you would like to be a guest on the show to chat about your latest projects and maker exploits.
Listen live on mspwaves.com or from the PAL discord.
---
▶️ DTube
▶️ IPFS