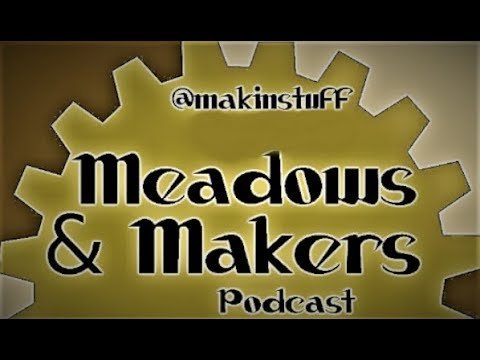 ---
Hello my brothers and sisters of Steemit!
Show disclaimer, the views and opinions reflected on this show are those of the hosts/guest and are for educational and entertainment purposes only.
Many thanks for the title image from @soundwavesphoton.
Show mantra "I will be an inextinguishable light of possibilities for myself and others"
Join every Saturday 5-7PM UTC for the "Meadows & Makers" podcast. Maker and Homestead guests, Project discussions, Post curation, and Technology news. Join the PAL discord for the full podcast experience, or catch the stream on mspwaves.com.
Maker and Homestead Guests
In this episode I start with covering the importance of understanding Natural Law and why having access to Occulted Knowledge may help shift the current power differential for humanity.
I bring on my friend Tyler Truitt to talk about his story of living off grid and to talk about some of the in's and out's of solar Power systems. This is an excellent show for anyone interested in starting their own solar power project. Tyler has recently taken the NABCEP solar installer course and recently launched a company in Huntsville AL called Red Rocket Solar LLC. you can find his website here: https://redrocketsolar.com/
If you enjoyed this podcast check out more related content of my personal journey going off-grid on my blog here: https://steemit.com/@makinstuff
If you enjoy the show, let me know your thoughts in the comments about the show, and any suggestions for guests or topics you'd like me to cover. Give a follow and share these podcasts! Also you may consider some of the options below to help support my efforts by using the referral links below.
Check out Steemmonsters! I've been playing and its a lot of fun.
https://steemmonsters.com?ref=makinstuff
If you're interested in joining Steemit as a new user get an immediate account with steem ninja. A proceed of your sign up will go to supporting my efforts. https://account.steem.ninja?ref=makinstuff
Meadows & Makers Challenge Series
All liquid STEEM and SBD from Meadows & Makers posts are used for Meadows & Makers Challenge reward payouts from @meadowsandmakers. The Maker Challenge is a series of maker challenges presented by the Meadows & Makers podcast. Each challenge will allow 1-2 weeks for completion and entry. Top entries are announced on the podcast and rewarded with STEEM. Contact @makinstuff if you would like to donate to the reward pool or have an idea for a challenge.
Previous Podcast Recordings
Previous Meadows & Makers podcast recordings have been posted on @meadowsandmakers and @offgrid-online. Contact @makinstuff if you would like to be a guest on the show to chat about your latest projects and maker exploits.
Listen live on mspwaves.com or from the PAL discord.
---
▶️ DTube
▶️ YouTube