I'm a sucker for desserts and will never pass on a good one. When I was in Bangkok, some of the Team Malaysia girls mentioned a dessert place called After You, I was there immediately after I found. The shop is inside a shopping mall called Siam Paragon which has a posh gourmet food court.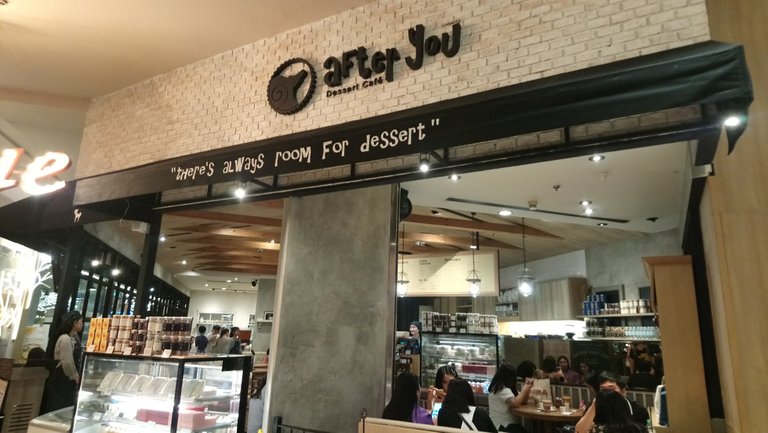 I have no idea why After You was as so popular and what it's signature dessert was, but that didn't matter. When it comes to dessert, I'm pretty easy, there isn't much that I don't eat. It didn't take me long to make up my mind, I just ordered what a lot of other people was eating. Something that I found out from the menu is called kakigori. It came in various flavours, and since I was in Thailand and Thai tea had become my new favourite drink, it was a no brainer to order the Thai tea flavour kakigori.

This is the first time I've had kakigori and to be honest I had no idea what it was. When I dug it, it was yummilicious. It was cold but not as cold as the shaved ice I normally in have Taiwan. With these, you bit into a mouhful of cold shaved ice which is pretty much tastless and too cold for my liking. Kakigori had a creamy texture, softer and smoother than ice cream but still very firm. I've never had anything like that before and I was hooked immediately. The portion was very generous and came in a mini mountain, and had bits of bread and grass jelly at the bottom to add another dimension. You'll be pleased to know I did share my dessert, though I could have easily clean the portion myself!!
I wish After You would come to Taiwan.... one can only hope. In the meanwhile, I'll keep watching my video, you'll understand how good it is when you watch it.
ps Thanks to @elizacheng and @khimgoh for the recomendation
---
▶️ DTube
▶️ YouTube
---
Check out all my travel posts here on Steemit Worldmap, and also my latest project @LadiesOfAsia where we share fun and cultural diversity across Asia Pacific.