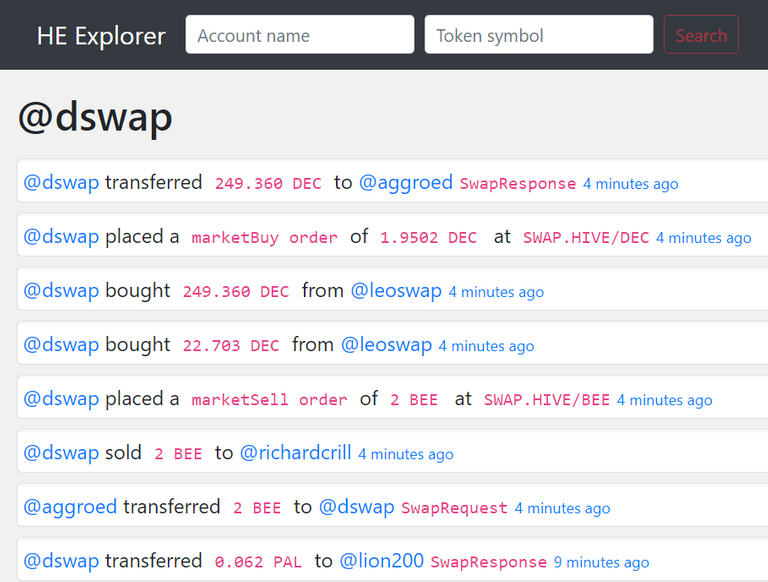 I've been waiting 6 months to show this screenshot and I gotta say I'm thrilled! I just submitted my first market taker job on Hive-Engine via DSwap. But let's cover some basics again.
What's a hive-engine?
It's a smart contract platform built on top of Hive. It allows creation of fungible tokens and non-fungible tokens and we're rolling out a lot of modular smart contracts to power no-code, gasless, and easy to create applications.
Hive needs people, people need entertainment and services, Dapps provide that, but we need to make it easy to create them here. Thus Hive-Engine (if that sounds important to you please vote my upcoming [proposal(https://peakd.com/me/proposals))
What's a Dswap?
https://dswap.trade is a tool for the hive-engine ecosystem. The two key parts are a market maker and a market taker.
A market maker is automated software to put bids and asks on either side of a trading pair with intent to skim a little off the top from trading. Essentially money sloshes back and forth and you get a cut when it does. Example: buy DEC for X swap.hive and sell DEC for X+Y swap.hive.
A market taker is automated software to execute trades from available bids and asks. In the example above I input 2 bee and the software traded it to swap.hive and then followed up by trading it for DEC.
What happens when the market maker and taker are available?
Users can convert between currencies conveniently and market makers start earning more as volume scales. Also, as it gets more efficient converters start saving money. There are expensive exchange services that charge up to 10% for this kind of trade, but if your money is already on Hive-Engine something like this is free minus slippage! If a crypto is not on Hive-Engine the fee would be 1% coming in, trade slippage, and then 1% on the way out. The more market makers that are here the closer to 2% max trade we can get.
I went to dswap... but I don't see anyting!
Right, so, this is still kinda test mode for a little bit longer, but I'm giving notice that I performed my first dswap trade!
Why does this matter?
Think about NFT showroom. We get users from everywhere. We want them to be able to pay in whatever currency and get whatever currency they want. Having a Dswap allows us to add in some middleware that apps might want to use to convert between currencies and tokens that saves them from having to build the damn thing.
In essence it's a money making thing for some, a money saving thing for others, a convenience tool for outsiders, and a dev saving lifeline for apps built on hive/hive-engine.
Anyway, if you think services like this are important to the ecosystem or if you think you benefit financially by having the apps I build on Hive exist here then kindly vote my witness. I've been out of the top 20 for a while now...