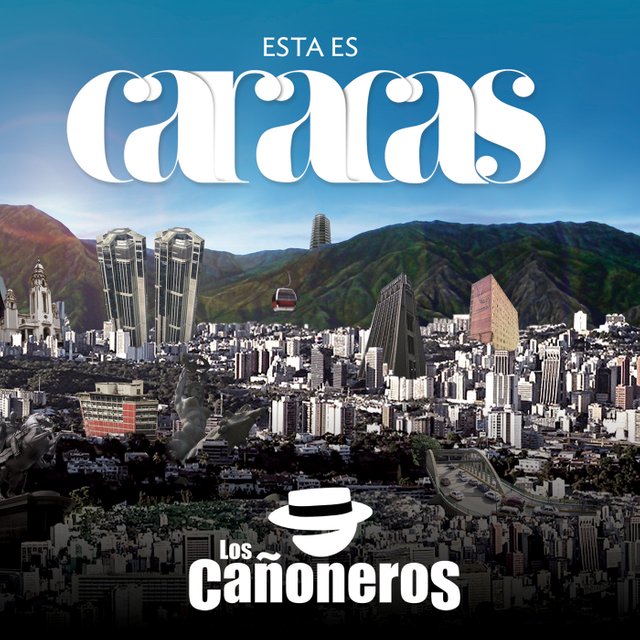 ---
As promised, I am publishing the entire discography of Los Cañoneros. Today I start with the first song of the album Esta es Caracas, with a selection of the most emblematic songs of Caracas, the capital of Venezuela.
From this song a semi instrumental version became very famous, but we wanted to recover the full lyrics. The author is a Costa Rican who lived most of his life in Venezuela, was the author of great successes, not only in Venezuela, but international, such as "El cacharrito", popularized by Roberto Carlos, and "Limón Limonero", success in Henry Stephen's voice.
Song: Bella Caracas (Beautiful Caracas)
Album: Esta es Caracas (This is Caracas)
Rhythm: Pasodoble
Author: Johny Quirós
Group: Los Cañoneros.
Year: 2015

Español
Tal como lo prometí, estoy publicando toda la discografía de Los Cañoneros. Hoy empiezo con la primera canción del álbum Esta es Caracas, con una selección de las canciones más emblemáticas de la Caracas, la capital de Venezuela.
De esta canción se hizo muy famosa una versión semi instrumental, pero nosotros quisimos recuperar la letra completa. El autor es un costarricense que vivió la mayor parte de su vida en Venezuela, fue autor de grandes éxitos, no solo en Venezuela, sino internacionales, tales como "El cacharrito", popularizado por Roberto Carlos, y "Limón Limonero", éxito en la voz de Henry Stephen.
Canción: Bella Caracas
Álbum: Esta es Caracas
Ritmo: Pasodoble
Autor: Johny Quirós
Grupo: Los Cañoneros.
Año: 2015

Deutsch
Wie versprochen veröffentliche ich die gesamte Diskographie von Los Cañoneros. Heute beginne ich mit dem ersten Song des Albums Esta es Caracas, mit einer Auswahl der emblematischsten Songs von Caracas, der Hauptstadt Venezuelas.
Aus diesem Song wurde eine semi-instrumentale Version sehr berühmt, aber wir wollten den vollständigen Text wiederherstellen. Der Autor ist ein Costa Ricaner, der den größten Teil seines Lebens in Venezuela verbrachte. Er war der Autor großer Erfolge, nicht nur in Venezuela, sondern auch international, wie "El cacharrito", populär gemacht von Roberto Carlos, und "Limón Limonero", Erfolg in Henry Stephens Stimme.
Lied: Bella Caracas (Schöne Caracas)
Album: Esta es Caracas (Dies ist Caracas)
Rhythmus: Pasodoble
Autor: Johny Quirós
Gruppe: Los Cañoneros.
Jahr: 2015


@ylich
http://ylich.com
https://sptfy.com/ylich
http://www.loscanoneros.net
https://sptfy.com/loscanoneros