Wanted to clear some things out that I've been reading lately. I understand many may be frustrated about downvotes on their bid botted posts and keep bringing out a lot of excuses, the content, their powerups then moving onto looking at our activity, our history of selling votes and thinking that we're doing this because of some ulterior motives that may benefit us. It's getting pretty exhausting and while I'm not here looking for some sympathy cause I understand it's something that has to get done I just want to try make things more clear and our perspective on it.
Doing these downvotes is not something we enjoy, we are minding the content a bit more than we did in the beginning and giving out lower downvotes based on that but the main point is that being able to purchase profitable votes is unsustainable and unfair in more ways than just one to everyone on the chain.
Another crappy infographic here that I am not sure where I was going with but those who are not exactly sure of how Steem works under the hood, they need to know that the rewardpool is of one size daily and it shrinks every 250k blocks or so of how much Steem it generates. With the current inflation in 16-17 years there will only be around 750 million Steem in existence and the rewardpool will be giving about 16 times less Steem out daily.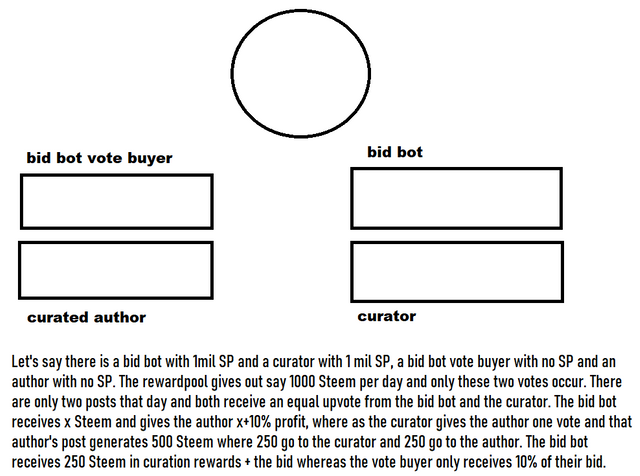 As you can see, the buyer of bid bot votes is not only putting themselves out there for downvotes lately but at the same time sacrificing genuine curation because they decided to purchase votes. On top of that the bid bot now doesn't need to curate because it managed to sell a vote and will attempt to do so again, ON TOP OF THAT the other curator who only received 250 Steem in curation rewards looks at the bid bot owner and thinks "hmm why don't I just delegate to it if it gives me that much higher return" and we're back to pre-HF ideology except that we still have the curve and free downvotes.
Why do bid bots sell profitable votes? Because almost no one is interested in purchasing votes that will cost them for promotion or advertising at this point in time where there are not many users on the Steem front-ends that will view these posts. Why do they sell them even though they know they will be downvoted? Because they still make more returns than just from curation, they get your bid and half of the vote in curation rewards.
Seriously guys you have to try and understand here that being able to just generate a profit by sending a Steem transaction to another account no matter the content is something that happens no where on the internet. Remember those "send x btc and receive 5-10x back" scams? This is basically what's been happening on Steem on a smaller return scale and the only people getting scammed have been those not buying votes and all investors that got rekt by price going down cause this is not something that is sustainable.
Creating an economy where these kind of things is impossible is not easy, no one has done it yet and no one is even close but Steem is attempting to finetune it as well as it can but it can't just magically exist and be perfect. It needs some help by everyone and with the free downvotes we can finally regulate what direct the inflation to as a community so that everyone gets the most out of this ecosystem and not just those looking to extract value with as little to no effort just because they know who to buy votes from and beat others to it in the rounds.
Why are we doing this? What's in it for us?
I'm getting pretty sick at all the accusations, saying it's "politics", etc. OCD has been curating on the platform for over 2 years now, we released our bid bot late just to mitigate the ongoing abuse from the other bid bots that were only enriching the owners, the buyers and the delegators. We did that by only allowing curated authors that would provide decent content to purchase votes, took no cut from the delegations unlike most other bots and didn't use OCDB's upvotes for anything other than allowing the users in the whitelist to purchase them at a guaranteed profit.
We could have easily said "fuck the EIP" and continued to sell votes, our authors would surely have received some downvotes here and there but most likely not as much as the buyers from other bots that were unregulated/curated. We could have continued giving our delegators some of the highest returns while no other bid bot could match them and possibly been the last bot standing but that was not the right thing to do in our opinion.
We wanted to suppor the EIP and the unique proof of brain we have here for content discovery and a social media blockchain. There are plenty of proof of stake coins out there and delegated proof of stake, although most are still lightyears away from Steem's tech in my opinion why not go for the value proposition we've had since the beginning that the linear curve and rise of bid bots kind of ruined. I was never even much against the linear curve, we just needed free downvotes but the EIP was a package deal that compliment eachother and work better that way.
Anyway, without sidetracking much. We've decided to just leave short comments with a link to my previous post titled "why you may be getting downvoted" in our future downvotes on sold bid bot votes. We can't make bid bot owners be rational and sell unprofitable votes as they know they won't be getting any (selling these votes would make them spend less voting power and have more for curation but they don't care about that cause they want the bids even if it meant getting no CR even if the post gets downvoted to 0).
We are happy that many realize what our downvoting efforts are about, which again, we gain nothing from. In fact it is costing us a lot of time to attempt to "curate" bid botted posts while we still try to downvote the profit away and the amount of time that has gone to explaining to people that like to exaggerate and make a big deal out of it. We could easily have just stopped the bid bot and gone curation while letting our downvote mana stay at 100% like many other curation projects are doing, but this would also be wrong. That would mean we don't care to regulate our platform and want what's best for it, we would just want to be left alone and tend to our profits and growing our project while letting bid bots still reign free undermining the EIP and our currency.
Is it fair that we have to spend this much time and receive this much retaliation and drama in return when trying to do a good thing for the long term of Steem? If you believe us that we have nothing to gain from it personally or ulterior motives then I guess not, but we are okay with it and hope our other attempts at curating, building communities and attempting to bring in more content creators and consumers to Steem will outweigh this blip in what may be considered controversial until bid bots, their delegators or the majority of content creators who still purchase votes have come to their senses to realize that something like receiving a profit from buying votes is unrealistic.
It's only been a little over a month of the EIP and we are happy to see more bid bots turn curation and hopefully only sell votes that are unprofitable in the future if there is demand for actual promotion and advertisement onto trending.
Thanks for reading.