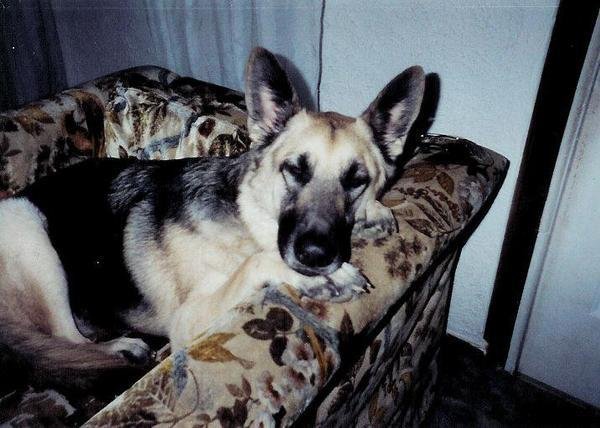 This is Rex, a dog who lived with three cats and so sometimes acted like a giant kitty, as seen here 😄
Hey, Hive fam! I was digging through some old recipes today and unearthed an oldie but goodie for homemade dog biscuits that I thought I would share with y'all. Yes, I have cats and not dogs in my apartment but I grew up with dogs and have made this recipe several times for them, friends and family dogs, and pet sitting client dogs, and they all gave it tail wags of approval. :)
Homemade Dog Biscuits!
3/4 cup hot water or meat juices
1/2 cup butter or bacon grease
1/2 cup powdered milk
1/2 teaspoon salt
2 teaspoons sugar
1 egg, beaten
3 cups whole wheat flour
In a large bowl, pour hot water over butter/bacon grease. Stir in powdered milk, salt, sugar, and egg. Add flour, 1/2 cup at a time, mixing well after each addition. Knead 3 to 4 minutes, adding more flour if necessary to make a very stiff dough. Roll to 1/2 inch thickness and cut with cookie cutter(s)*. Place on a greased cookie sheet and bake at 325° for 50 minutes. Allow to cool and dry out until hard.
*Yes, I totally have biscuit-shaped cookie cutters. 😁
I hope your puppers like this recipe! Have a great day and bark on!