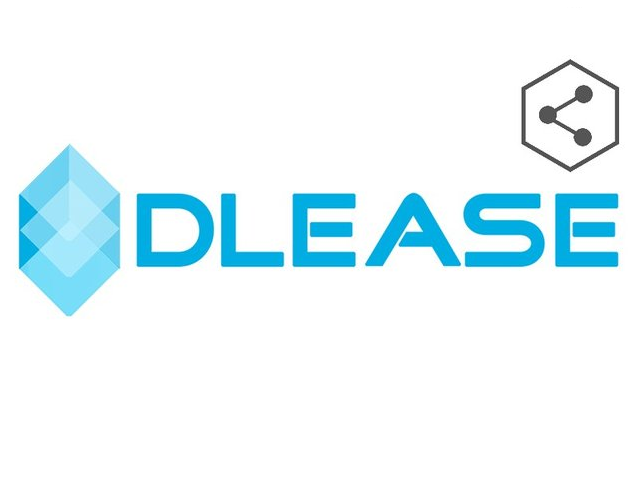 ¿Vio un contrato de arrendamiento que no pudo llenar, pero que conocía a alguien que estuviera interesado?
¿Quiere alquilar STEEM POWER a alguien, y quiere dirigir la atención de la gente a su contrato de arrendamiento específicamente, pero está enterrado en el mercado?
Para hacer más fácil compartir los contratos de arrendamiento, ahora hemos introducido un enlace compartible a cada contrato de arrendamiento.
Una vez que haga clic en un contrato de arrendamiento en el mercado DLease, se le redirigirá a una página que muestra una descripción general con toda la información relevante para el contrato de arrendamiento.
Además, también encontrará un recuadro "Enlace para compartir", desde donde podrá copiar el enlace que le llevará a su oferta de alquiler en el mercado.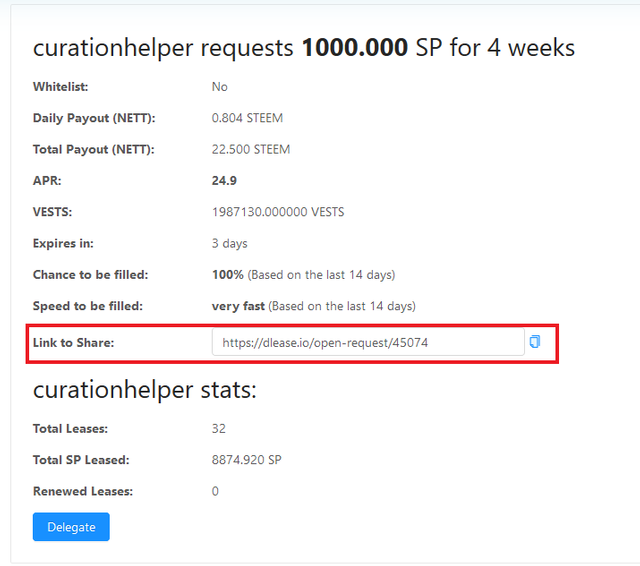 Quien haga clic en su enlace aterrizará en la misma página que usted ve arriba, con la opción de delegar inmediatamente la cantidad solicitada en usted.
De aquí en adelante, funciona como cualquier otra delegación DLease, donde usted se conecta a través de Steemconnect o Steem Keychain, delega el STEEM POWER, y recibe pagos diarios hasta que el tiempo de arrendamiento haya terminado.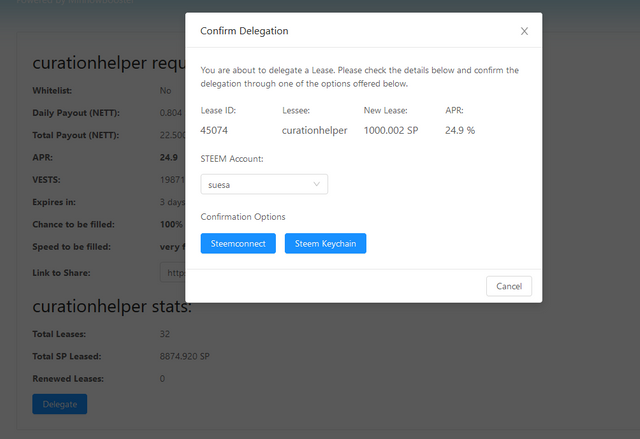 ¿Tiene más preguntas? ¿Luchas con algo? ¿Tiene solicitudes de funciones que cree que DLease necesita?
Contáctenos en nuestro servidor de Discord!
---
Empiece a utilizar el mercado de delegación DLease P2P hoy mismo y aumente su influencia en Steem!
---

| Visite nuestro sitio web para más información! | Suscríbase a nuestro Canal de YouTube |
| --- | --- |
| | |
Configúrelo hoy y contribuya a construir un mañana mejor!


¿Quieres una forma más fácil? Utilice nuestro SteemConnect proxy link


Únase a nuestro Chat de Discordia
Obtenga apoyo y conéctese con nosotros y con otros fans de BuildTeam!



---
Este es un puesto de pago de suscripción de @steemvoter. Gracias a los clientes de Steemvoter por permitirnos utilizar sus cuentas de Steemvoter para votar en a favor de esta publicación en virtud de su suscripción gratuita al servicio bot Steemvoter.com @steemvoter es orgullosamente una filial de @buildteam y un proyecto hermano de @steemsports, @tokenbb, @ginabot, @quicksteem, @minnowbooster y @minnowmonsters.
---
Disclaimer: This is a commissioned Spanish translation post authored by @lanzjoseg. Although this content has been checked with Google Translate, we cannot confirm it is 100% accurate, please feel free to verify against our original Steem post in English.
Descargo de responsabilidad: Esta es una publicación en español responsable de la traducción escrita por @lanzjoseg. A pesar de que este contenido ha sido verificado con Google Translate, no podemos confirmar que sea 100% preciso, no dude en verificar nuestra publicación original de Steem en inglés.