Warning: This post contains what some may consider graphic or offensive images.
IT'S IMPORTANT TO EAT...
We all know this, but how well would each of us do in an emergency situation? One where, for whatever reason, our stores no longer have food on the shelves. When all is going well(especially in places like America) it seems at times unfathomable that this could happen.
STORES STOCK A MINIMUM
This means at any given time, there is only enough food in the store to get them through until the next stock order...but what if it never came? What would you do to feed your family, or just yourself?
Would you steal from a neighbor? Maybe eat the family pet? Or if faced with starvation, would you kill others to save your family?
THE SIMPLE SOLUTION
Be self sustaining and never worry about if the stores run out of food(poison). This is the reasoning for our most recent home school project. I want to pass along my knowledge on self sufficiency to my son, so he will also be prepared, should worse come to worst.
OUR FIELD TO PLATE PROJECT
For our project we will be usinga pretty basic crossbow, made by Barnett, and called the Jackal. Before using it, we had to assemble it and install the scope. Once that was done we sighted it in to ensure the crossbolts would go EXACTLY where we we're aiming.
We will be hunting white tail deer. An intelligent and very elusive deer that lives in America. A larger one call easily provide 200 pounds(90 kg) of non gov't poisoned wild meat. With permits and hunting expenses it costs me about twenty dollars to bring in a deer to feed us. I will kill around 5 this year, and it will provide us all the meat we need for a year so.... $100 for a years worth of meat. The same amount of meat would cost us about $2500 at the store. And i would then be filling my family with toxins from all that junk meat.
ON TO THE HUNT
We started by tracking the deer to figure out where they were And when. After that is figured out we set up our deer stand and begin the hunt. It took a few days(we saw deer everyday we hunted) to get one in the perfect place to take a shot...but it happened...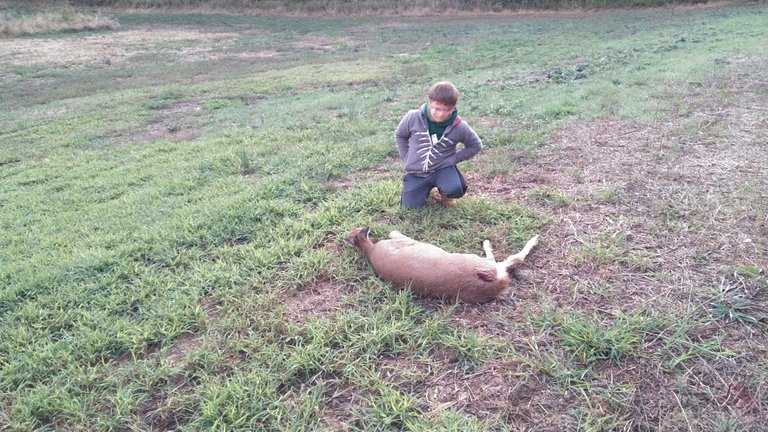 It was evening and the sun was about to set. Evan was anxious and really ready to finally get one. A small group of white tails came into sight. As silently as I could, I got into position to take the shot. Once set up, I held,and waited for the perfect opportunity to land the shot...IT CAME! And i took it. I am all about harvesting every little bit of meat as is possible from the kill so where I sank the bolt really mattered as it will destroy all the meat it comes into contact with. But the shot was perfect and almost no meat was wasted!
We field dressed(removed all the internal organs) it there to prevent a mess at home. Plus the organ meat will be left in the wild and will provide a great meal for a bobcat or group of coyotes.(We try to waste nothing.)
During the dressing, I even found what was left of my crossbolt stuck inside her. This was great because it allowed me to recover the arrowhead from the crossbolt.(saves me 15 dollars having to replace it, and would have increased the cost of taking this dear.)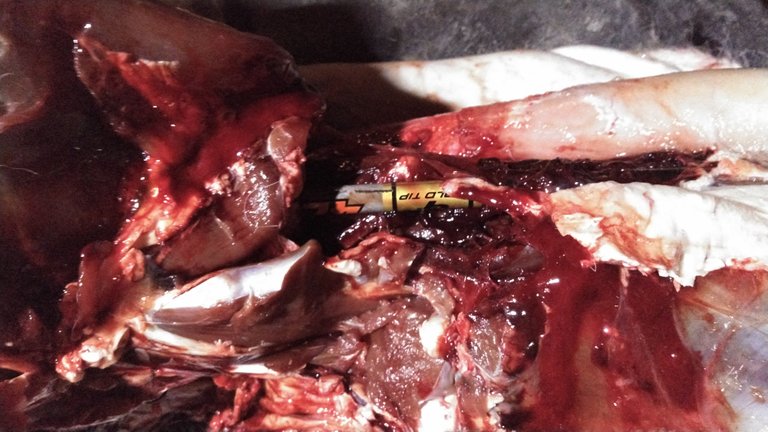 ---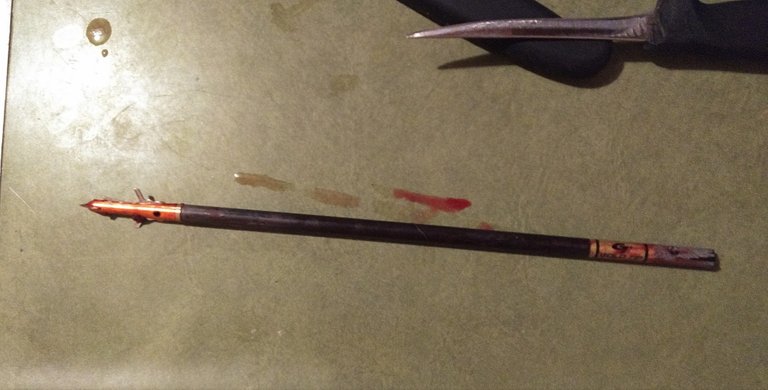 ---
SEPERATING THE MEAT
After arriving home, we began the process of removing all the meat from the deer. This is a pretty simple deal, and the first step is to remove the fur and skin to gain access to the delicious meat underneath. After that, each limb is removed and the tenderloin and rib meat is removed, along with the meat along the neck.
DINNER TIME!!!
Next, is the easy part...cooking. We simply cut some steaks out of the tenderloin and dropped a tiny portion of butter in the pan (to prevent sticking to the pan) and drop them in.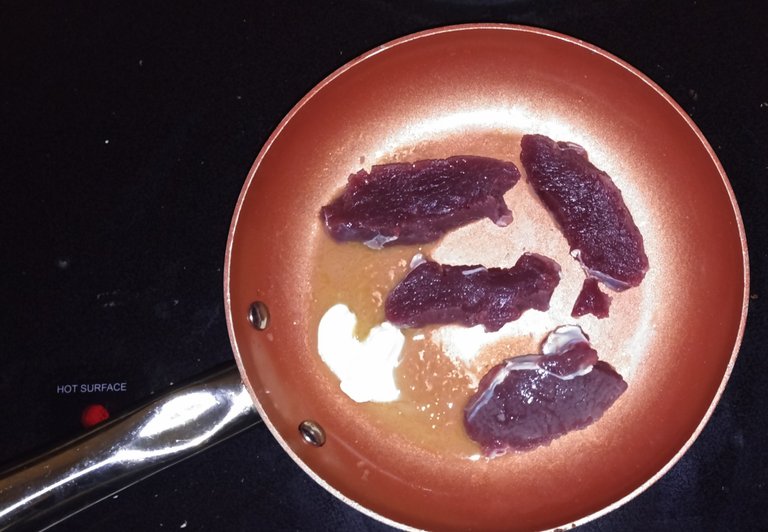 Each side only needs to be cooked for about 7 minutes. After that, we add just a dash of seasoning and they are ready to be devoured. The taste is amazing and simple. The texture is smooth and the meat almost falls apart in your mouth.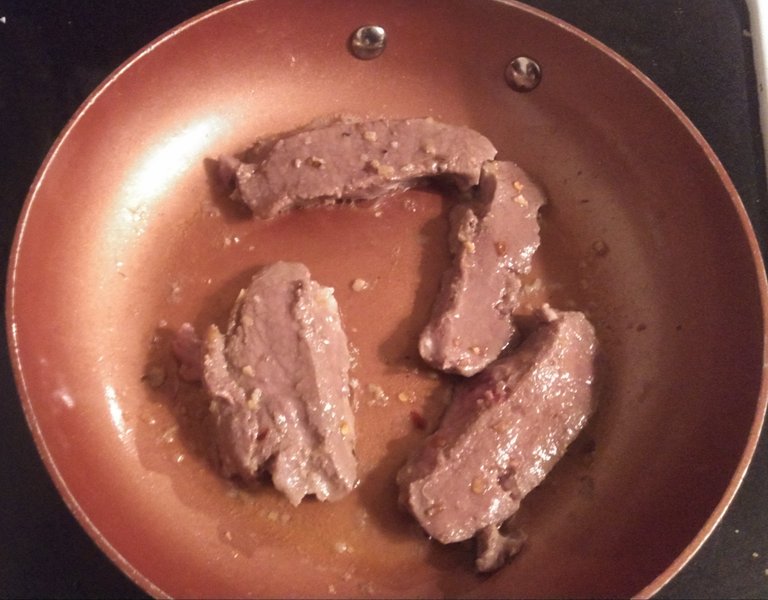 NOW IT'S YOUR TURN...
If you love being a self sustaining individual, and love hunting your own food, leave me a comment saying so and a link to a post you have recently posted. I'll swing by and give you a visit. And if you homeschool and are looking for like minded people, also leave a comment below and I'll fill you in on an awesome group of friends I have here.
---
---
*All photos are mine taken with my Kyocera phone.