I am getting lazy and distracted in these last days of summer. Hunting season isn't exactly right around the corner (8 weeks) but I getting itchy to get in the woods. So I have set a goal to finish all my other projects in August. This refinishing project has been hanging over my head for months, and I scratched it off this week.
We bought a dining room set off craigslist a decade ago. Then many messy eaters were born and every chair looks like a bench in a dive bar. We've outgrown this table but I refinished it for temporary use until we can afford a larger one. After that, it will be a crafting table for my wife. So I didn't want to sink a lot of money into it, so I just used leftover materials from other projects. My total new cost was about $2 which was for cheap brushes for my kids to use to "help."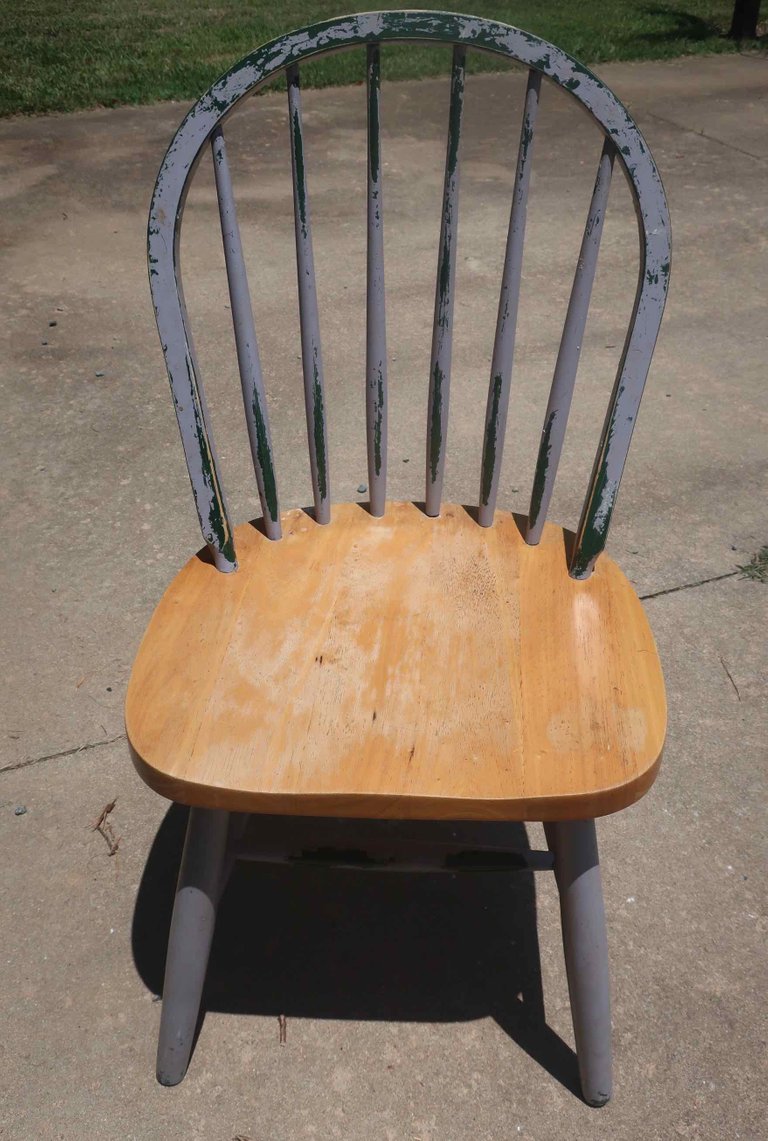 Original chair
Prep work
I just sanded the previous paint and finish off using a rotary sander. If you wanted to do a very nice job, it probably could have used stripper on the base coat or more thorough sanding. But a light sanding worked just fine even though it had multiple coats painted on it previously. You just need to make sure to sand off some of the glossy base coat to "open up" the wood and allow paint penetration. Otherwise, it will chip.
The finished wood bottoms had gotten stained with many drinks being spilled. If this was a nicer set, I would have refinished the wood but I chose to just sand and paint over it.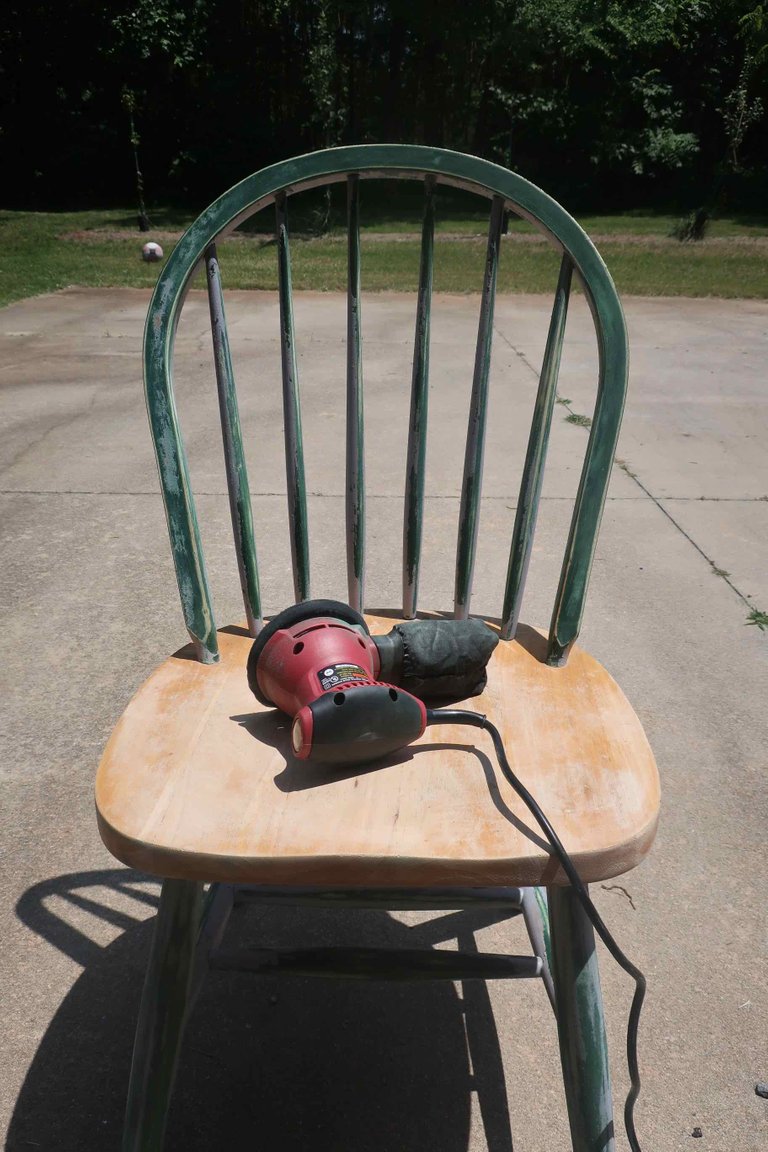 Lightly sanded with apple trees in background
Priming
I used two coats of cheap primer, lightly sanding in between coats. This was old primer that had been used to paint a small barn and fence posts. The kids helped with the priming only. I snuck out into the barn after they went to bed for the later work.
Top coats
I used leftover interior latex paint (matte finish) from painting a room 5 years ago. If you are buying paint, I would definitely recommend glossy finish paint as it allows easier cleaning. The paint had not been stored in a climate-controlled environment so it was a little hinky in consistency. Aggressive shaking made it blend OK.
I painted the spindles and legs a grey-purple and the bottoms white. I did two coats and one touch up coat.
My wife is happy with the result
I don't have a good eye or care for color or aesthetics really but they look like they came out alright to me. We will use them for probably about six months at the kitchen table. Then I will retouch them and my wife will use them the table and chairs for knitting. We are also planning to learn together how to sew cloth and fur so the table is a nice size for that.
(Can I disappear to shoot a gun or walk in the woods now?)