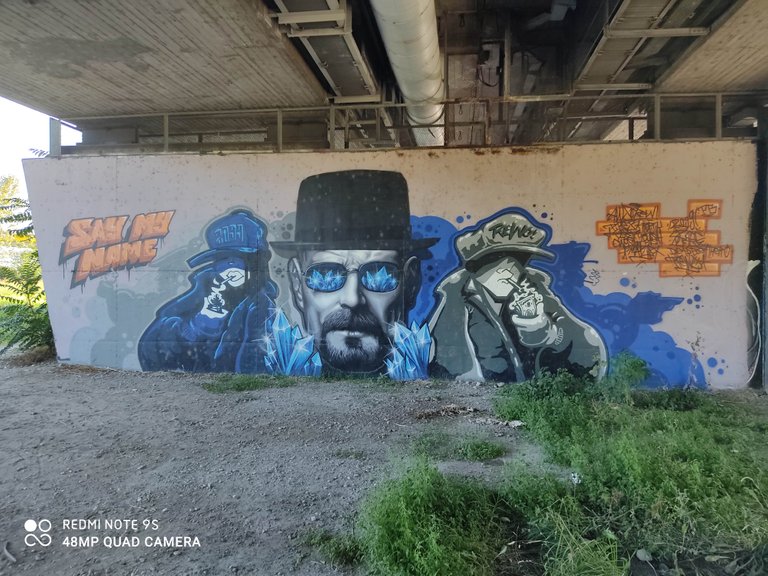 Breaking Bad Graffiti vom Feinsten. Was für ein Talent.👏👏👏
[DE] Gestern haben wir eine Radtour mit Freunden unternommen, so wollten wir den (angeblich) letzten schönen Sommertag zusammen sportlich verbringen. So ging es von Meidling in den 2. Bezirk zur Praterallee und von dort auf die Donauinsel. Entlang der Donau sind wir bis nach Korneuburg und wieder zurück nach Meidling gefahren. Wir haben es zwar nicht genau gezählt, aber es durften ca. 60 km. gewesen sein, die wir an diesem sonnigen Tag zurückgelegt haben. Unterwegs habe ich zwei tolle Graffitis gesehen, die ich unbedingt mit euch teilen muss. Hab' dann noch paar Fotos gem8, aber ich bin nicht unterwegs gewesen, um Fotos zu schießen, sondern Sport zu betreiben und den Tag zu genießen, was uns allen auch gelang.
[EN] Yesterday we went on a bike tour with friends, so we wanted to spend the (supposedly) last beautiful summer day together doing sport. So it went from Meidling to the 2nd district to Praterallee and from there to the Danube Island. We drove along the Danube to Korneuburg and back to Meidling. We didn't count it exactly, but we were allowed to travel about 60 km. that we covered that sunny day. On the way I saw two great graffiti that I absolutely have to share with you. Then I took a few more photos, but I wasn't on the road to take photos, but to do sports and enjoy the day, which we all managed to do.
[TR] Dün arkadaşlarla bir bisiklet turuna çıktık, bu yüzden son güzel yaz gününü (sözde) birlikte spor yaparak geçirmek istedik. Böylece Meidling'den 2. bölgeye Praterallee'ye ve oradan da Tuna Adası'na gitti. Tuna Nehri boyunca Korneuburg'a ve Meidling'e geri döndük. Tam olarak saymadık, ancak yaklaşık 60 km gitmemize izin verildi. o güneşli günü kapattığımızı. Yolda kesinlikle sizinle paylaşmak zorunda olduğum iki harika grafiti gördüm. Sonra birkaç fotoğraf daha çektim ama fotoğraf çekmek için yola çıkmadım, spor yapmak ve hepimizin yapmayı başardığı günün tadını çıkarmak için yola çıkmadım.