Herzlich willkommen bei einem Beitrag für:
Dance Weekends powered by @uwelang
Diese Woche gönnte ich mir wieder mal ein paar Musik Highlights per Download kauf auf Amazon. Und wie ich so durchstöberte und fleissig Proben hörte, fiel mir ein Name eines Künstlers auf andyjaypowell, hmm dachte ich mir gibt es denn nicht auch einen Steemian mit diesem Namen!?? Yeah, es gibt ihn! @andyjaypowell Daher freut es mich umsomehr, das ich einem Künstler, mit dem ich bereits hier auf Steemit manchmal geschrieben hatte, sein Werk gekauft zu haben.
Und irgendwie passender Titel zu dem ganzen Hick Hack um Steemit, vor allem mit dem Interview von sun und ned auf YT.
---
Welcome to a contribution for:
Dance Weekends powered by @uwelang
This week I allowed myself again a few music highlights via download buy on Amazon. And as I was browsing and listening to rehearsals, I noticed a name of an artist andyjaypowell, hmm I thought to myself, isn't there a Steemian with this name!? Yeah, there is! @andyjaypowell So I'm very happy to have bought the work of an artist with whom I had already written here on Steemit sometimes.
And somehow fitting title to the whole hick hack around Steemit, especially with the interview of sun and ned on YT.
---
---
Auf dem Album sind 5 Versionen, diese hier ist die 4te und gefällt mir am besten
There are 5 versions on the album, this one is the 4th and I like it best
---
DJ Fait & Andy Jay Powell - Tell No Lie (DJ Fait Mix)
---

---
Aufgrund meiner Vorhergehende Berufliche
Tätigkeit in der Musik Industrie
bin ich für Fairness und gegen Raubkopien!
Daher gilt für mich gerade bei Musik Fairplay!!
---
Due to my previous professional activity in the music industry
I am for fairness and against piracy!
Fairplay for Music Artists!
---

---
Here you can buy and download: (original Link from @andyjaypowell)
https://aqualoop.lnk.to/AQL348
or
https://amzn.to/367Kx7d
---

---
Einen schönen (Musikalischen) Sonntag euch allen!!!
Have a nice (musical) Sunday to you all!!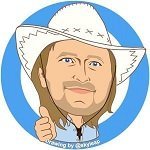 ---
Beneficiaries 10% for @steemchiller
Beneficiaries 40% for @andyjaypowell
YT Channel von andyjaypowell
---

---

1,99.- ist nicht viel, aber ähnlich wie auf der Steem Blockchain,
jeder cent zählt!
daher, bei so einem Preis auch noch die Mucke klauen!???
---

---