Versprochen: kein Wort über TRON,Witnesses o.ä. in diesem Post! / I promise: nothing about TRON or witnesses etc. here :)
~ - ~ - ~
Es gibt eine fast unübersichtliche Anzahl von Strick- und Häkelanleitungen für alle möglichen Projekte, von nützlichen (aber trotzdem nie langweiligen) Socken bis hin zu schönen Tüchern, von Kinderspielzeug bis hin zu Deko. Sie sind in Büchern und Zeitschriften erhältlich, können im Internet heruntergeladen oder werden von Mensch zu Mensch weitergegeben.
There is a myriad of patterns for knitters and crocheters for all kind of projects, from useful (but never boring) socks to lovely shawls, from children's toys to decorations. They are available in books and magazines, online or directly from person to person.
Dieses Jahr möchte ich jede Woche eine Anleitung vorstellen, und sie alle werden diese Gemeinsamkeiten haben: Sie werden kostenlos zur Verfügung stehen und sie werden nicht schwierig sein. Sie werden vielleicht eine neue Technik vorstellen, aber sie werden auch dabei helfen, diese zu lernen.
This year I want to present you a pattern each week, and they will all have these commonalities: They will be available at no cost, and they won't be difficult. They might introduce a new technique but will help you learn it.
Vielleicht wähle ich eine Anleitung, weil sie beliebt ist und viele Leute sie nachgearbeitet haben - oder weil ich denke, dass sie übersehen wurde und mehr Aufmerksamkeit verdient. Es könnte eine Anleitung für ein "Basic" sein oder es könnte etwas Besonderes haben.
I might choose a pattern because it is loved and a lot of people made it - or because I think it has been overlooked and deserves more attention. It might be a basic pattern or it might have something that's special.
Also auf zur Anleitung der Woche! Diesmal wieder etwas Gestricktes - ein Pullover, der sogar von mir schon gestrickt wurde. Ein RVO (Raglan von oben) von Nicola Susen - also schnörkelfrei und doch interessant :)
Let's start with the pattern of this week! It's a knitting pattern, for a sweater - and one I've actually knitted. A top-down raglan sweater by Nicola Susen - which means without frills but interesting :)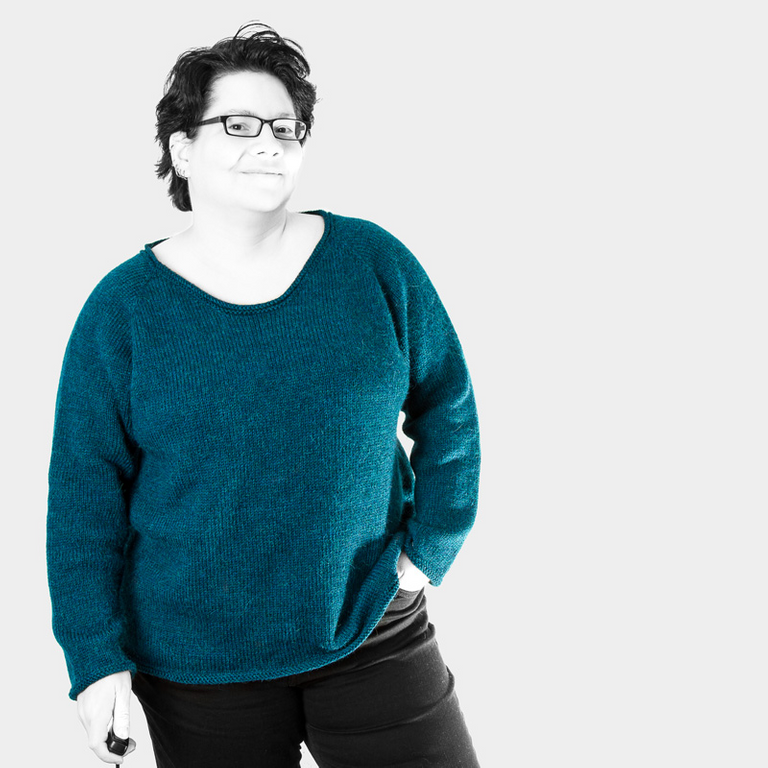 Nicola Susen ist bekannt dafür, dass sie so wenig Vorgaben wie möglich macht. Hier gibt es also keine verwirrenden Angaben für zig Größen in Klammern, Raglano wird für alle Größen passend gemacht.
Nicola Susen is known for her ability to make as few specifications as possible. So there are no confusing specifications for umpteen sizes in brackets or a strict gauge to keep to, Raglano is made to fit all sizes.
The designer's motto:
Maximal freedom - your yarn, your stitches, your size
Auch wenn man hier mit jedem Garn für jede Größe stricken kann - was hier unbedingt nötig ist: die Maschenprobe. Ansonsten braucht man nur den Brustumfang, dann gibt es einmal ein kurzes Ausrechnen - und man hat die ganz persönliche magische Zahl Y. Mit dieser arbeitet man dann, z. B. steht da "schlage 2 mal Y Maschen an". Und das ist alles. Damit kann man vom Baby bis zum Opa alle bestricken. Deswegen schreibe ich gar nicht weiter, sondern zeige nur was andere schönes aus dieser Anleitung gemacht haben.
Even though you can knit with any yarn in any size - what is absolutely necessary here: making a swatch. Other than that, all you need is your chest circumference, then there is a short calculation - and you have your own personal magic number Y. You work with this number, e.g. it says "cast on Y stitches 2 times". And that is all. You can use it to knit for everyone from babies to grandpa. That's why I'm not going to write any longer, I'm just going to show you what others have done with this pattern.
The names of the knitters are linked to the project's page at Ravelry.
~ - ~ - ~
Die Anleitung ist erhältlich in Deutsch, Englisch, Französisch, Ungarisch und PHP / The pattern is available in English, German, French, Hungarian and PHP
~ - ~ - ~
Picture source cover image: Nicolor.de
~ - ~ - ~