Es gibt eine fast unübersichtliche Anzahl von Strick- und Häkelanleitungen für alle möglichen Projekte, von nützlichen (aber trotzdem nie langweiligen) Socken bis hin zu schönen Tüchern, von Kinderspielzeug bis hin zu Deko. Sie sind in Büchern und Zeitschriften erhältlich, können im Internet heruntergeladen oder werden von Mensch zu Mensch weitergegeben.
There is a myriad of patterns for knitters and crocheters for all kind of projects, from useful (but never boring) socks to lovely shawls, from children's toys to decorations. They are available in books and magazines, online or directly from person to person.
Dieses Jahr möchte ich jede Woche eine Anleitung vorstellen, und sie alle werden diese Gemeinsamkeiten haben: Sie werden kostenlos zur Verfügung stehen und sie werden nicht schwierig sein. Sie werden vielleicht eine neue Technik vorstellen, aber sie werden auch dabei helfen, diese zu lernen.
This year I want to present you a pattern each week, and they will all have these commonalities: They will be available at no cost, and they won't be difficult. They might introduce a new technique but will help you learn it.
Vielleicht wähle ich eine Anleitung, weil sie beliebt ist und viele Leute sie nachgearbeitet haben - oder weil ich denke, dass sie übersehen wurde und mehr Aufmerksamkeit verdient. Es könnte eine Anleitung für ein "Basic" sein oder es könnte etwas Besonderes haben.
I might choose a pattern because it is loved and a lot of people made it - or because I think it has been overlooked and deserves more attention. It might be a basic pattern or it might have something that's special.
Also auf zur Anleitung der Woche! Wieder einmal etwas zum Häkeln und zwar ein kleines, schnell gemachtes Projekt. Ein Körbchen - mir fällt kein besserer Ausdruck für ein solches gehäkelte Behältnis ein. Und bitte nicht fragen wo der Name "Bowl of Teeth" (Zahnschüssel) herkommt1. Es hat wohl mit Halloween zu tun...
Let's start with the pattern of this week! Once again something to crochet, a small, quickly made project. A basket - I can't think of a better expression for such a crocheted container. And please do not ask where the name "Bowl of Teeth" comes from1. It somehow has to do with Halloween...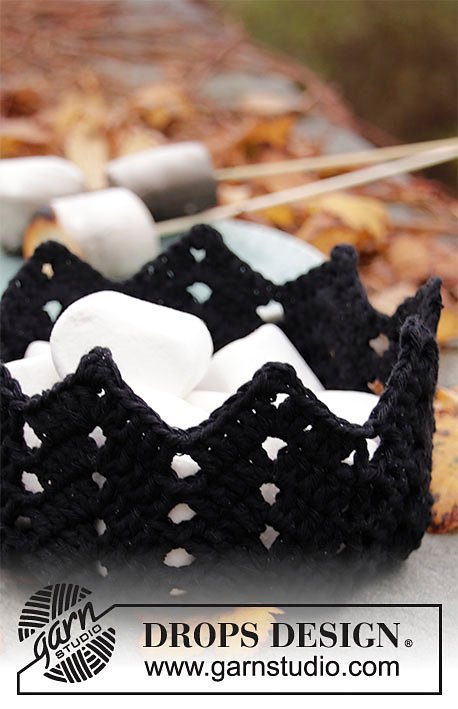 Mal wieder eine Drops-Anleitung - also in vielen Sprachen erhältlich (wenn auch vorwiegend nordische bzw. baltische Sprachen). Aber es hat eine Häkelschrift, gut zum Üben für alle die damit noch Probleme haben. Und, noch viel besser: Es gibt Videos! Einfach auf der Anleitungsseite weiter nach unten scrollen. Sowohl für den Boden als auch für die Seitenwand des Körbchens gibt es ein genaues Masche-für-Masche-Video :)
Once again a Drops pattern - thus available in many languages (although mainly Nordic or Baltic languages). But it has a chart, good for practicing for all who still have problems with it. And, even better: There are videos! Just scroll down on the instructions page. For the bottom as well as for the sidewall of the basket there is an exact stitch by stitch video :)
Also, liebe Häkel-Anfänger, wie wäre es mit einem Körbchen? Die Anleitung ist mit Garn der Aran-Garnstärke (ca. 75 m Lauflänge auf 50 Gramm), aber man kann es in jeder anderen Garnstärke herstellen. Es verändert sich dann natürlich die Größe. Wenn man eine Nadel wählt, die eine bis zwei Nummern kleiner ist als für das Garn gedacht, dann werden Boden + Seitenwände auch schön stabil. Ansonsten muss man es vielleicht stärken damit es richtig "steht".
So, dear beginning crocheters, how about making a basket? The instruction is with yarn of Aran weight, but you can make it in any other yarn weight (of course the size changes then). If you choose a needle that is one or two numbers smaller than normal for your yarn, the bottom and sides will be stable. Otherwise you might have to starch it so that it "stands" properly.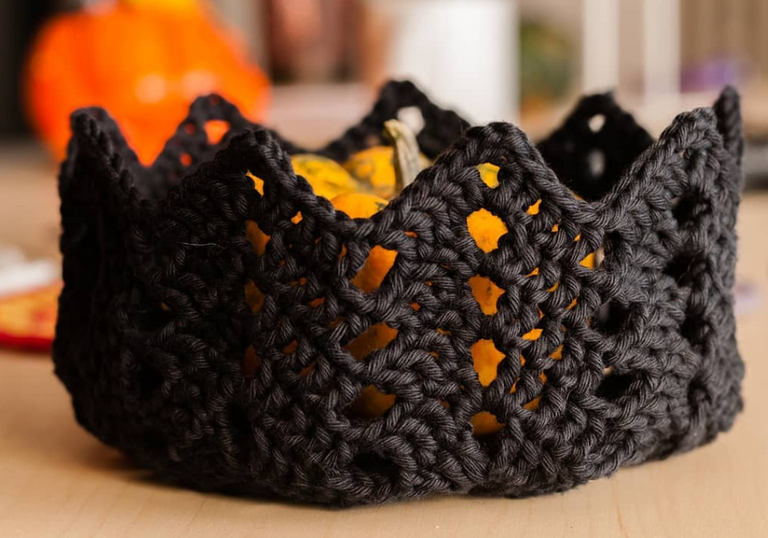 Picture Source
Es gibt kaum Projektbilder zu dieser Anleitung, anscheinend ist sie nicht sehr oft nachgearbeitet worden seit dem Erscheinen im letzten Oktober. Was eigentlich schade ist - also bitte, ran an die Häkelnadeln!
There are hardly any project pictures for this manual, apparently it has not been crocheted very often since it was released in October 2019. Which is actually a pity - so please, grab the crochet hooks!
---
1 Wenn jemand eine Erklärung oder Vermutung zum Namen hat, her damit! / If you have an explanation for the name, please tell me!