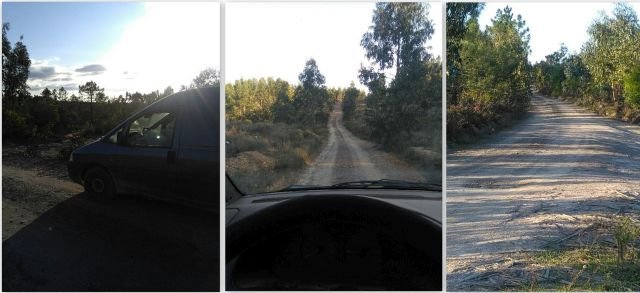 Wohl zum letzten mal für dieses Jahr, nehme ich Euch heute mit, in die wilden Pilzgründe Portugals.
Die Saisons scheint beendet, was nicht etwa an den immer mehr werdenden konkurrierenden Pilz Sammlern aus der Ukraine liegt, sondern daran das Dank der Holz Industrie, die Pilzstellen immer rarer werden, wie ich mit Schrecken feststellen musste.
Dieser Wald ist verloren.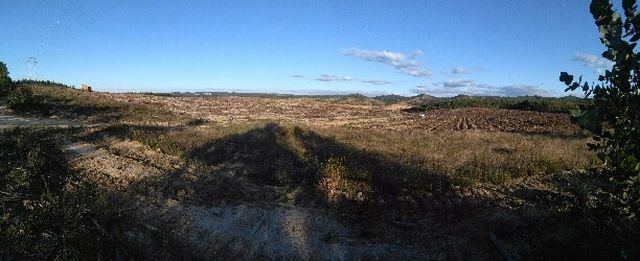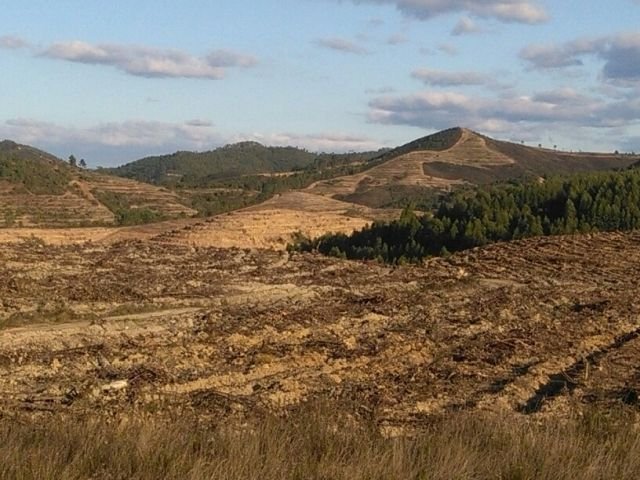 Letztes Jahr stand dort noch ein alter Eukalyptus Wald, der immer für ein paar Kilo Steinpilze gut war, doch das ist nun Geschichte.
So heißt es für mich jedes Jahr aufs Neue flexibel zu bleiben und mich unverdrossen auf die Suche nach neuen Wäldern zu machen, in denen sich die Fungis heimisch fühlen.
Apropo, wusstet Ihr eigentlich das:
Die Pilze (Fungi) bilden das dritte große Reich eukaryotischer Lebewesen neben den Tieren (Animalia) und den Pflanzen (Plantae). Sie sind wie die Pflanzen, zu denen sie lange gerechnet wurden, sesshaft, können jedoch keine Photosynthese treiben. Daher müssen sie sich wie Tiere durch die Aufnahme organischer Substanzen ernähren (Heterotrophie), die sie jedoch in gelöster Form aus der Umgebung aufnehmen. Nach heutiger Kenntnis sind die Pilze näher mit den Tieren als mit den Pflanzen verwandt. Zu ihnen gehören vor allem Vielzeller wie die Ständerpilze, aber auch Einzeller wie die Backhefe sowie coenocytische Formen mit vielen Zellkernen, aber ohne zellige Untergliederung.
( QUELLE: https://de.wikipedia.org/wiki/Pilze )
Jahr für Jahr wird es schwieriger fündig zu werden und auf meinen Touren biege ich immer öfter vom gewohnten Wege ab und entdecke dabei teils unheimliche Gegenden, wie z.B. diese hier …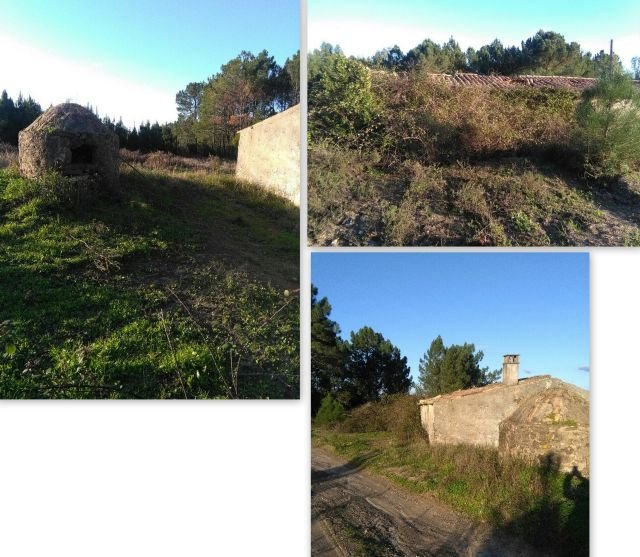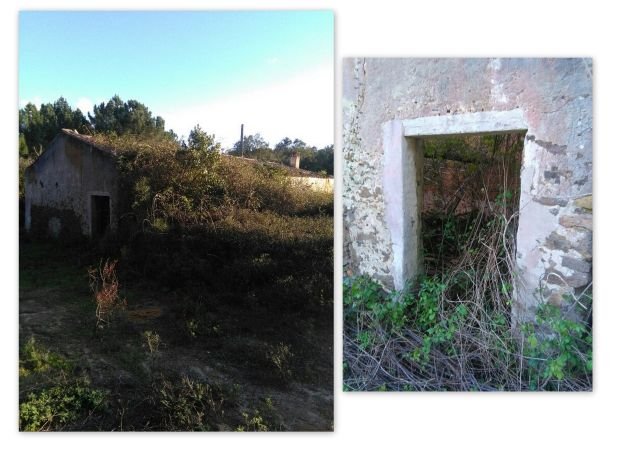 … bei deren Entdeckung ich mich unweigerlich an die Abenteuer Berichte vom @mrurbex erinnert fühlte, der es sich wohl zum Hobby gemacht hat, " Lost Places " aufzuspüren.
Auch ich wurde beim Anblick dieser verlassenen Ruine neugierig, vergaß kurz den eigentlichen Grund meiner Mission, die Nahrungssuche, sowie die gute Erziehung und steckte meine Nase in ein fremdes Haus.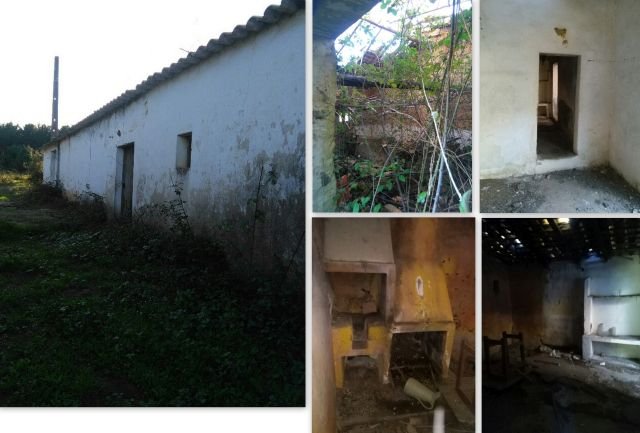 Typisch portugiesisch, stellte ich fest und zog weiter. 😎
Schon wenige Meter weiter betrat ich ein von Sturmschäden gezeichnetes Waldstück, was aber außer jeder Menge umgestürzter Bäume, nicht viel zu bieten hatte.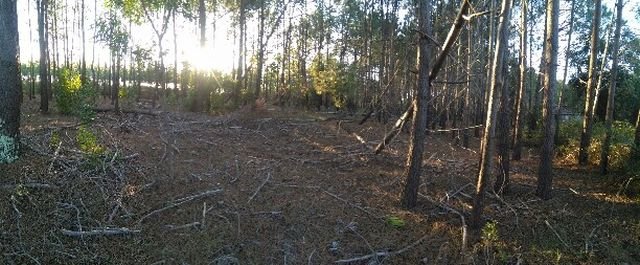 Auf der anderen Seite des Waldweges jedoch, stand schon wieder eine verlassene Hütte und langsam wurde es mir unheimlich.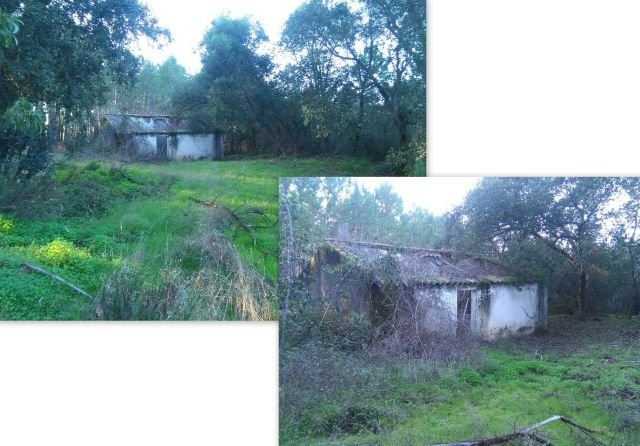 Wo sind all die Bewohner geblieben?
Ich vermute nicht, das sie an einer Pilzvergiftung gestorben waren, denn auch hier wuchs außer wilden Brombeerbüschen, Korkeichen und vereinzelten Medronho Bäumen nichts, was darauf hindeuten würde.
Wahrscheinlich haben sie sich vom selbst gebrannten Medronho Schnaps berauscht und anschließend auf den unwegsamen Pisten zu Tode gefahren.
Dafür zumindest spricht diese Entdeckung am Wegesrand.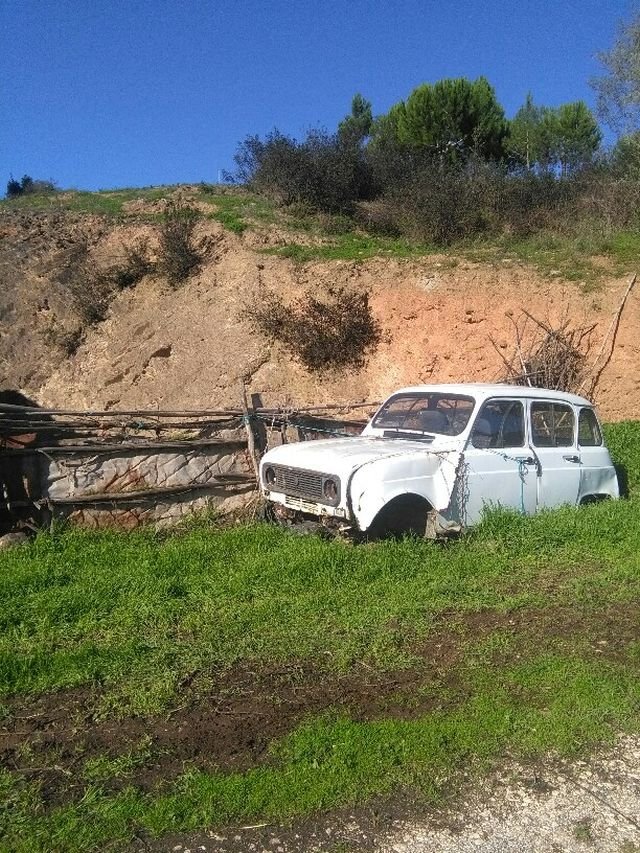 Vorsichtig fuhr ich weiter, streifte ausladende Tore mitten im Nichts …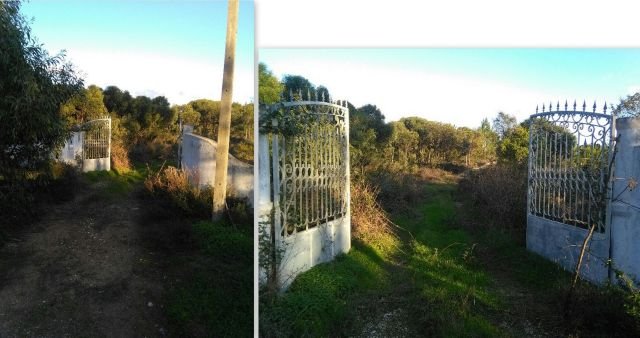 … und fast schon hätte ich aufgegeben, als ich aus dem Auto heraus etwas am Wegesrand erblickte, das ganz klar ein Kiefernreizker war.
Ein unscheinbarer Pilz, der sich aber bei genauerer Betrachtung als wahre Vitaminbombe entpuppt.
Vitamine
Werte pro 100g
Vitamin D - Calciferole
2,00 μg
Vitamin E - Alpha-Tocopheroläquivalent
100 μg
Vitamin E - Alpha-Tocopherol
100 μg
Vitamin B1 - Thiamin
130 μg
Vitamin B2 - Riboflavin
60 μg
Vitamin B3 - Niacin, Nicotinsäure
5.000 μg
Vitamin B3 - Niacinäquivalent
5.067 μg
Vitamin B5 - Pantothensäure
2.500 μg
Vitamin B6 - Pyridoxin
50 μg
Vitamin B7 - Biotin (Vitamin H)
15,0 μg
Vitamin B9 - gesamte Folsäure
25 μg
Vitamin C - Ascorbinsäure
6.000,000000 μg
QUELLE: https://www.vitamine.com/lebensmittel/edelreizker/
Also schnell raus aus der Karre, das aufgeklappte Taschenmesser in der Hand und sich dem Fundstück genähert.
Den Blick schweifend lassen entdeckte ich noch weitere essbare Exemplare, ging zurück zum Auto mein Körbchen holen und nachdem ich etwa eine halbe Stunde durchs Unterholz kroch, kehrte ich dann doch noch erfolgreich zurück von meiner abenteuerlichen Pilztour und zum Abend servierte ich die voraussichtlich letzte gemischte Pilzpfanne in diesem Jahr.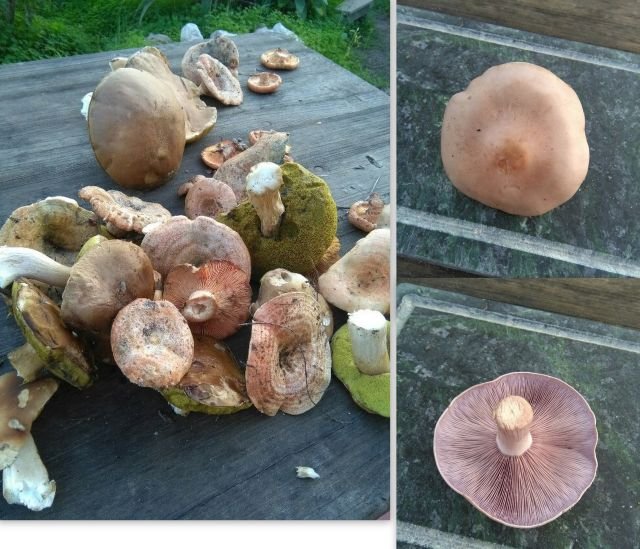 Das Kerlchen rechts im Bild, getraute ich mich nicht zu essen.
Zwar fiel er mir durch seinen ganz hervorragend leicht nussigen Geruch auf und auch die kleine Geschmacksprobe im rohen Zustand fiel vielversprechend aus, konnte ihn aber auch anhand meiner Pilzbücher nicht einwandfrei bestimmen.
Hat vielleicht ein Pilz Kenner unter Euch eine Idee, mit was ich es hier zu tun habe?
Wenn nicht ist es auch nicht schlimm, Hauptsache Euch gehen die Ideen nicht aus, für ein kontinuierliches …

… damit es munter weiter geht, mit dem reich werden! 😎💸
( Für alle Fotos in diesem Beitrag, habe ich persönlich den Auslöser gedrückt. )
Ach ja, PUSH THE BUTTON AND ...