Bitcoin auf dem Weg zum All Time High in diesem Jahr?
Bitcoin on the way to all-time high this year?
Der Crypto Markt ist im Moment ausser Rand und Band.
The crypto market is out of control at the moment.
Schauen wir uns mal die Top Ten auf CoinMarketCap an.
Let's take a look at the top ten on CoinMarketCap.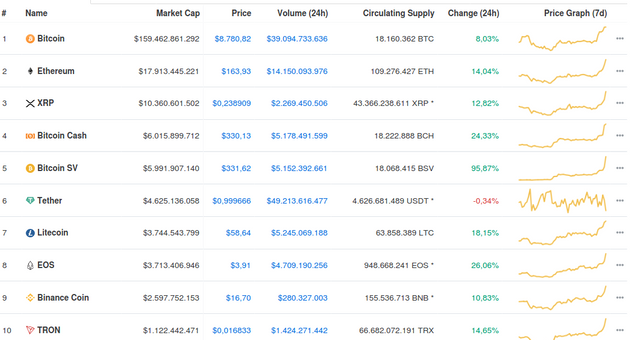 Wann haben wir solche Preise letzte mal gesehen? So kann es weiter gehen!
When was the last time we saw such prices? Let's go on like this!
Der Dump von Bitcoin SV ist aussergewöhnlich!
The Dump from BITCOIN SV is exceptional!
Liebe Grüsse Michael
Greetings Michael
Quelle/Source: Coinmarketcap.com