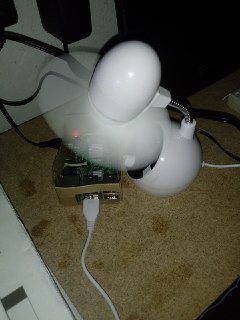 ein kühles Lüftlein
a cool breeze
English summary below
Also meine Bekannte hatte da von einem japanischen Bekannten so einen echt nutzlosen USB-Ventilator der in einer heißen Wohnung genau gar nichts hilft - außer vielleicht die Lautstärke zu erhöhen.
Nun, hatte ich da die Idee, das man damit eventuell den 85°C heißen Raspberry kühlen könnte, der vom stupiden CPU-Mining doch etwas heiß geworden ist. Nun seis wie sei, nachdem ich schon 7 Euro für Wärmeleitpaste und Kühlkörper ausgegeben hatte, war das ein Versuch, der mir nur etwas Strom kosten würde.
Ich hab dann einfach den USB-Ventilator angsteckt und mich dann gewundert, dass der nicht mal bei voller Stufe um 20°C also auf 65°C heruntergekühlt hat und das ist doch schon was.
Der Nachteil ist halt, dass das Ding halt hörbar ist, aber wenn man sich ein zwei Zimmer davon entfernt befindet und die Tür zu ist, dann hört man natürlich nichts.
summary
I just got a free USB ventilator by a friend of mine. Although this ventilator is pretty useless it reduced the temperature of my raspberry by 20°C or from 85°C to 65°C. I used the cpu-miner from https://github.com/JayDDee/cpuminer-opt.git
.