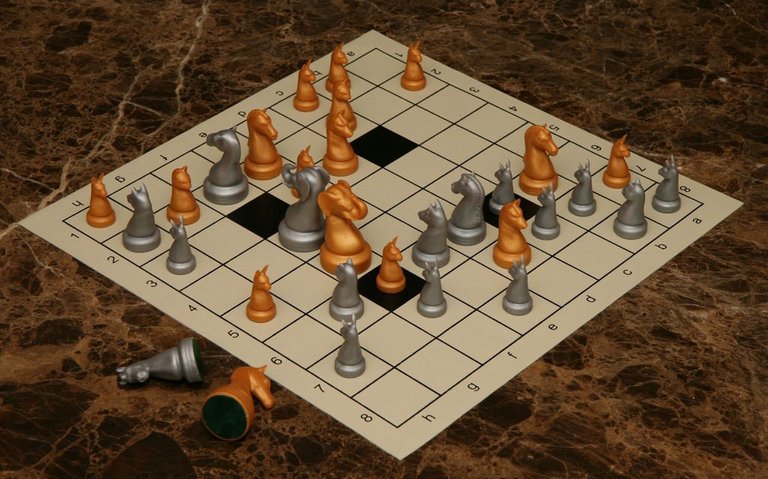 AlphaZero oder Goodbye Mankind !
English summary below
Viele werden sich vielleicht noch an Kasparov und Deep Blue erinnern, aber im Vergleich dazu ist das nur ein milder Vorgeschmack auf das gewesen, war jetzt mit Alphazero und dem OpenSource-Nachfolger LeelaZero Realität geworden ist.
Deep Blue hat dann noch Omar Syed dazubewegt ein hübsches kleines Strategiespiel namens Arimaa zu entwickeln, dass dann auch nahezu zwanzig Jahre von keiner AI besiegt werden hat dürfen, aber schließlich habens dann die Arimaa-Spieler und Programmierer ganz ohne fremde selber geschafft das Spiel mit entsprechenden Algorithmen selbst zu besiegen.
Irgendwie finde ich das schon irgendwie schade. Auch weil ich die Idee mit man kann bis zu vier Züge hintereinander mit vier verschiedenen Figuren machen, doch irgendwie interessant fand und auch die Fallgruben fand ich recht lustig. Das mit ein Haserl auf die letzte Reihe bringen fand ich dann doch sehr an Bauern in Dame verwandeln vom Schach abgekupfert.
Was ist nun so arg an AlphaZero
DeepBlue berücksichtigte noch mit Eröffnungsbibliotheken usw. quasi die jahrhundertelange Tradition des Schachspiels und ebenso tat dies AlphaGo, da es seine neuronalen Netze mit Profispielen trainiert wurde.
AlphaZero verzichtet aber auf jegliche Tradition und menschliche Daten und bringt sich quasi alles selber bei, indem es zigmal gegen sich selbst Spiel und sich immer wieder verbessert.
Somit hats AlphaZero, das neben Go und Schach auch Shogi und mögliche andere Zweipersonenspiele spielen kann, dass es mit der gesamten Tradition in diesen Spielen bricht - und das sind bei Go quasi mehr als 2000 Jahre - und quasi alles von null an neu schreibt.
Alte Joseki-Bücher, Tesuji und Tipps von Profispielern aus dieser langen Zeit, sind quasi wertlos geworden und wurden durch neue Erfahrungen und AlphaGoZero ersetzt.
Was mag dann wohl als nächstes dran kommen? Ethnische Werte, Kindererziehung oder gar die Demokratie?
Wären auf neuronalen Netzen aufgebaute AIs bzw. KIs gar die besseren Politiker? Sind wir auf dem Weg zum KI-Messias, der dann halt schlichtweg nur Expertensystem heißt?
Summary
DeepBlue in the 20th Century was a mild introduction of what might come later. AlphaZero now rewrote the history and experience of Chess players in centuries and Go in millenia. Thus everything created and experienced in these games by mankind got reduced to zero in months and was declared crap.
This caused me to think what might be come next. Might such an AI based on neural networks rewrite our ethnic values, education or even our believes or democracy?