English below
Deutsch:
Die meisten hier kennen bestimmt Steem-Engine. Auf dieser Plattform kann man verschiedene Token handeln, delegieren, erstellen, halten, etc. In den letzten Tagen/Wochen sind mir dabei ein paar Fragen zu einzelnen Funktionen gekommen, die vielleicht auch für manch anderen interessant sein könnten und deren Antwort ich in den FAQ nicht gefunden habe.
I. Unnötige Token aus der Wallet löschen?
In meiner Wallet werden mittlerweile 53 Token angezeigt. Mit den meisten davon kann ich leider überhaupt nichts anfangen.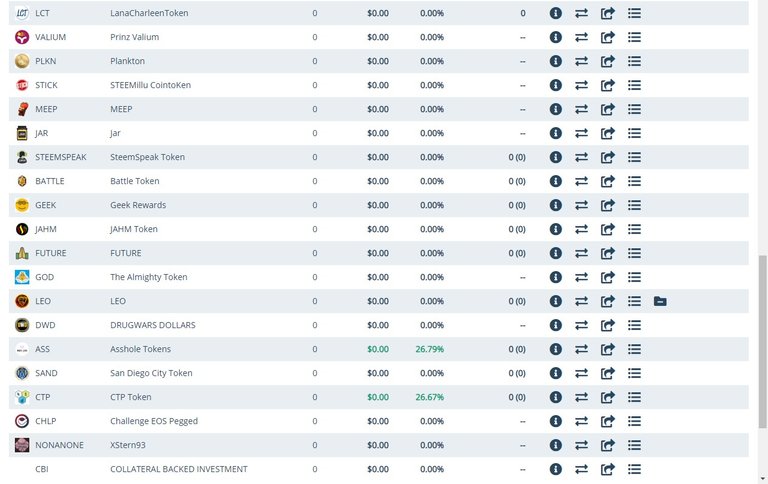 Bild 1: teils unnötige Token
Von all diesen Token habe ich zur Zeit 0 Stück, da ich sie verkauft, eingesetzt oder wegdelegiert habe. Bis auf STICK und LEO brauche ich die anderen aber gar nicht. Irgendwann habe ich die meisten einfach zugeschickt bekommen und dann verkauft, weil ich nichts damit anfangen konnte. Jetzt sorgen sie dafür, dass die Wallet recht unübersichtlich ist.
Gibt es eine Möglichkeit, diese Token aus meiner Wallet zu entfernen?
II. Delegationen anzeigen?
LEO und NEOXAG habe ich delegiert. Bei insgesamt zwei Delegationen blickt man noch durch, wenn es mehr werden, kann das aber auch schwer zu überblicken werden. In der Wallet selbst sieht man lediglich, dass delegiert wurde. In Bild 1 sieht man das bei LEO an dem Zeichen ganz rechts.
Klickt man darauf, kommt dieses Fenster: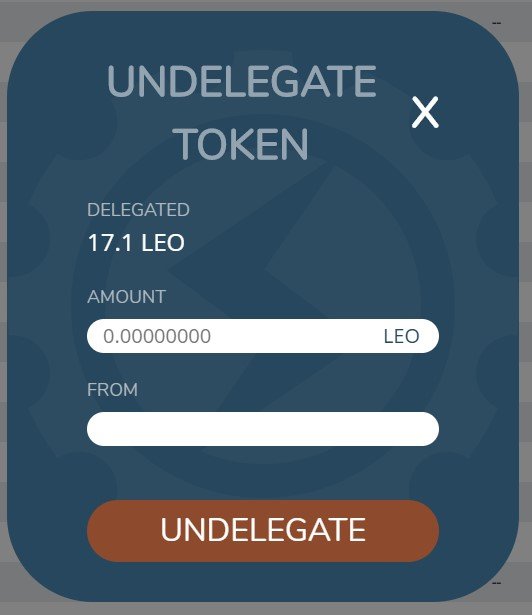 Bild 2: Undelegate-Fenster
Es wird also die Menge der delegierten Token angezeigt. Nicht aber, an wen diese delegiert sind.
Gibt es die Möglichkeit, sich die Delegationen anzusehen? Entweder für einzelne Token oder sogar insgesamt?
III. Eigene Order anzeigen?
Wenn man einen Token kaufen oder verkaufen will, die eigene Order aber nicht sofort erfüllt wird, wird diese beim einzelnen Token unter "My Open Orders" angezeigt. Das sieht dann so aus:


Bild 3: My Open Orders
Dabei kann es passieren, dass lange nichts passiert und man die Order vielleicht sogar vergisst. Wenn man den Token nicht öfter nutzt, fällt sie einem auch nicht mehr ins Auge.
Gibt es eine Möglichkeit, alle offenen Order anzuzeigen?
Ich weiß nicht, ob es diese Funktionen überhaupt gibt. Falls ja, wäre es schön, wenn ihr in den Kommentaren erklären könntet, wie man das macht. :)
---
English:
Most of you probably know Steem-Engine. On this platform you can trade, delegate, create, hold, etc. different tokens. During the last days/weeks I got some questions about some functions, which might be interesting for some others, too. I didn't find the answer in the FAQ.
I. Delete unnecessary tokens from the wallet?
My wallet now displays 53 tokens. Most of them aren't interesting for me.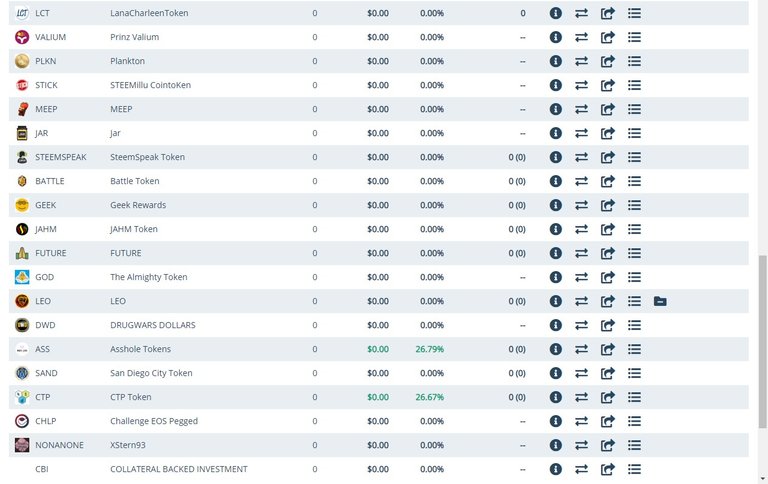 Picture 1: mostly unnecessary tokens
Of all these tokens I currently have 0 pieces because I have sold, used or delegated them away. Except for STICK and LEO I don't need the others. At some point I just got most of them sent to me and then sold them because I couldn't do anything with them. Now they make sure that the wallet is quite confusing.
Is there a way to remove these tokens from my wallet?
II. Show delegations?
I have delegated LEO and NEOXAG. With a total of two delegations you can still see through. But this can be difficult to overlook, if there will be more. In the wallet itself you can only see that delegations have been made. In picture 1 you can see that with LEO at the sign on the far right.
If you click on it, this window appears: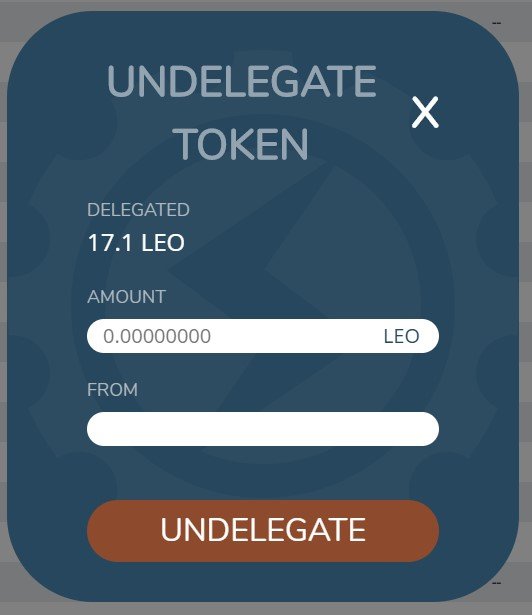 Picture 2: Undelegate window
So the set of delegated tokens is displayed. But not to whom these tokens are delegated.
Is it possible to look at the delegations? Either for single tokens or even in total?
III. Show your own orders?
If you want to buy or sell a token, but your order is not fulfilled immediately, it will be displayed under "My Open Orders". This will look like this:

Picture 3: My Open Orders
It can happen that nothing happens for a long time and you may even forget the order. If you don't use the token more often, it won't catch your eye.
Is there a way to display all open orders?
I don't know if these functions exist at all. If so, it would be nice if you could explain in the comments how to do this. :)
Translated with www.DeepL.com/Translator (free version)
(I changed some parts of the translation of this translator. I hope it makes sense now.)