.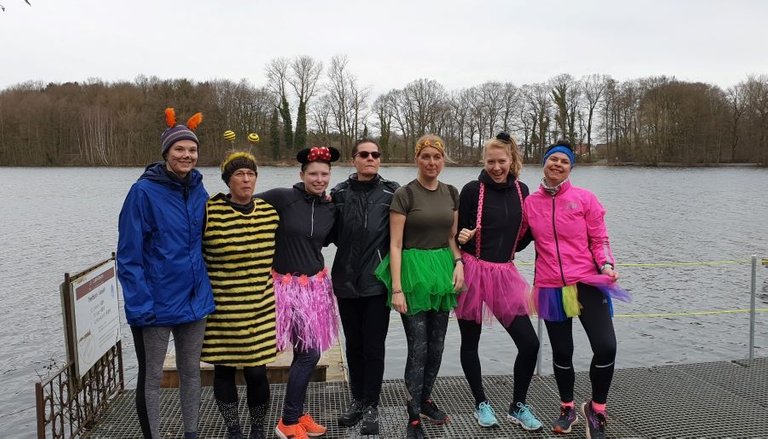 Karneval gibt es sogar beim Laufen. Zum Faschings parkrun kommen immerhin 20 Unerschrockene, denn es gibt schon wieder Unwetterwarnungen. Eine zusätzliche Gefahr geht von einem entflohenen Ganoven aus, der seit den frühen Morgenstunden sein Unwesen am Rubbenbruchsee treibt. Hier das Fahndungsfoto des Verdächtigen:
You can even have Mardi Gras while running. At least 20 intrepid people come to the Faschings parkrun, because there are again storm warnings. An additional danger is posed by an escaped crook who has been making trouble at the Rubbebbruchsee since the early morning hours. Here is the mug shot of the suspect:


Die parkrun Führungsriege reagiert und engagiert einen Securityman für die Begleitung vor allem der Läuferinnen.
Die Organisation beim parkrun ist wie immer top!
Im Gegensatz zu den Männern sind diese nämlich auffällig bunt gekleidet - unübersehbar für jemanden, der Böses im Sinn hat. Aber nun ist die Gefahr gebannt, die Mädels haben ja bereits weglaufen trainiert und sind guter Dinge mit der Security in ihrer Mitte. 😉
The parkrun management reacts and hires a security man to accompany the runners.
The organisation at parkrun is top as always!
In contrast to the men, they are dressed in strikingly colourful clothes - unmissable for someone who has evil in mind. But now the danger is averted, the girls have already trained running away and are in good spirits with the security in their midst. 😉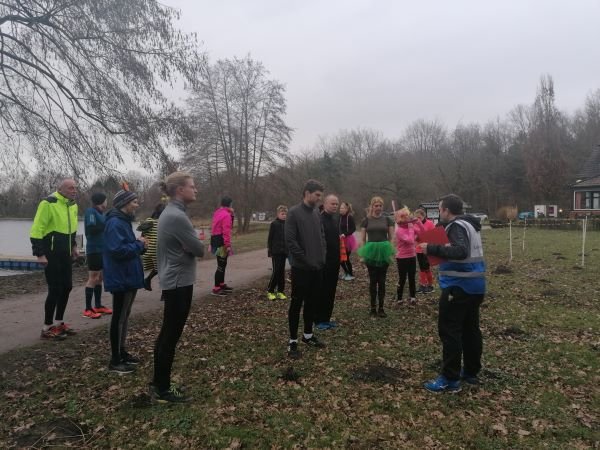 Dann geht es auch schon los. Naja, fast, denn erst gibt es immer eine Begrüßungsrede und Informationen. Von den alten Hasen wird diese meist ignoriert, nur bei diesem Lauf war das Wetter halt Thema. Es wird empfohlen, ohne Kopfhörer zu laufen, um eventuell herunterfallende Äste zu hören. Der Wind wird im Laufe des Tages sogar noch zunehmen, also wird schon mit den Hufen gescharrt und Aufstellung genommen. Sehr schön sieht man hier die grauen Herren zwischen dem bunten Weibervolk. 😉
Then we'll get started. Well, almost, because first there is always a welcome speech and information. The old runners mostly ignore this, only at this run the weather was a topic. It is recommended to run without headphones to hear possibly falling branches. The wind will even increase in the course of the day, so we already scratch our hooves and line up.
Very good to see here the grey gentlemen between the colourful womenfolk. 😉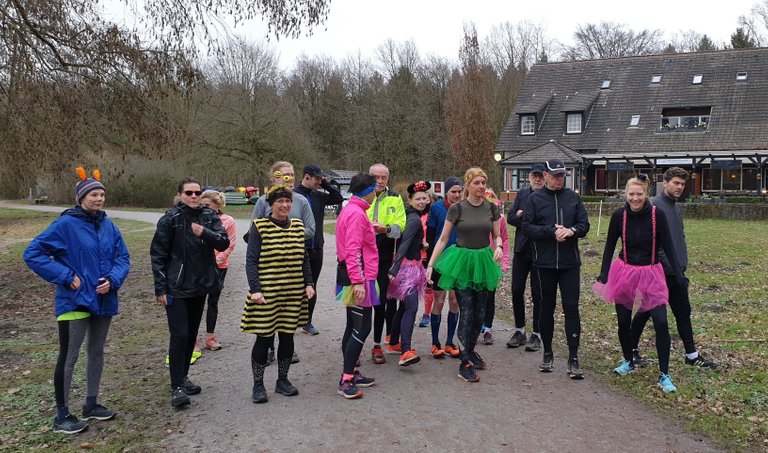 Achtung, fertig, parkrun!
Los geht's, ab in den Wind der über den See pustet. Dennoch bleibt der Spaß nicht auf der (sprichwörtlichen) Strecke. Sauer Bunt macht lustig und der Wind mit seinen heftigen Böen kann uns mal. Selbst Biene Maja hat sich bei diesem Wetter vor die Tür getraut und keine Kosten und Mühen gescheut um heute hier dabei sein zu können. 😉
Here we go, off into the wind that blows over the lake. Nevertheless the fun does not stay on the (proverbial) track. ~~~~Sour~~ colorful makes fun and the wind with its violent gusts can fuck us. Even Maya the Bee has dared to go outside in this weather and spared no expense and effort to be here today. 😉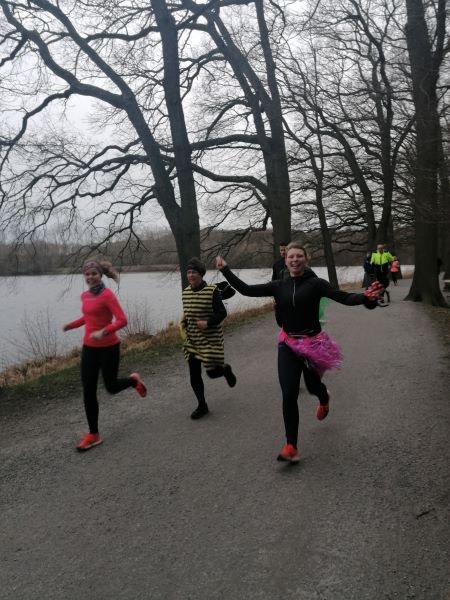 Wie gewohnt zieht sich der Anfangspulk schnell in die Länge. Wenn ich von unserer Nummer 1 ein Foto beim Laufen machen möchte, muss ich schummeln und einen Streckenteil auslassen. Das geht bei unserer Strecke sehr gut, da eine Seerunde durch einen langen Stichweg auf die erforderlichen 5k gebracht worden ist. Ich muss gar nicht lange warten, denn der liebe Pascal läuft doppelt so schnell wie ich. (Bei diesem Lauf 16:27) 😉 Gerade noch rechtzeitig erwische ich ihn in letzter Sekunde an mir vorbeirennen.
As usual, the starting crowd quickly stretches out. If I want to take a photo of our number 1 running, I have to cheat and skip a part of the course. This works very well on our course, as a lake lap has been brought to the required 5k by a long run. I don't have to wait long at all, because dear Pascal runs twice as fast as me. (In this run 16:27) 😉 Just in time I catch him running past me in the last second.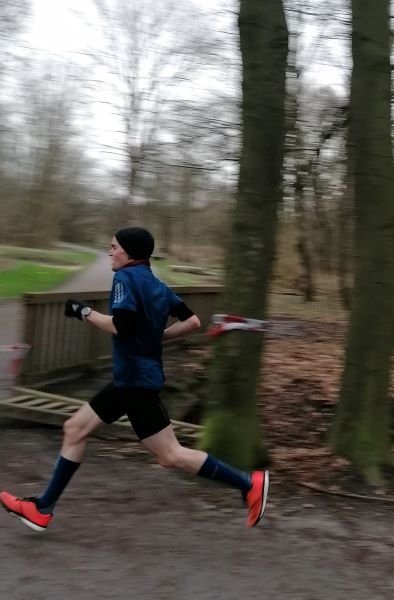 Ab dieser Stelle ist wieder der See -Rundkurs angesagt. Mein Blick in den Stichweg zeigt noch lange keinen Verfolger und ich muss weiterlaufen, damit ich dann am Ende wieder vor den anderen am Ziel bin. Drei "Huschfotos" mache ich dann noch unterwegs, die aber nicht besonders aussagekräftig sind. Dafür hinterlassen sie Eindruck, denn beim Après parkrun fragt einer, ob wir heute einen Streckenfotografen hatten. Ich bin also nicht erkannt worden. 😉
From this point on the lake circuit is continuing. My view into the branch-off path shows no chaser and I have to keep running so that I will reach the finish before the others. I then take three "runer shots" on the way, but they are not very meaningful. But they leave an impression, because during the après parkrun someone asks if we had a photographer today. So - I was not recognized. 😉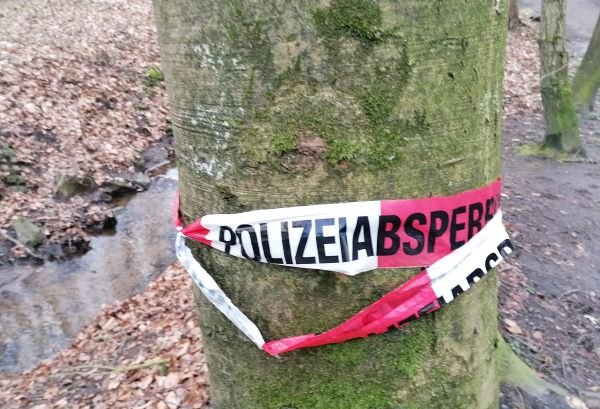 Ab hier beginnt der Bereich, in dem der Verdächtige gesichtet wurde. Die Polizei hatte vorsorglich großflächig abgesperrt. Für den parkrun hieß es dann aber "Bahn frei" und nur dieser Baum hält seine Stellung als Aufpasser. Apropos Aufpasser - wo ist denn der Securityman? Da die Damen alle ziemlich unterschiedliche Zeiten laufen, macht die Begleitung wenig Sinn. Die Kälte treibt ihn schnell in Richtung Ziel. 😉
From here the area where the suspect was sighted begins. As a precaution, the police had cordoned off a large area. For the parkrun, however, it was opened for use, and only this tree holds its position as guard. Speaking of guards - where is the security man? Since the ladies all run at quite different times, the escort makes little sense. The cold drives him quickly towards his destination. 😉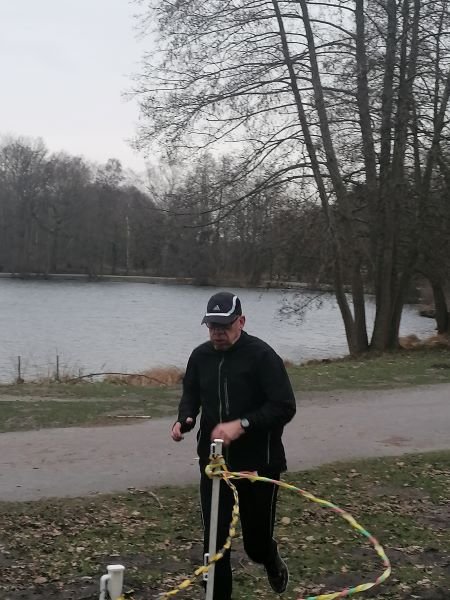 Meistens sind viele Alterstufen vertreten. Bei diesem Lauf ging die Altersspanne von jung (11-14) bis alt (75-79)! Ich finde es immer wieder erstaunlich wie fit einige ältere Herrschaften sind. Und dass ein junger Hüpfger Spaß daran hat, mit so vielen Erwachsenen zusammen zu laufen, freut mich besonders.
Most of the time many age groups are represented. In this race the age range was from young (11-14) to old (75-79)! I always find it amazing how fit some older people are. And that a young jumper has fun running with so many adults is something I am especially happy about.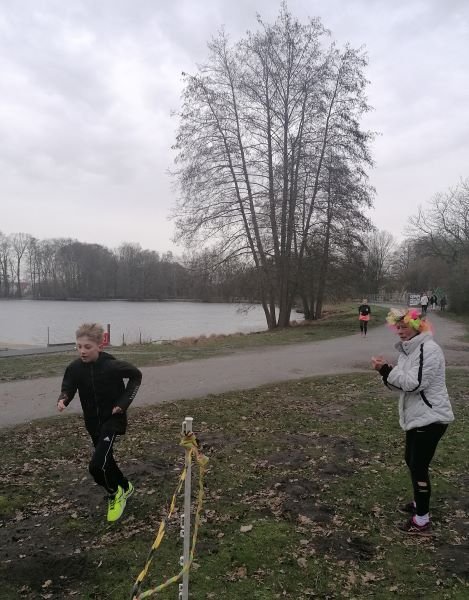 Nach und nach treffen dann alle am Ziel ein. Inzwischen beginnt es auch noch zu regnen. Da heute nicht so viele Teilnehmer da sind, reicht die Abdeckplane auch noch zum Zudecken.
Die Organisation beim parkrun ist wie immer top!
Im Restaurant ist ein Tisch für uns reserviert und wir können uns bei Kakao und heißer Zitrone aufwärmen und Geschichten vom Halbmarathon in großer Hitze anhören. 😉
Little by little they all arrive at their destination. In the meantime it also begins to rain. As there are not so many participants today, the tarpaulin is enough to cover them up.
The organization at parkrun is top as always!
In the restaurant there is a table reserved for us and we can warm up with cocoa and hot lemon and listen to stories of the half marathon in great heat. 😉
Auf Wunsch des Securitymans füge ich noch einen Song ein, der anscheinend mit zu seiner Ausbildung gehört hat. Spannend, was die so alles trainieren müssen - Sonnenbrille nachts tragen? 😎
At the request of the Securityman, I'm adding another song that seems to have been part of his training. It's exciting what they have to train - wearing sunglasses at night? 😎
I wear my sunglases at nicht - Corey Hart
Parkrun ist ein wöchentlicher kostenloser Lauf über 5 km mit Zeitmessung für Jedermann
Es ist ein organisierter Lauf, der inzwischen weltweit an unterschiedlichsten Orten jeden Sonnabend stattfindet. Ich habe hierzu bereits einen ausführlichen Post geschrieben: Jubiläum Parkrun 100 am Rubbenbruchsee (Osnabrück) - Impressionen und Informationen
Webseiten:
Rubbenbruchsee parkrun - Osnabrück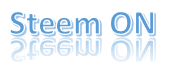 Collage mit Cnva
Handyfotos von Kadna und Mareike
Translated with www.DeepL.com/Translator (free version)
Unser Ausflug zum nächsten parkrun Nachbarn - laufen und mehr am Unisee in Bremen
Jubiläum Parkrun 100 am Rubbenbruchsee (Osnabrück) - Impressionen und Informationen