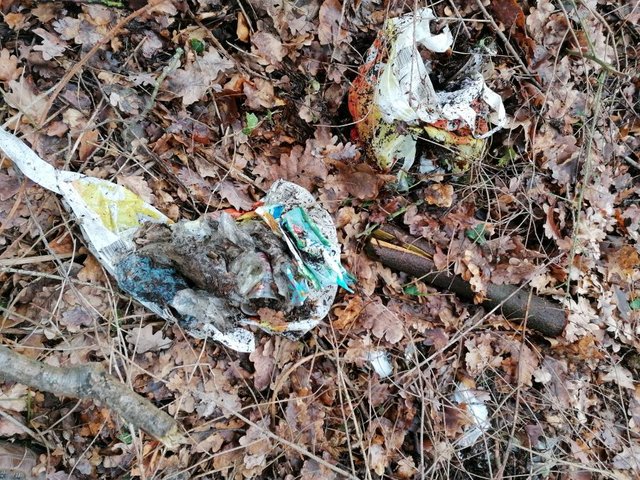 Eine Schnapsidee?
Vor einigen Wochen hatte ich eine in meinen Augen geniale Idee - nur wird das oft anders gesehen. 😉 Mein Weg zur Bushaltestelle geht am Wald des hiesigen Wasserwerks entlang. Jetzt im Winter - mit dem freieren Blick - zeigt sich dort jede Menge Abfall unserer Wegwerfgesellschft. Da das Gelände als Wasserschutzgebiet eingezäunt ist, kommt man nicht so einfach ran zum Aufräumen.
A few weeks ago I had what I thought was a brilliant idea - but people often see it differently. 😉 My way to the bus stop goes along the forest of the local waterworks. Now in winter - with a clearer view - you can see a lot of rubbish from our throwaway company there. Since the area is fenced in as a water protection area, it's not easy to clean up.
Nun, ich bin gern im Wald unterwegs, mag frische Luft und Bewegung und einen sauberen Wald. 😉 So bin ich in das Büro vom Wasserwerk bei mir um die Ecke gegangen und habe denen einen Vorschlag gemacht. Wenn ich da rein darf in den Wald, dann sammle ich den Müll. Die Entscheider wurden gefragt und nach einigen Tagen bekam ich eine positive Antwort. Erstaunlicher Weise war keine Rede davon, wie ich denn dort versichert sei - heutzutage weiß man ja nie... Und auch das Rausrücken des Universalschlüssels für alle Tore war kein Problem! Meine Idee wurde freudig aufgenommen!
Well, I like being in the forest, I like fresh air and exercise and a clean forest. 😉 So I went to the office of the waterworks around the corner and made them a proposal. If I'm allowed to go into the forest, then I'll collect the garbage. The decision makers were asked and after a few days I got a positive answer. Surprisingly, there was no question about my security there. And also the handing out of the universal key for all gates was no problem! My idea was very well received!
Da will ich rein!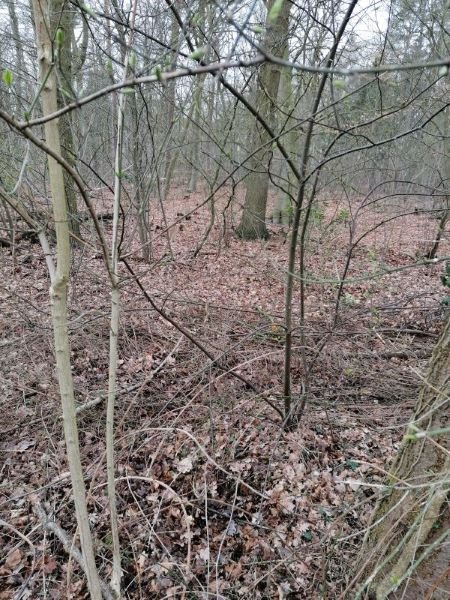 Heute war ich zum ersten Mal im Einsatz. Bewaffnet mit Eimer und Gelbem Sack ging ich den Schlüssel holen. So lernte ich auch gleich den Ansprechpartner vor Ort kennen. Ob ich noch irgendetwas als Werkzeug bräuchte - eine Greifzange zum Beispiel habe ich verneint. Erstens will ich die nicht auch noch mitschleppen und zweitens kenne ich Wälder so, dass ich dort alle Werkzeuge finde, die ich brauche.
Today I was in action for the first time. Armed with bucket and yellow bag I went to get the key. So I got to know the contact person on site. If I still needed anything as a tool - a pair of gripping pliers for example? I denied it. Firstly, I don't want to carry them along and secondly, I know forests so well that I can find all the tools I need there.
Endlich kann ich anfangen!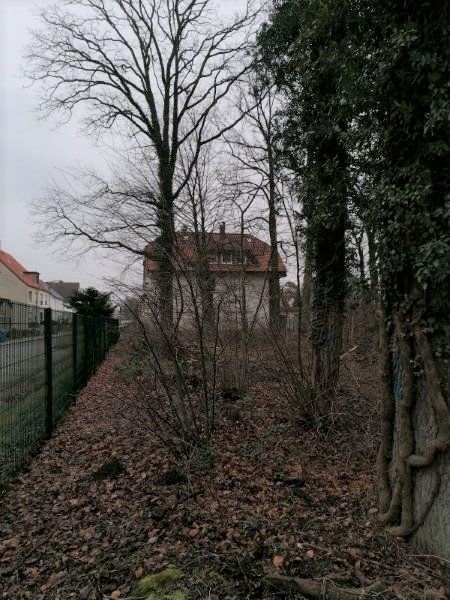 Also los und frisch ans Werk. Kaum war ich hinter dem Tor, fuhr ein Auto vom gegenüberliegenden Wasserwerksgelände und hielt an. Der zuständige Herr für diesen Wald kam neugierig zu mir und wollte wissen, was ich da mache. Wir haben uns noch eine Weile nett unterhalten und ich konnte endlich loslegen. Schon nach den ersten Schritten ging es los - was ja gut war, denn es war ganz schön kalt und ohne dieses dauernde Bücken hätte ich doch gefroren. Dieses Pirschen durch das Gestrüpp hat mir viel Spaß gemacht. Ein bisschen fühlte ich mich an das Ostereiersuchen im Wald erinnert. 😉 Und es gab Vieles zu entdecken...
So let's go and start working. As soon as I was behind the gate, a car from the opposite waterworks site drove up and stopped. The man in charge of this forest came curiously to me and wanted to know what I was doing there. We talked nicely for a while and I could finally get going. Already after the first steps I can start - which was good, because it was quite cold and without this constant bending I would have frozen. This stalking through the undergrowth was a lot of fun. A little bit I felt reminded of the Easter egg hunt in the forest. 😉 And there was a lot to discover...
Zwischenbilanz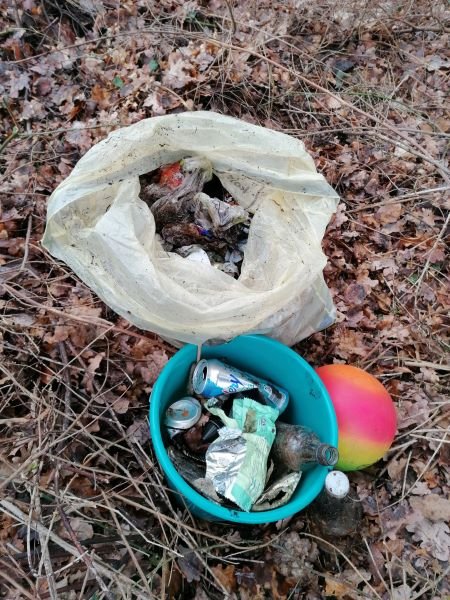 An manchen Stellen musste ich richtig tief buddeln - wahrscheinlich ist hier schon lange nicht mehr aufgeräumt worden. 😉 Mein Stauraum ging allmählich zur Neige und so frohlockte ich, als ich eine große Tüte in der Erde entdeckte. Nur - sie war total zersetzt und als Transportmittel null geeignet. So war ich nach einer Stunde fertig mit dem Sammeln und hatte vielleicht 500 m geschafft!
In some places I had to dig really deep - probably it hasn't been cleaned up for a long time. 😉 My storage space was gradually running out and so I rejoiced when I discovered a large bag in the ground. Only - it was totally decomposed and was not suitable as a means of transport. So after one hour I was done collecting and had made maybe 500 m!
Doch keine Mülltüte!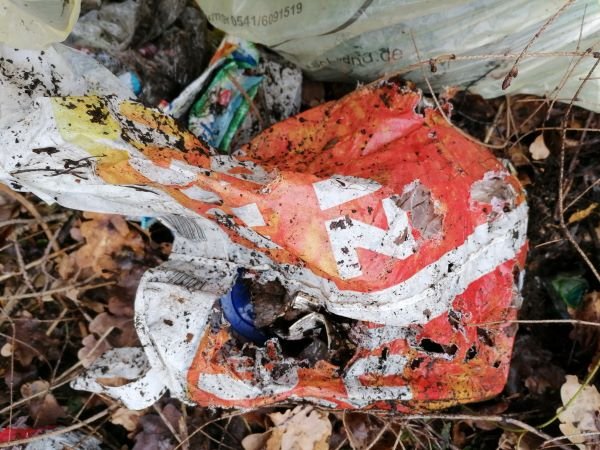 Der Anfang ist gemacht und ich kann jeder Zeit wieder mal eine Stunde sammeln gehen. Eigentlich ist dies ja sogar eine win-win-win Gelegenheit: für mich, für den Wald und für das Wasserwerk. Welche Idee hast du für CLEANPLANET? Vielleicht gibt es bei dir in der Nähe auch ein bedürftiges Plätzchen? 😉
The beginning is made and I can go and collect another hour at any time. Actually this is a win-win-win opportunity: for me, for the forest and for the waterworks. What is your idea for CLEANPLANET? Maybe there is a place in need near you? 😉
Alles sauber!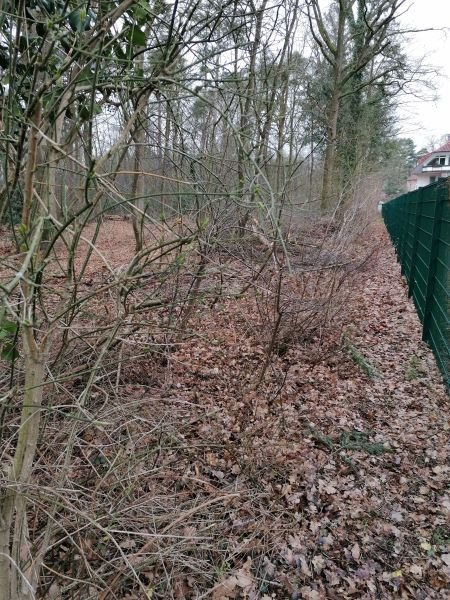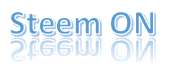 Translated with www.DeepL.com/Translator (free version)
Fotos: mein Smartphone und ich