Inspiriert durch den Post von @backinblackdevil möchte ich auch von meiner Investition in Steem berichten. Vielleicht ermutigt es ja noch Jemanden ein paar Groschen in diese tolle Plattform zu investieren? ;)

"Damals" als ich von Steem erfuhr war ich sofort begeistert und steckte eine für mich nicht unerhebliche Menge in meine ersten Steem. Ich meine der Kurs war dort bei über drei Dollar und ich startete mit ca. 850 Steem. Was dann passierte weiß wohl jeder, aber ich glaube fest daran, dass sich die Zeiten wieder ändern und freue mich jetzt günstig nachlegen zu können.
Vom Begin an habe ich alle meine Rewards immer wieder in Power-ups gesteckt und niemals etwas ausgezahlt.
Auch habe ich die ganzen Token, welche ich geschenkt bekommen habe, wieder in Steem-Power umgewandelt.
Durch die Rewards und ein paar weitere kleinere Investitionen bin ich so inzwischen bei über 5200 Steem angelangt.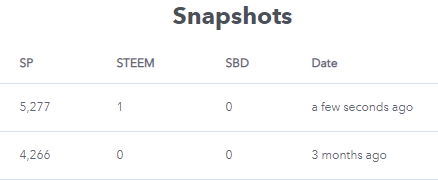 Nur konnte ich leider noch nicht besonders viele Leute für Steem begeistern, aber die Zeit wird schon kommen...
Lasst Euch nicht von den Kursen entmutigen, auch wenn es sicher teilweise schwer fällt und sorgt weiterhin für erstklassigen Content, macht außerhalb Werbung und lasst Steem wachsen. :-)
Steem on...
---
Inspired by the post from @backinblackdevil, I would also like to tell you about my investment in Steem. Maybe it encourages someone to invest a few pennies in this great platform? ;)

"Back then" when I heard about Steem I was immediately enthusiastic and put a not insignificant amount into my first Steem. I mean the price there was over three dollars and I started with about 850 Steem. Everyone knows what happened then, but I firmly believe that the times are changing again and I am happy to be able to add more money now.
Right from the start I put all my rewards into power-ups and never cashed out anything.
I also converted all the tokens I got as a gift back into Steem Power.
Through the rewards and a few other smaller investments I have now reached over 5200 Steem.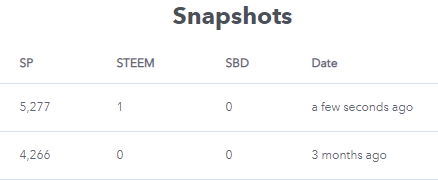 But unfortunately I haven't been able to get many people enthusiastic about Steem yet, but the time will come...
Don't be discouraged by the courses, even if it's hard to do so, and continue to provide first-class content, advertise outside and let Steem grow. :-)
Steem on...