Hallo, ich war wieder einmal im buddhistischen Tempel Kek Lok Si. Dieser befindet sich auf Pulau Pinang - George Town und habe schon einmal einen Bericht über den Tempel verfasst. Was ungefähr 1,5 Jahre her sein sollte, aus meiner steemit Anfangszeit.
Hello, I was again in the Buddhist temple Kek Lok Si. This temple is located on Pulau Pinang - George Town and I already wrote a post about the temple. Which should have been about 1.5 years ago, from my steemit early days.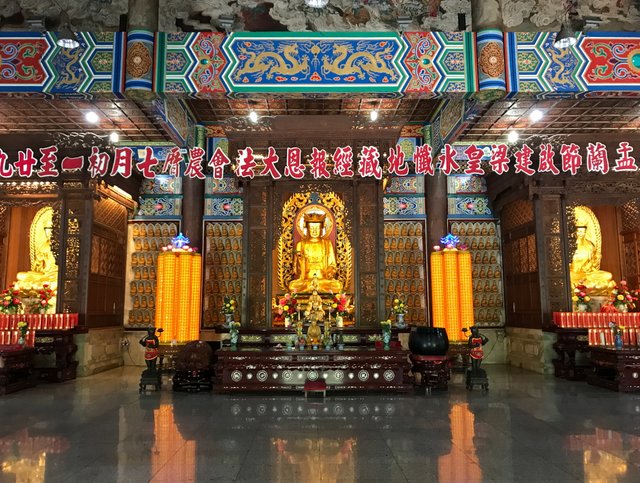 Groß
Oben zu sehen: Nach dem Betreten des Tempels ist dies der erste Raum, den ihr vermutlich besuchen werdet.
Die Tempelanlage besitzt eine Vielzahl von Räumen unterschiedlichster Größen. Wer sich Zeit nimmt um sich die kunstvoll und bunt gestalteten Räume in Ruhe anzuschauen kann gut 2–3 Stunden dort verbringen.
---
To see above: After entering the temple this is the first room you will probably visit.
The temple has a variety of rooms of different sizes. Those who take the time to have a look at the artistic and colourful rooms can spend a good 2-3 hours there.
---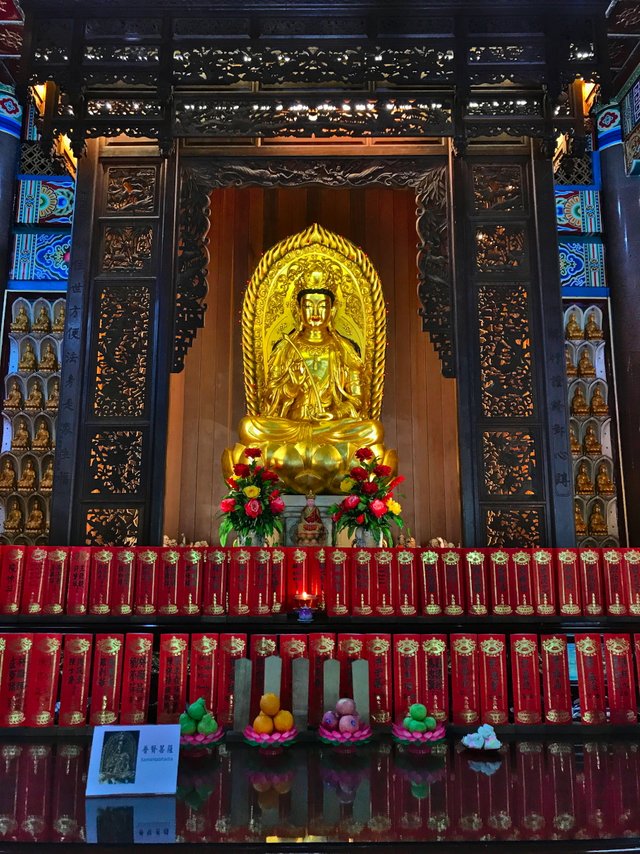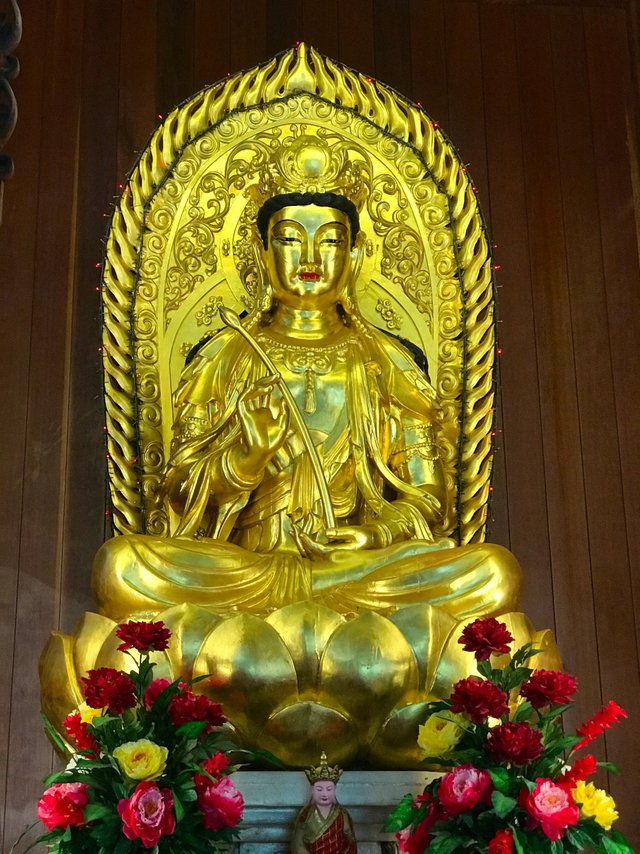 ---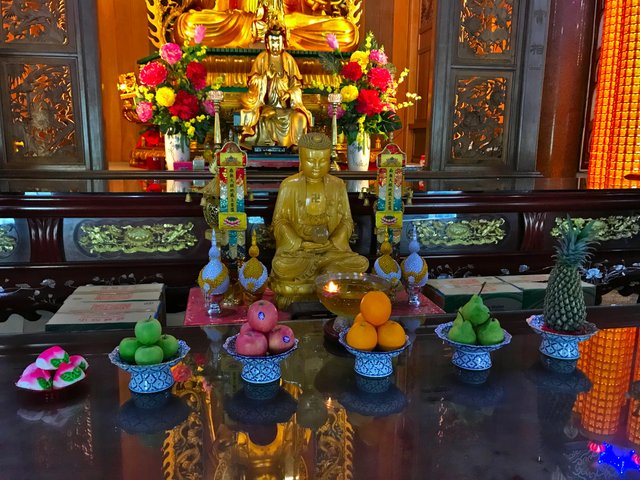 Groß
Leider gibt es keine Hinweise, Beschriftungen oder Schilder welche die Statuen genauer beschreiben. An manchen Statuen waren Namensschilder zu finden. Weshalb ich davon ausgehen, nicht jede Figur stellt Buddha dar. Wie auf dem Bild oben zu sehen, gibt es vor fast jeder Statue einen Altar auf dem Obst niedergelegt wird.
Unfortunately there are no hints, inscriptions or signs which describe the statues more exactly. On some statues you could find name tags. Which is why I assume, not every figure represents Buddha. As you can see on the picture above, there is an altar in front of almost every statue on which fruit is laid down.
---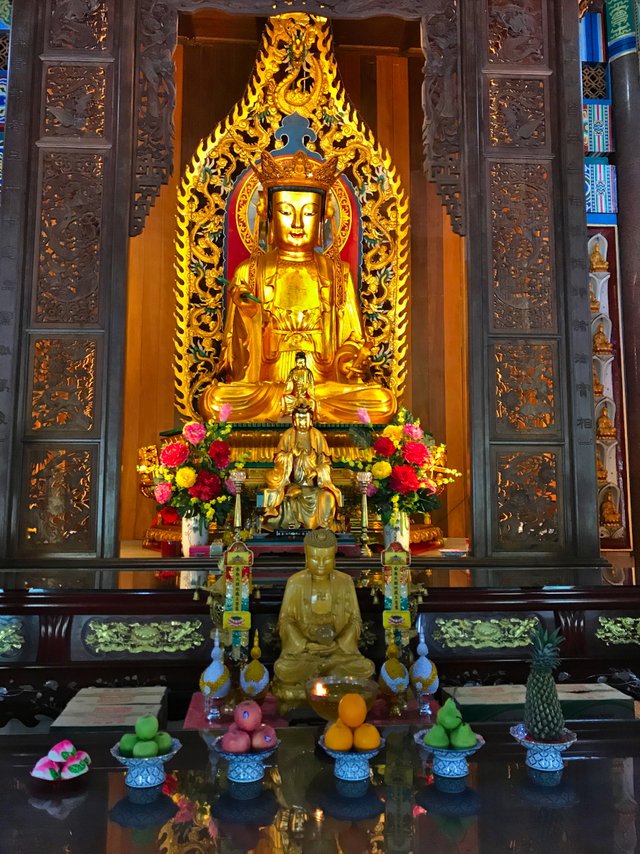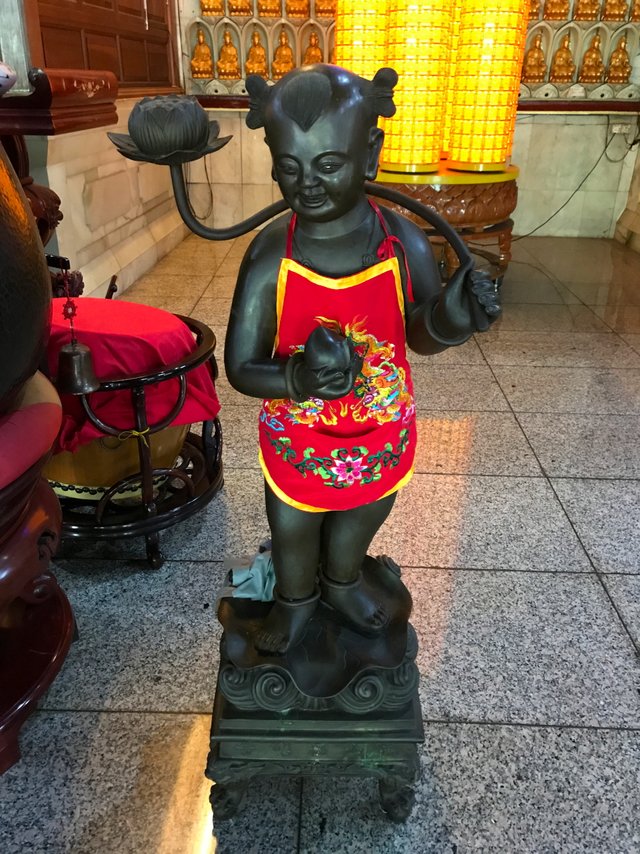 ---
Bild rechts oben: Manch Figur macht den Anschein eine rein dekorative Funktion zu haben. Das Gleiche scheint für eine Vielzahl von Tierfiguren zu gelten, welche sich im Tempel finden lassen.
Picture top right: Some figures seem to have a purely decorative function. The same seems to be true for a number of animal figures which can be found in the temple.
---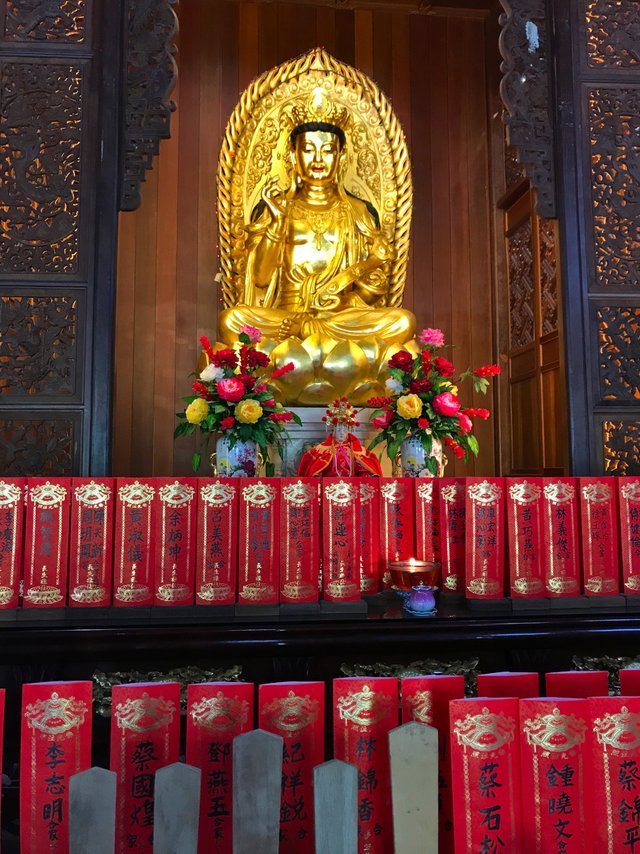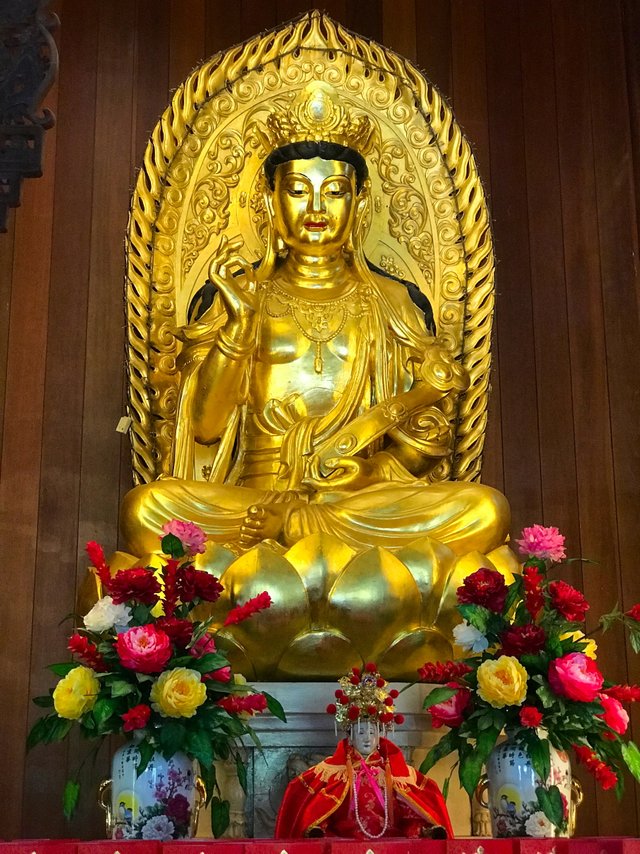 ---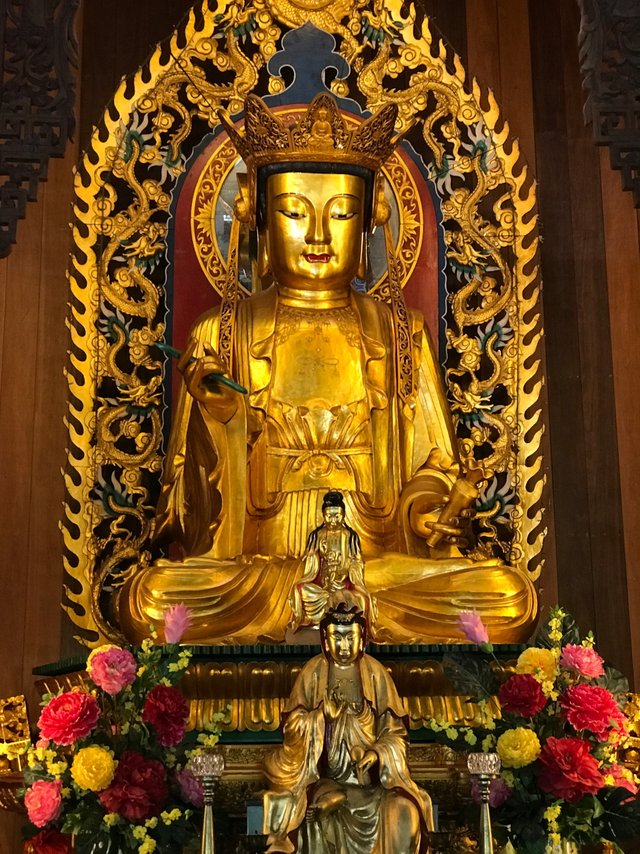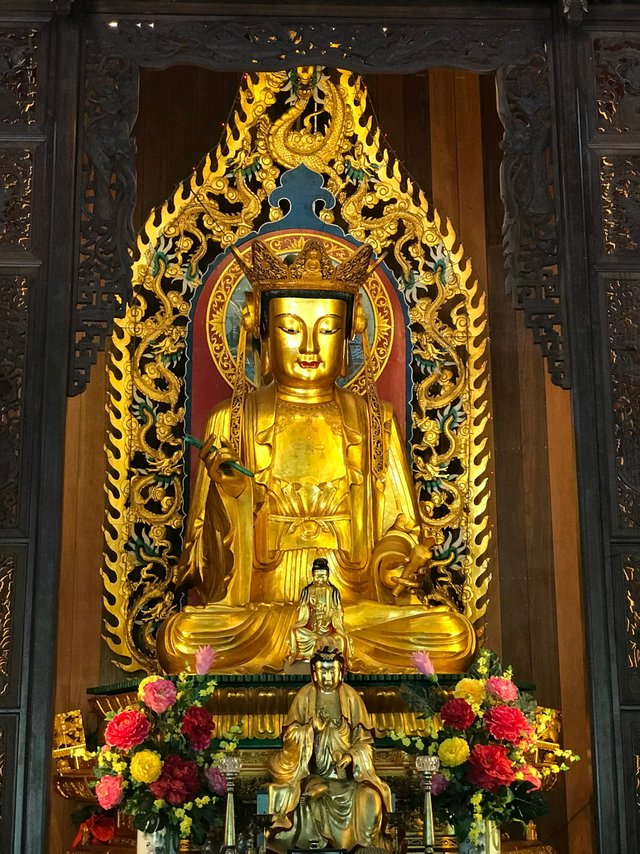 ---
Auch an den Wänden bzw. in kleinen Nischen in den Wänden stehen Buddhastatuen.
There are also Buddha statues on the walls/in small niches in the walls.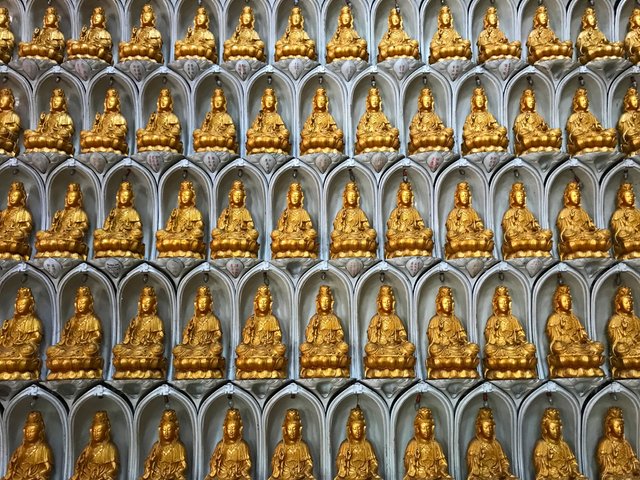 Groß
---
Bei einem Besuch, niemals vergessen auch nach oben zu schauen. Die Decke ist bemalt und zeigt etwas, was nach Szenarien ausschaut welche eine Geschichte erzählen.
During a visit, never forget to look up. The ceiling is painted and shows something that looks like scenarios that tell a story.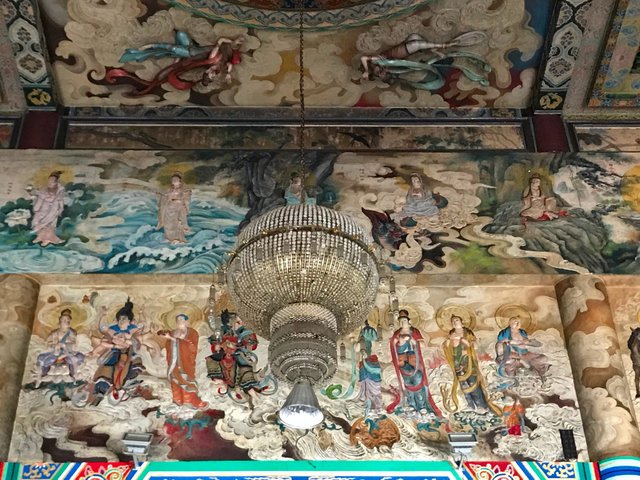 Groß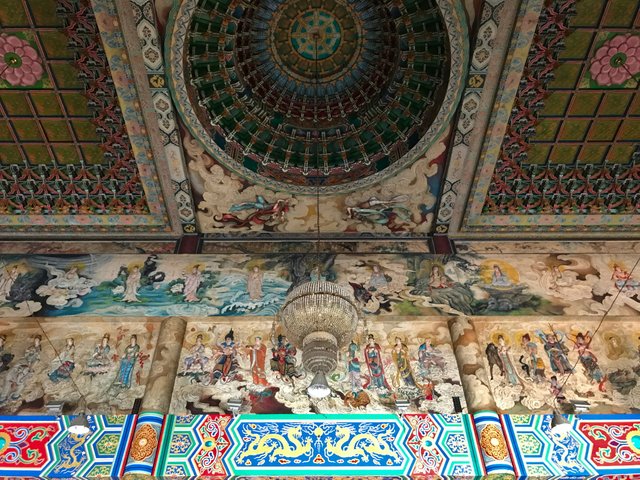 Groß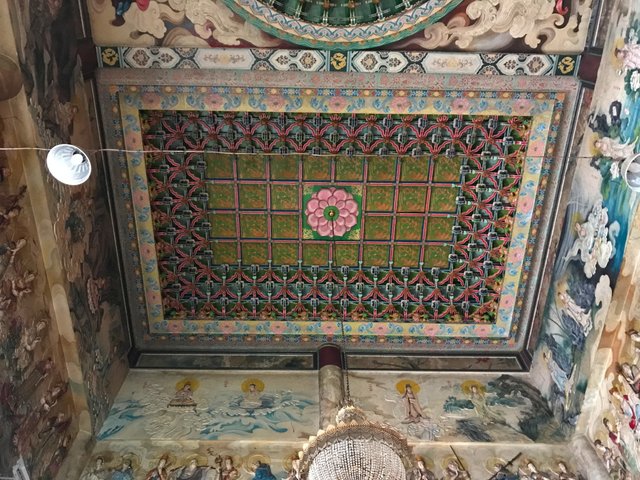 Groß
---
Beschriftung und Bemalung über dem Eingang/Ausgang.
Labeling and painting over the entrance/exit.


Groß

Vorerst habe ich nicht sooo viel zu tun und werde die nächsten Beiträge dem Tempel widmen. Zu zeigen habe ich viel. Bis dann!
For the time being I don't have sooo much to do and will dedicate the next posts to the temple. I have a lot to show. See you then!