Announcment and Manual Curation Report 01[GER/ENG]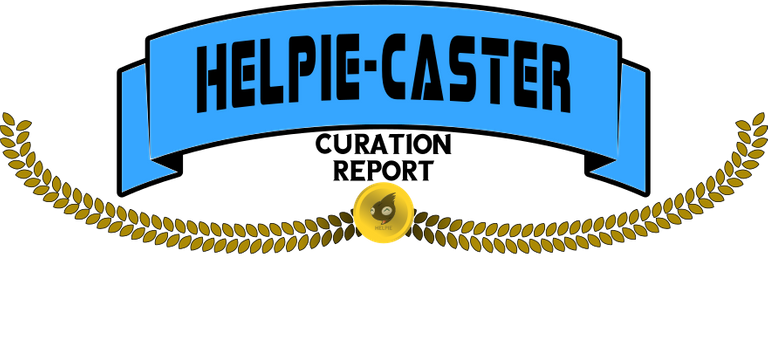 ---
Ankündigung/Announcment
Vor einer Woche haben wir angekündigt das wir jeden Sonntag einen kleinen Voting Report bringen möchten , mit den Beiträgen die wir mit 100% gevotet haben. Bevor jedoch dazu kommen 2 kleine Ankündigungen .Als aller erstes wird es Zeit unsere Gewinnerin der letzten Token Verlosung bekannt zu geben.Herzlichen Glückwunsch an
@muscara
die 180 GG Token und 120 Dblog Token sollten schon auf deinem Konto sein. Als nächstes möchten wir bekannt geben wie wir die Brotkrummen ,welche wir erspielen unter euch verlosen werden. Wie viele von euch schon wissen öffnet
@holybread
am 27.01.2020 seine Pforten und die Jagd nach Brotkrummen und Ausrüstung kann beginnnen. Wir von
@helpie-caster
werden alle Brotkrummen die wir erspielen an einen von euch verlosen ,genauer gesagt verlosen wir am 14.02 alle bis dahin erspielten Brotkrummen. Wie ihr gewinnen könnt fragt ihr euch jetzt sicherlich zurecht ,nun eigentlich ist es ganz einfach. Ab diesem Post bekommt jeder welcher diesen Post oder einen späteren Post von
@helpie-caster
resteemed ein Ticket für die Verlosung. Ihr erhaltet dabei für jeden Post der resteemed wird ein Ticket und könnt bis zum 09.02.2020 Tickets sammeln.Wer gewonnen hat wird dann am 14.02 bekannt geben , natürlich sind Mitglieder des
@helpie-caster
Staffs als Gewinner ausgeschlossen.
A week ago we announced that we would like to bring a small voting report every Sunday, with the contributions we have voted with 100%.But before that we have 2 small announcements: First of all it's time to announce the winner of the last token raffle. Congratulations to
@muscara
the 180 GG tokens and 120 Dblog tokens should already be on your account. Next, we would like to announce how we will raffle the breadcrumbs that we will earn among you. As many of you already know
@holybread
opens its doors on 27.01.2020 and the hunt for breadcrumbs and equipment can begin. We from
@helpie-caster
will raffle all the breadcrumbs we earn to one of you, more precisely, we raffle on 14.02 all breadcrumbs earned until then. How you can win you ask yourselves now surely rightfully, well actually it is quite simple. From this post gets anyone who this post or a later post of
@helpie-caster
resteemed a ticket for the raffle. You will get a ticket for every post which will be resteemed and you can collect tickets until 09.02.2020. Who has won will be announced on 14.02, of course members of the
@helpie-caster
staff are excluded as winners.
---
---
---