Diese Seite soll die Möglichkeit bieten, Fragen und Nachrichten zu hinterlassen, die sonst nirgendwo gut hinpassen würden.
This Page Shall Provide the Opportunity to Leave Questions and Messages which Would Not Fit Well in Any Other Context.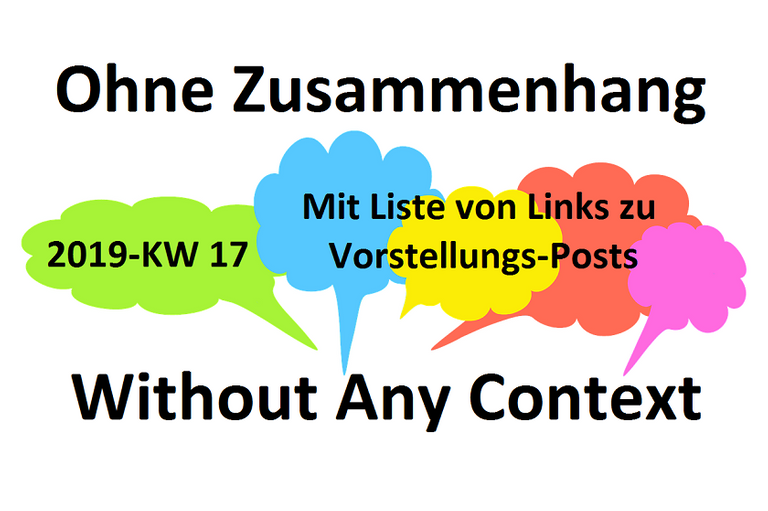 Bild mit Dank von pixabay
Dear English-speaking Steemit Friends,
If you scroll down, you will find in the right column a text explaining why this page was created and what it should be good for. I don't translate the weekly introductory text, which now follows in German, into English any more, because for a long time there was very little feedback from English-speaking Steemians. I wish you a good time!
Liebe Steemit Freundinnen,
liebe Steemit Freunde,
liebe Stammgäste,
frohe Ostern wünsch' ich euch allen! Ich hoffe, ihr könnt diese Tage in Gesellschaft von lieben Menschen verbringen und eure Freizeit genießen! Das Wetter spielt ja wunderbar mit. Allerdings ist es wieder mal schlagartig Sommer geworden, was mir nach dem letzten Sommer ein paar Bedenken bereitet, wie heftig dieser Sommer wohl werden wird.
Unser STEEM-Kurs macht gerade mal wieder eine deutliche Talfahrt. Langsam brühe ich ab und lasse das nicht mehr so stark an mich heran.
Ich hoffe, dass die "Neu-Erkrankten" inzwischen auch genesen und wohlauf sind!
Letzten Sonntag hat sich wieder mal eine neue Userin mit ihrem Bildchen und dem Link zu ihrem Vorstellungspost in unsere Liste einfügen lassen. Es ist
@schmetteling90
.
Die
"Steem-Fackel"
von
@stayoutoftherz
läuft weiterhin, ist jetzt beim 87. Teilnehmer und steht bei 400 STEEM. Es wird wohl noch eine ganze Weile dauern, bis der 250. Teilnehmer die Fackel erhalten haben wird. Falls ihr daran teilnehmen möchtet, und die Fackel kommt nicht von selbst zu euch, könnt ihr ja unter dem Artikel von
@stayoutoftherz
einen entsprechenden Kommentar hinterlassen.
So, ich bin gespannt, ob an dem heutigen besonderen Tag viele Stammgäste heute Abend lieber im Garten sitzen oder unterwegs sein werden. Wahrscheinlich werden die meisten dann erst sehr spät in unserer Kneipe eintrudeln. Ihr könnt euch ja auch dann später zum Ostermontag-Frühschoppen verabreden. Wobei ich allerdings sagen muss, dass ich überhaupt keine Frühschoppen mag ;-)
Übrigens wird das heute der 92. Kneipen-Abend sein. Wir gehen also zügig auf den 100. zu ;-)
Auf jeden Fall wünsche ich euch allen einen schönen Abend mit hoffentlich vielen netten Begegnungen und interessanten Gesprächen!
Und eine schöne nächste Woche! (Wir haben ja in Hessen noch Ferien.) ;-)
Liebe Grüße, euer
@double-u

Liste von Links zu Vorstellungs-Posts
Meine Idee mit der Liste von Links zu den Vorstellungs-Posts wurde ja sehr positiv aufgenommen; vor allem bei neuen Steemians. Ich habe auch beobachten können, dass die Liste bereits benutzt wurde, um andere User noch besser kennen zu lernen.

In der Kategorie "Vorstellungs-Posts" werde ich diese Liste mit den Links zu euren Vorstellungs-Posts nun jede Woche wieder einfügen und sie mit neuen Einträgen fortführen.

Mit der Zeit wird hier dann bestimmt eine stattliche Sammlung von Links zu Vorstellungs-Posts entstehen. So kann man dann die Seite auch dazu nutzen, schnell mal einen Vorstellungs-Post zu finden, ohne lange im Blog des Steemians scrollen zu müssen.

Für diese Sammlung wäre es natürlich toll, wenn auch Steemians, die schon lange hier auf dieser Plattform sind, uns hier den Link zu ihrem Vorstellungs-Post einfügen würden. Gerade bei "älteren" Steemians hat man ja meistens keine Chance, in deren umfangreichen Blogs die Vorstellungs-Posts zu finden.

Wenn ich ein Bildchen vor euren Links einfügen darf, dann lasst mir einfach in euren Kommentaren eines zukommen. 200 Pixel Breite wäre optimal. Das muss aber nicht so sein. Ich kann ein Bild von euch ratzfatz auf diese Breite ändern und einfügen. Das ist kein Problem für mich. Mir gefällt es sehr gut, wenn es ein Portrait-Foto ist. Aber auch das muss nicht so sein. Ihr könnt auch eure Avatar-Bildchen dort einfügen lassen.
Gliederung
Nachher werde ich nach dem Posten wieder die bereits bekannten vier Kommentare als "Überschriften oder Kategorien" einfügen, damit wir ein bisschen leichter die Übersicht behalten können. Natürlich werde ich diese Kommentare auch wieder mit den weiter unten stehenden Überschriften verlinken. Untereinander werden die Kommentare dann auch wieder verlinkt, so dass ihr schnell von einer Kategorie zur anderen springen könnt. Dazu benötige ich nach dem Posten ein paar Minuten.

Ich glaube, diese Struktur hat sich ganz gut bewährt. Vor allem bei einer so hohen Anzahl von Kommentaren.
Vielen Dank!
Herzlich danken möchte ich auch wieder den Steemians, die mit ihrer etwas höheren STEEM-Power oft viele Kommentare von anderen Besuchern hier voten!
Hinweise an neue Besucher
Unten ist ein Text als Bild eingefügt. Dort könnt ihr lesen, warum diese Seite entstanden ist, und wofür sie gut sein soll.
Auch wenn diese Seite mittlerweile sehr den Charakter einer Kneipe angenommen hat, könnt ihr doch sicher sein, dass Fragen, die ihr hier zum praktischen Umgang mit Steemit stellt, beantwortet werden. Es sei denn, es weiß niemand eine Antwort.
Da die Anzahl der Kommentare so stark zugenommen hat, habe ich den eigenen Anspruch nun abgelegt, auf jeden Kommentar auch antworten zu wollen. Das kann ich bei dieser großen Menge leider nicht mehr schaffen. Zu einem Vote reicht's aber meistens ;-) Ihr habt ja meistens auch Feedback von anderen Besuchern. Und so soll es ja auch sein in einer "Kneipe", in der sich die Gäste gut unterhalten. Wenn ich's nicht gepackt habe und möchte auf einen Kommentar noch reagieren, werde ich das bestimmt in den folgenden Tagen dann noch tun.
Natürlich könnt ihr auch diese Woche wieder einen Link zu eurem Vorstellungs-Post unter der entsprechenden Kategorie oder unter euren Kommentaren einfügen. Diese Idee wurde ja recht positiv aufgenommen.
Hier kommt die Gliederung
Bei den vielen Kommentaren, die in den letzten Wochen immer eingetroffen sind, wurde nun schon öfters die mangelnde Übersichtlichkeit bedauert. Ich werde heute wieder gleich nach dem Posten im Kommentarbereich mehrere Kommentare, sozusagen als Überschriften oder Kategorien, einfügen. Natürlich ist es nicht schlimm, wenn ihr euch vertut, und euer Kommentar woanders erscheint ;-) Ich habe mir das nicht so strikt vorgestellt sondern als grobes Gerüst.

Die folgenden Überschriften sind aktive Links, mit denen ihr direkt zu der entsprechenden Kategorie im Kommentarbereich springen könnt.
Wenn ihr möchtet, könnt ihr diese Links natürlich auch zusätzlich unter euren normalen Kommentaren einfügen. Ich fände es toll, wenn nicht nur Newbies das machen, sondern auch Steemians, die schon lange hier auf der Plattform sind, uns den Link zu ihrem Vorstellungs-Post nennen würden. Dann muss man im Blog des Betreffenden nicht ewig scrollen, um mal schnell sehen zu können, wer das so ist.
Hier noch ein paar Empfehlungen
 
SteemWorld
Ein hervorragendes Tool von @steemchiller. Hier siehst du ganz viele Details, die du auf Steemit direkt nicht sehen kannst. Ohne die Nutzung der SteemWorld kann ich mir ein Agieren auf Steemit gar nicht mehr vorstellen.
Der komplette Reiseführer für Steemit - Wie es funktioniert, und wie du deine ersten 30 Tage überlebst
Eine gut zu verstehende Einführung zu Steemit.
Sie wurde von @sco aus dem englischen Original von @theferalone übersetzt.
Video-Tutorial-Reihe von @theaustrianguy
Eine Video-Tutorial-Reihe für Anfänger hat @theaustrianguy erstellt. Ich füge hier mal den Link zu seinem 15. Video ein. In diesem Artikel findet ihr auch einen Link, der zu einer Übersicht zu den vorigen 14 Videos führt.
SteemWiki
Auch hier findet ihr Antworten auf eure Fragen. Das SteemWiki wird von @afrog gepflegt.
Steemit Archiv
Eine Sammlung deutschsprachiger Anleitungen und Hilfstexte, gepflegt von @oliverschmid.
20 Fakten über Steemianer
Wenn ihr über einen bestimmten Steemian mehr erfahren möchtet, und dieser hat seinen Vorstellungs-Post nicht hier in der Kategorie 5) verlinkt, so könnt ihr ihn eventuell in der umfangreichen Liste, die @chriddi zu diesen "20-Fakten-Posts" erstellt hat, finden. Dort sind sehr originelle und interessante Vorstellungen von Steemians archiviert.
Der große Deutsch-Report
Hier veröffentlicht @maxpatternman jede Woche einen Report mit vielen Auswertungen, die vor allem für deutschsprachige User interessant sind.



 
Bisher erschienen:
Mein Vorstellungs-Post: Nun stelle ich mich vor / Now I introduce myself
Wochenseiten: 2017-KW 29; 2017-KW 30; 2017-KW 31; 2017-KW 32; 2017-KW 33; 2017-KW 34; 2017-KW 35; 2017-KW 36; 2017-KW 37; 2017-KW 38; 2017-KW 39; 2017-KW 40; 2017-KW 41; 2017-KW 42; 2017-KW 43; 2017-KW 44; 2017-KW 45; 2017-KW 46; 2017-KW 47; 2017-KW 48; 2017-KW 49; 2017-KW 50; 2017-KW 51; 2017-KW 52; 2018-KW 01; 2018-KW 02; 2018-KW 03; 2018-KW 04
Kneipen-Geschichte: 2018-KW 05 Kneipen-Geschichte
Wochenseiten: 2018-KW 06; 2018-KW 07; 2018-KW 08; 2018-KW 09; 2018-KW 10; 2018-KW 11; 2018-KW 12; 2018-KW 13; 2018-KW 14; 2018-KW 15; 2018-KW 16; 2018-KW 17; 2018-KW 18; 2018-KW 19; 2018-KW 20; 2018-KW 21; 2018-KW 22; 2018-KW 23; 2018-KW 24; 2018-KW 25; 2018-KW 26; 2018-KW 27; 2018-KW 28; 2018-KW 29; 2018-KW 30; 2018-KW 31; 2018-KW 32; 2018-KW 33; 2018-KW 34; 2018-KW 35; 2018-KW 36; 2018-KW 37; 2018-KW 38; 2018-KW 39; 2018-KW 40; 2018-KW 41; 2018-KW 42; 2018-KW 43; 2018-KW 44; 2018-KW 45; 2018-KW 46; 2018-KW 47; 2018-KW 48; 2018-KW 49; 2018-KW 50; 2018-KW 51; 2018-KW 52; 2019-KW 01; 2019-KW 02; 2019-KW 03; 2019-KW 04; 2019-KW 05; 2019-KW 06; 2019-KW 07; 2019-KW 08; 2019-KW 09; 2019-KW 10; 2019-KW 11; 2019-KW 12; 2019-KW 13; 2019-KW 14; 2019-KW 15; 2019-KW 16