Diese Seite soll die Möglichkeit bieten, Fragen und Nachrichten zu hinterlassen, die sonst nirgendwo gut hinpassen würden.
This Page Shall Provide the Opportunity, to Leave Questions and Messages, which Would Not Fit Very Well in Otherwhere Context.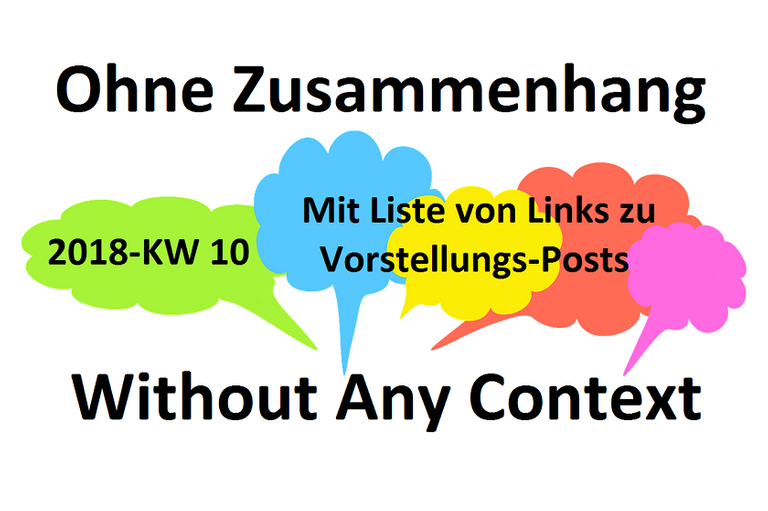 Bild mit Dank von pixabay
Dear English-speaking Steemit Friends,
If you scroll down, you will find in the right column a text explaining why this page was created and what it should be good for. I don't translate the weekly introductory text, which now follows in German, into English any more, because for a long time there was very little feedback from English-speaking Steemians. I wish you a good time!
Liebe Steemit Freundinnen,
liebe Steemit Freunde,
liebe Stammgäste,
am letzten Sonntag habt ihr euch mit 814 Kommentaren wieder mal so angeregt unterhalten, dass diese "Wochenseite" nun schon zum 4. Mal auf Platz 1 der "Steemit Hit Parade" in der Kategorie "Erhaltene Kommentare" gelandet ist.
Ich freue mich sehr darüber, dass ihr diese Seite so gerne nutzt!
Ich bin gespannt, wer von unseren tollen Mädels heute am Abend neben Annette wieder durch die Tischreihen flitzen wird. Ich glaube, sie haben sich schon so sehr an euch sympathische Gäste gewöhnt, dass sie alle wieder da sein werden.
Nachher werde ich nach dem Posten ja wieder ein paar Kommentare als "Überschriften oder Kategorien" einfügen, damit wir ein bisschen leichter die Übersicht behalten können.
Die Idee von
@maxpatternman
(Max), dass ich die Kategorien, die unten aufgelistet sind, mit den Überschriften im Kommentarbereich verlinke und auch die Überschriften untereinander, war wirklich klasse. Ich habe diese Funktion selbst sehr gerne benutzt.
In der Kategorie "Vorstellungs-Posts" werde ich die Liste mit den Links zu euren Vorstellungs-Posts nun jede Woche wieder einfügen und sie mit neuen Einträgen fortführen.
Ich denke, diese Liste würde ansprechender, wenn ich neben den Namen auch noch ein Bildchen des Steemians platzieren würde. Bei
@ennosan
und bei mir habe ich es schon gemacht. Wenn ihr auch mitmachen möchtet, dann fügt einfach in euren Kommentar ein Bildchen (am besten ein Portrait) ein. Ich werde das Bild dann auf eine Breite von 200 Pixel zuschneiden. Natürlich wäre es umso besser, wenn ihr mir euer Bild gleich in diesem Format zukommen lassen würdet.
Mit der Zeit wird hier dann bestimmt eine stattliche Sammlung von Links zu Vorstellungs-Posts entstehen. So kann man dann die Seite auch dazu nutzen, schnell mal einen Vorstellungs-Post zu finden, ohne lange im Blog des Steemians scrollen zu müssen.
Für diese Sammlung wäre es natürlich toll, wenn auch Steemians, die schon lange hier auf dieser Plattform sind, uns hier den Link zu ihrem Vorstellungs-Post einfügen würden.
Herzlich danken möchte ich auch wieder den Steemians, die mit ihrer etwas höheren STEEM-Power oft viele Kommentare von anderen Besuchern hier voten!
Hinweise an neue Besucher
 
Zuerst ein Hinweis an diejenigen von euch, die neu auf Steemit sind oder diese "Wochenseite" hier noch nicht kennen:
Unten ist ein Text als Bild eingefügt. Dort könnt ihr lesen, warum diese Seite entstanden ist, und wofür sie gut sein soll.
Auch wenn diese Seite mittlerweile sehr den Charakter einer Kneipe angenommen hat, könnt ihr doch sicher sein, dass Fragen, die ihr hier zum praktischen Umgang mit Steemit stellt, beantwortet werden. Es sei denn, es weiß niemand eine Antwort.
Da die Anzahl der Kommentare so stark zugenommen hat, habe ich den eigenen Anspruch nun abgelegt, auf jeden Kommentar auch antworten zu wollen. Das kann ich bei dieser großen Menge leider nicht mehr schaffen. Zu einem Vote reicht's aber meistens ;-) Ihr habt ja meistens auch Feedback von anderen Besuchern. Und so soll es ja auch sein in einer "Kneipe", in der sich die Gäste gut unterhalten. Wenn ich's nicht gepackt habe und möchte auf einen Kommentar noch reagieren, werde ich das bestimmt in den folgenden Tagen dann noch tun.
Natürlich könnt ihr auch diese Woche wieder einen Link zu eurem Vorstellungs-Post unter der entsprechenden Kategorie oder unter euren Kommentaren einfügen. Diese Idee wurde ja recht positiv aufgenommen.
Ein bisschen Gliederung
 
Bei den vielen Kommentaren, die in den letzten Wochen immer eingetroffen sind, wurde nun schon öfters die mangelnde Übersichtlichkeit bedauert. Ich werde heute wieder gleich nach dem Posten im Kommentarbereich mehrere Kommentare, sozusagen als Überschriften oder Kategorien, einfügen. Natürlich ist es nicht schlimm, wenn ihr euch vertut, und euer Kommentar woanders erscheint ;-) Ich habe mir das nicht so strikt vorgestellt sondern als grobes Gerüst.

Die folgenden Überschriften sind aktive Links, mit denen ihr direkt zu der entsprechenden Kategorie im Kommentarbereich springen könnt.
Wenn ihr möchtet, könnt ihr diese Links natürlich auch zusätzlich unter euren normalen Kommentaren einfügen. Ich fände es toll, wenn nicht nur Newbies das machen, sondern auch Steemians, die schon lange hier auf der Plattform sind, uns den Link zu ihrem Vorstellungs-Post nennen würden. Dann muss man im Blog des Betreffenden nicht ewig scrollen, um mal schnell sehen zu können, wer das so ist.

Zum Glück ist heute die Außentemperatur recht mild, sodass @meluni und ich nicht so besorgt sein müssen, falls @jkiw (Natalie) wieder so lange von der Terrasse aus kommentiert und votet.

Ich wünsch' euch einen schönen Abend mit netten Begegnungen!

Und einen tollen Frühling, der nun hoffentlich eintreffen wird, wünsch' ich euch natürlich auch!

Liebe Grüße, euer @double-u



Hier noch ein paar Hilfen für Steemit-Neulinge
 
Der komplette Reiseführer für Steemit - Wie es funktioniert, und wie du deine ersten 30 Tage überlebst
Eine gut zu verstehende Einführung zu Steemit.
Sie wurde von @sco aus dem englischen Original von @theferalone übersetzt.
Video-Tutorial-Reihe von @theaustrianguy
Eine Video-Tutorial-Reihe für Anfänger hat @theaustrianguy erstellt. Ich füge hier mal den Link zu seinem 12. Video ein. Wenn ihr in seinem Artikel zum Ende scrollt, findet ihr die Links zu seinen weiteren Videos.
SteemWiki
Auch hier findet ihr Antworten auf eure Fragen. Das SteemWiki wird von @afrog gepflegt.



 
Bisher erschienen:
Mein Vorstellungs-Post: Nun stelle ich mich vor / Now I introduce myself
Wochenseiten: 2017-KW 29; 2017-KW 30; 2017-KW 31; 2017-KW 32; 2017-KW 33; 2017-KW 34; 2017-KW 35; 2017-KW 36; 2017-KW 37; 2017-KW 38; 2017-KW 39; 2017-KW 40; 2017-KW 41; 2017-KW 42; 2017-KW 43; 2017-KW 44; 2017-KW 45; 2017-KW 46; 2017-KW 47; 2017-KW 48; 2017-KW 49; 2017-KW 50; 2017-KW 51; 2017-KW 52; 2018-KW 01; 2018-KW 02; 2018-KW 03; 2018-KW 04
Kneipen-Geschichte: 2018-KW 05 Kneipen-Geschichte
Wochenseiten: 2018-KW 06; 2018-KW 07; 2018-KW 08; 2018-KW 09