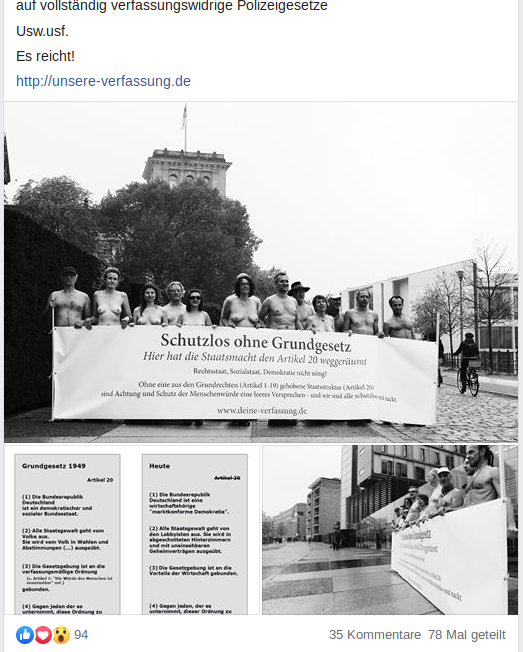 Gestrige Aktion zum Anlass des historischen Datums 11/9. Artikel 20 GG wird darin umgedeutet, um den gegenwärtigen, politischen Erfahrungen gerecht zu werden.
I have a dream
Ich habe einen Wunsch: Es möge in Absatz (3) der Begriff Wirtschaft ersetzt werden mit Industrie, oder treffender noch Industriekomplex, denn Wirtschaft ist so viel mehr!! Doch von Industrie zu sprechen, würde der Sache meines Erachtens schon gerecht, wo Wirtschaft pauschal zu verurteilen der ganze Grund für Spaltung ist. Make taxation theft again. Définissez à nouveau l'imposition comme un vol.
Am liebsten ginge ich nun mit dir in eine Wirtschaft, um dir davon zu erzählen, was das für mich bedeutet.
https://www.facebook.com/photo.php?fbid=3515794865099114&set=pcb.3515729001772367&type=3&theater
Und nun mal sehen, ob ich Jedem und Jeder, die hier vorbei schauen, und ein paar freundliche Worte hinterlässt (Proof of kindness), ein !BEER ausgeben kann. (Glühwein ist leider grad aus.) Aufgrund noch immer geringer sozialer Nachfrage, ist der Preis für !BEER noch immer deutlich unter dem im Kosum. Von Café und Kneipe gar nicht zu sprechen.
---
Der Beitrag ist auch auf SoMee
https://somee.social/profile/posts/96695