Hallo Freunde,
heute will ich mich mal etwas als Hobby-Paläontologe aufspielen. Die Initialzündung dafür war ein Geschenk, welches ich von einem meiner lieben Freunde erhielt. Es handelt sich um ein Fischfossil (Abb.1).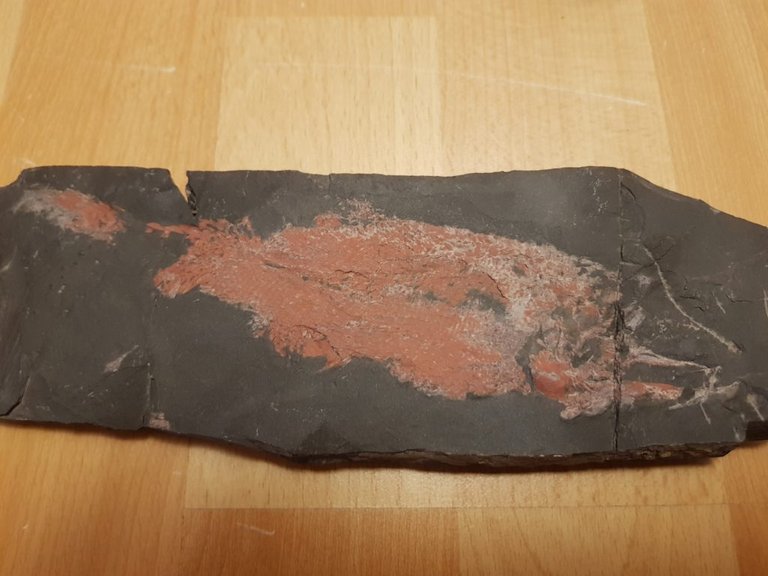 Abb.1 Mein Geschenk, ein Fischfossil. No copyright! Have fun!
---
Nun treiben mich natürlich verschiedene Fragen um, wie
Was ist dies für ein Fisch?
Wann hat er gelebt?
Gibt es Verwandte vielleicht noch heute?
Da dies alles komplexe Fragestellungen sind, werde ich diese sicherlich nicht vollständig heute beantworten können. Ich will es aber mal in Ansätzen versuchen und dann in den kommenden Wochen/Monaten das Rätsel weiter aufdröseln.
Wie fange ich am besten an? Na klar werfe einen genaueren Blick auf das Fossil (Abb.2).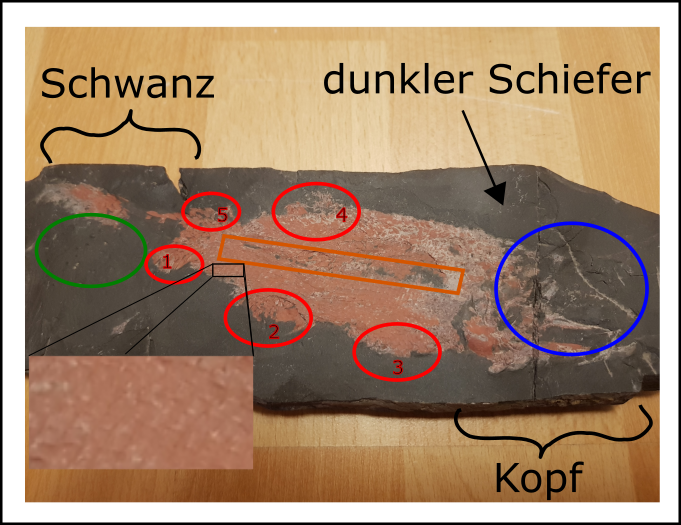 Abb.2 Auffälligkeiten am Fossil. Es befindet sich auf dunklem Schiefer. Es hat ein Seitenlinienorgan (braunes Viereck, haben aber eigentlich alle Fische und sogar Amphibien). Es sind nur unvollständige Informationen über Schwanzflosse (grüner Kreis), Kopf (blauer Kreis), sowie Bauch- und Brustflossen (rote Kreise 1 -5) vorhanden. Die Schuppen sind eindeutig zu erkennen (herausgezoomte Fläche, sorry für die schlechte Auflösung). No copyright! Have fun!
---
Folgende Informationen kann man trotz fehlender Teile herausarbeiten:
Das Fossil befindet sich auf schwarzem Schiefer. Es könnte sich hierbei um sogenannten Posidonienschiefer (auch Schwäbischer Ölschiefer genannt) handeln. Diese Art von Schiefer entstand vor ca. 175 Millionen Jahren in der Mitte des Erdmittelalters (Mesozoikums) im Unterjura. Zu dieser Zeit existierten schon zahlreiche Dinosaurier (der erste Dino war der Eoraptor vor etwa 230 Millionen Jahren, checkt dazu auch meinen Dino-Post).
Der Fisch verfügt über rhomboidförmige Schuppen, dies ist charakteristisch für Knochenfische.
Es gibt 1. einen Kopf, und 2. wahrscheinlich auch Kiefer. Somit haben wir es mit einem schädel- und kiefertragenden Fisch zutun.
Anscheinend sind zwei Paare an Rückenflossen (rote Kreise 4 & 5) und zwei Paare an Bauchflossen (rote Kreise 2 & 3) vorhanden. Neben einer (höchstwahrscheinlich) gespaltenen Schwanzflosse (grüner Kreis), gibt es noch Afterflosse(n).
Hat eine Länge von 19 cm.
Der Fisch sah demnach also ungefähr so aus (Abb.3):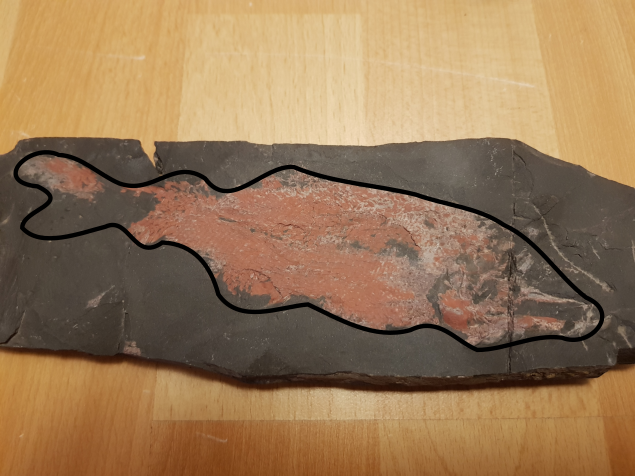 Abb.3 Mögliche Silhouette des Fischfossils. No copyright! Have fun!
---
Wir fassen also zusammen:
Bei dem Fisch handelt es sich um einen
Knochenfisch
. Er
lebte vor etwa 175 Millionen Jahren
im unteren
Jura
. Er hatte sowohl
Schädel als auch Kiefer
. Verfügte über mehrere
Bauch-, Brust- und sogar Afterflossen
. Seine
Schwanzflosse war gespalten
.
---
Nun überlegen wir mal, ob wir irgendeinen Kandidaten aus dieser Zeit ausfindig machen können.
Meinen tollen Paläntologiebuch
"Vertebrate Palaeontology" von Michael J. Benton
nach zu urteilen gibt es folgenden Großfamilien von Knochenfischen, die zu dieser Zeit ihr Unwesen trieben. Dies sind zunächst die
Ptycholepiformes
, die
Redfieldiiformes
, sowie die
Saurichthyiformes
und die
Chondrosteidae
, welche eine ausgestorbene Familie der Ordnung
Acipenseriformes
oder
"Störartige"
darstellen (Abb.4).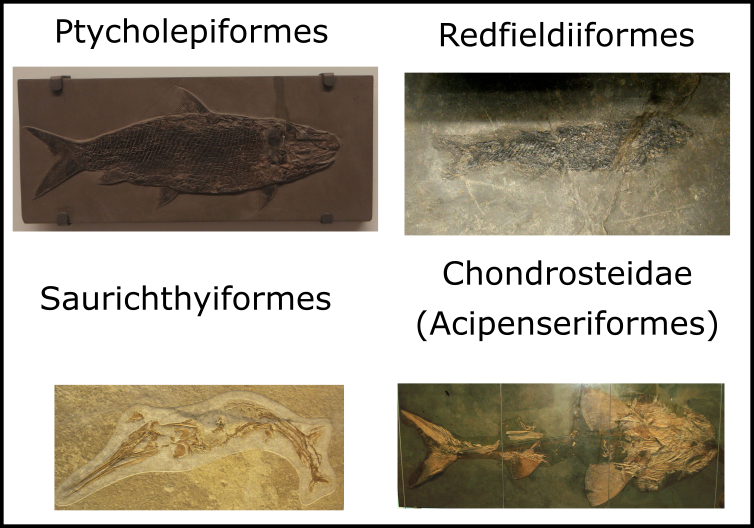 Abb.4 Auswahl möglicher Kandidaten. CC BY-SA 3.0 Links siehe Text.
Abgesehen von
Ptycholepiformes
und
Redfieldiiformes
, fallen die anderen beiden (
Saurichthyiformes
und
Chondrosteidae
) aber definitiv raus, da diese die obigen Kriterien nicht erfüllen. Doch auch
Ptycholepiformes
kann meiner Ansicht nach verworfen werden, denn der Körper ist zu gedrungen. Mein Fossil sieht etwas "schlanker" aus.
Redfieldiiformes
bleibt übrig auch wenn dies auf dem obigen Bild schlecht zu sehen ist.
Bleibt noch eine weitere Gruppe übrigen, nämlich die Scanilepiformes. Diese wurden einst mit den Palaeonisciformes, Cheirolepiformes und den Perleidiformes zusammengeschmissen. Sehen wir uns diese Kameraden mal etwas genauer an (Abb.5).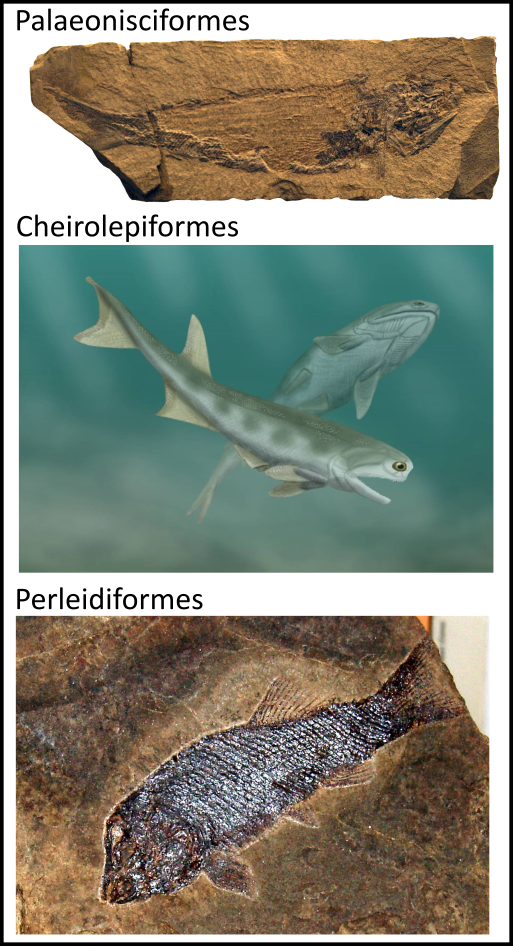 Abb.5 Weitere Kandidaten. CC BY-SA 3.0 Links siehe Text.
Durchaus sehen diese meinem Fossil schon recht ähnlich, vor allem
Perleidiformes
.
Cheirolepidiformes
nehme ich raus, denn die Kopfform ist meiner Ansicht nach zu kantig. Mein Fossil hat eine eher zulaufende Schnauze.
---
Mein Favoriten sind somit: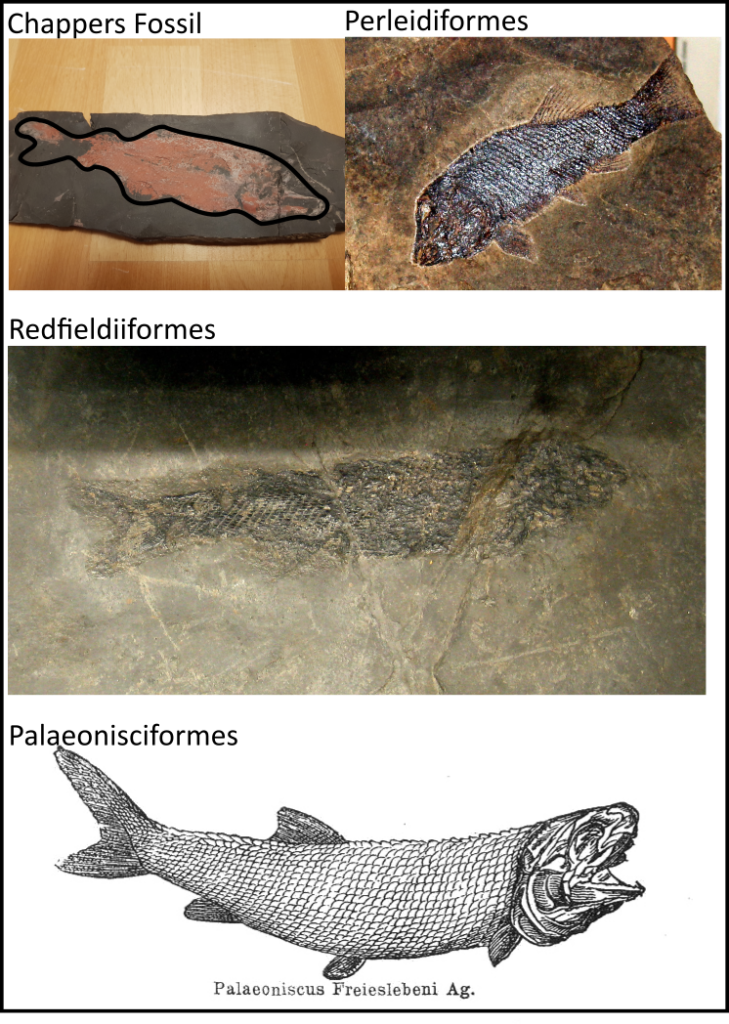 ---
.....uuuuuunnnndddd der (vorläufige) Gewinner ist:
Perleidiformes.
---
Obwohl ich gerade noch eine weitere Fischordnung gefunden habe, die ungefähr zur gleichen Zeit lebte und meinem Fossil sehr ähnlich sieht. Es handelt sich um die Ordnung Lepisosteiformes.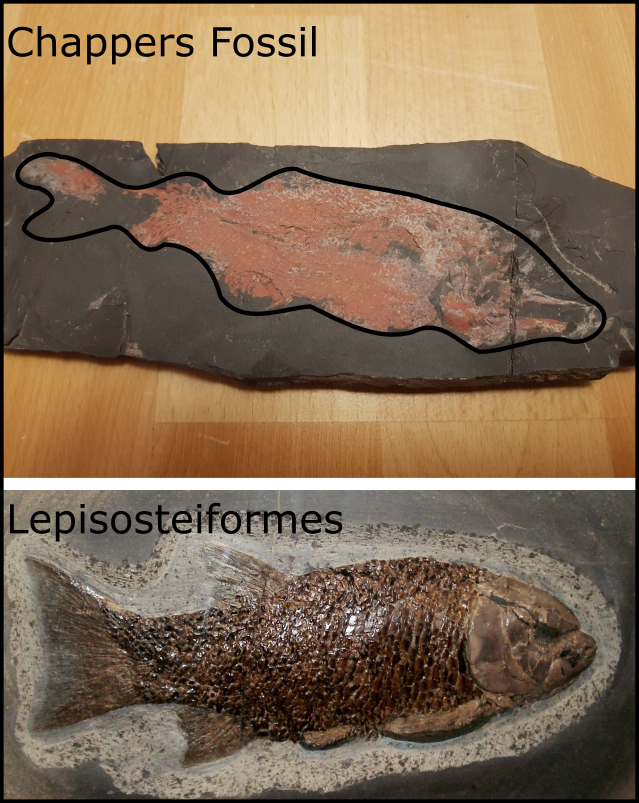 Abb.7 Oder ist es doch Lepisosteiformes??? CC BY-SA 3.0 Links siehe Text.
---
Ich hoffe ihr seht, dass Paläontologie wirklich eine echt verzwickte Sache ist.
Wenn ihr wisst was ich da zuhause habe, dann sagt mir doch einfach mal bescheid. Auch könnt' ihr gern mitraten, denn ich werde mir die Sache nochmal genauer anschauen.
Vielen Dank für's lesen und ein schönes Wochenende.
Euer Chapper
---
Quellen:
Im Text findet ihr zahlreiche Links.
Als wissenschaftliche Grundlage diente:
Benton, M., Vertebrate Palaeontology. Fourth Edition ed. 2015: WILEY Blackwell
---
---
Posted from my blog with SteemPress : http://worldofchapper.de/rp295320-ovh/index.php/2019/11/16/palaontologie-fur-nicht-palaontologen-welcher-fisch-ist-das/
---