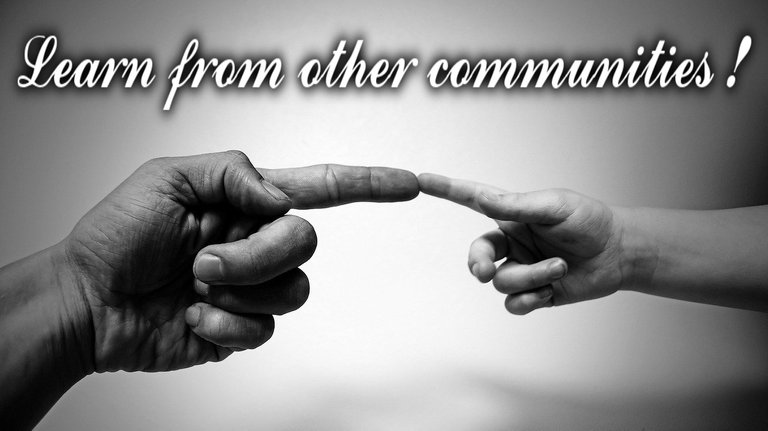 source
I'm @clixmoney the founder of @dcooperation !
For some reason our members are not that active in the community. In both discord and hive community. I'm trying to do something for the community almost everyday for one year and 8 months. I interviewed more than 100 steemians to build the community. I'm commenting our members sometimes, I'm upvoting them all. In fact the account is upvoting more than 100 steemians who are creating nice content. I'm always coming with nice ideas to make the community grow. To make our members send us content to share here because we power up everything we earn and upvote those who are sending us content.
Since our community is not active anyway, I will create this post in ''Power House Creatives'' because I'm sure I will find feedback there. Recently I created a post there from my main account and so many people commented me and that was really awesome.
In this post I want to let our members know how learning from other communities is useful. A lot of them always ask me for support and I give all support I can. I'm always active in discord and if anyone ask me questions I always answer them. When it comes to support and help, I'm always around, but when it comes to supporting the community, I have to ask again and again. I don't really know what to do. And I'm not complaining at all, but I'm looking for a solution. I want to understand what's wrong I'm doing.
I was always thinking that steem power is the issue and if we don't have big steem power, we can't ask from steemians anything because our upvote is low and noone likes to do something for cents. But, now I think that the problem is in something else. Because I understand that our upvote is not that bad after asking to add to autoupvote active steemians who are dedicated and writing a good contnet. And you know what, a lot wanted to be in the list and I've got too many comments on this post : 10 % autoupvote from me to my commenters 1 % from DCooperation !. Of course I added all those who commented to the list. I understand that free things are good, but noone want to build the community with us ? Noone even created an introduction post in our community ? They all expected upvotes only ?
I'm ok with that, I don't care that much about curation rewards anyway, because my main account and this one have both little steem power that will not bring big money anyway. That's why I'm not upvoting myself with this account. I want only to support others. As you see for almost no return. Just because they are dedicated steemians. Nothing needed really. Enjoy the upvotes.
Maybe I just need to move on on our members and find others. I'm sure that I will find those who are willing to build the community with me. I'm sure that the concept of the community is really great. I will keep doing what I'm doing.
Those are my main thaughts and in fact I can say more, I just want to save my time. I'm already giving too much of myself for this.
Let me know what do you think.
Cheers !

---
Feel free to follow our curation trail and to delegate to us some power to support. You can also donate any amount of steem, we will use it to power up the account.
Please subscribe on our community here and get an autoupvote : https://beta.steemit.com/trending/hive-177976
For more details about how our community will work : check this post
---
Promore your content to over 16,000 members in our facebook group !
We are in touch with @helpie and you may get support from them as well. In case your post is related somehow with promoting steem, we ask to use #promo-steem tag and you may get un upvote from @theycallmedan
All the earning of this post will go to power up our account ! We will never power down !