STEEMIT is beginning to roll out communities. Stay tuned for updates.
Just now couldn't log in
After login
Found a revision
The classification on the webpage has been changed
Added community
This feature should have started 2 months ago
But there is a formal update is in today
About 2 months ago
STEEMIT can create a community
The BEER community at the time
He seems to be the early community
In the impression
I'm not sure
The day that Steemit can create a community
The administrator of the BEER community created that community
And I should be the early to join
I received a request from the administrator that day
Joined it at that time
but
Because too long
community Nothing any changed
So i forgot it
that time
Friends say that STEMIMT will develop a community
The future goal of the community is to connect across blockchains
Such as ABC
There is an ABC community on the STEEM blockchain
There are also ABC communities established on the TRON blockchain
There are also ABC communities established on the EOS blockchain
STEEMIT and TRON and EOS are different blockchains
the same have social media
Through community functions
Achieved Unicom
such as
When you publish an article on STEEMIT
ABC tags used
This article will be published at the same time in STEMIT and TRON and EOS
Because ABC community had established in these 3 different blockchains
And bound the same Unicom
so Will be released at the same time in diffent blockchains
Friends say
Development community vision
Is the media that hopes that Unicom is located on a different blockchain
Like Facebook and Twitter
Do not know is not true?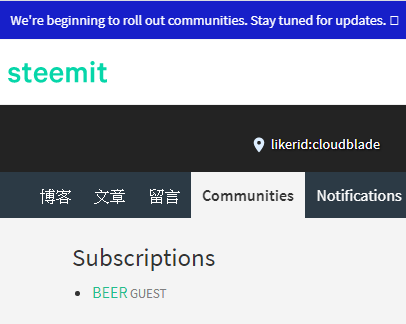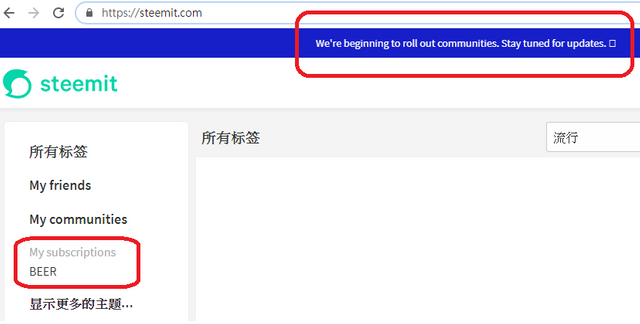 STEEMIT开始推广社区。请随时关注更新。
刚刚无法登录
登陆后
发现改版了
网页上的分类被改变了
新增了社区
这个功能正确是2个月前就开始的的
但今天才有了正式的更新
大概在2个月前
STEEMIT就可以创建社区
当时的BEER社区
他好像是前几位创造的社区
印象之中
我不是很确定
在STEEMIT可以创造社区的那一天
BEER社区的管理员就创建了那个社区
而我正确是前几位加入的吧
那一天我收到管理员的要求
当时就加入的
不过
因为太久了
都没有任何的变化
所以我都把它给忘记了
那个时候
朋友说STEEMIT会开发出社区
社区的未来目标是跨区块链链联通
例如ABC这个人
有在STEEM区块链链建立ABC社区
也有在TRON区块链链建立ABC社区
也有在EOS区块链链建立ABC社区
STEEMIT和TRON和EOS是不同的区块链
都有社交媒体
透过社区的功能
实现了联通
例如
当你在STEEMIT发表文章的时候
使用了ABC的标签
这篇文章就会同时发表在STEEMIT和TRON和EOS
因为ABC社区有在这3个不同的区块链链都建立
并绑定了联通
便会同时发布
朋友说
开发社区的远见
是希望联通位于不同区块链的媒体
就像脸书和推客
不知道是不是真的吗?