Warning: This story is going to turn into a big rant, which mostly has to do with parents who aren't taking their responsibilities. I am not a parent myself, so if you think I can not have an opinion about this..maybe don't read any further.
I was triggered by an ad from a somebody who I know through somebody (always a nice intro, right?) who was starting an own business. Kudos I would say, entrepenours deserve the world for taking risks and seeing where the markets lies. So what is the businessmodel? It is about delivering sandwiches at schools to kids whos parents didn't have enough time in the morning to make them a sandwich.
Wait...let's read it again. For parents who didn't have enough time in the morning to get a sandwich for their kids ready. Now Holland is a culture of eating bread in the afternoon. I know in a lot of other countries the most important meal of the day is lunch and that is a full hot meal, I am not talking about this. I am talking about 2-3 slices of bread, covered with some cheese, peanutbutter or chocolate sprinkels.
And we don't have enough time in the morning to get this done? Come on guys, this takes about 1.5 minute. And honestly, it is not about the time. It is about the effort that we are or not making.
A girl I know is a nanny at a family at which the man works in corporate banking, and the good lady doesn't work. And this nanny raises the family. I am sorry, but what happened here? You are hiring someone to raise a kids teaching them morals and values while you are also home yourself chilling in the sun? The nanny also helps the kids with homework, and most likely (this is my expectation) this will happen at school: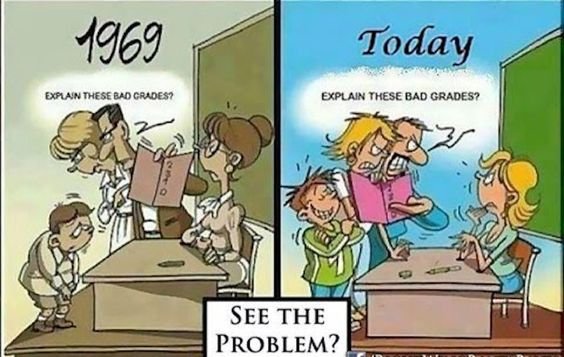 Pinterest
Do you catch my drift? Now I guess this isn't a worldwide issue, this is an issue of rich countries where survival isn't the main priority anymore.
Ow yes, we all want an offspring, but for what? The idea of having a large family from back in the days to make sure someone is taking care of you in your old days isn't the problem anymore in these countries. We want kids, but taking our responsibilities that comes with them seems too much to ask, and I don't like where this is heading.
But again, who am I? Again said: I am not a parent, so sorry if I have offended you with my lack of experience and 'I dont know what I am talking about.' This is just an opinion... don't do anything with it, I am just ventilating.