Hi, Dear steemian friends. How are you today?
---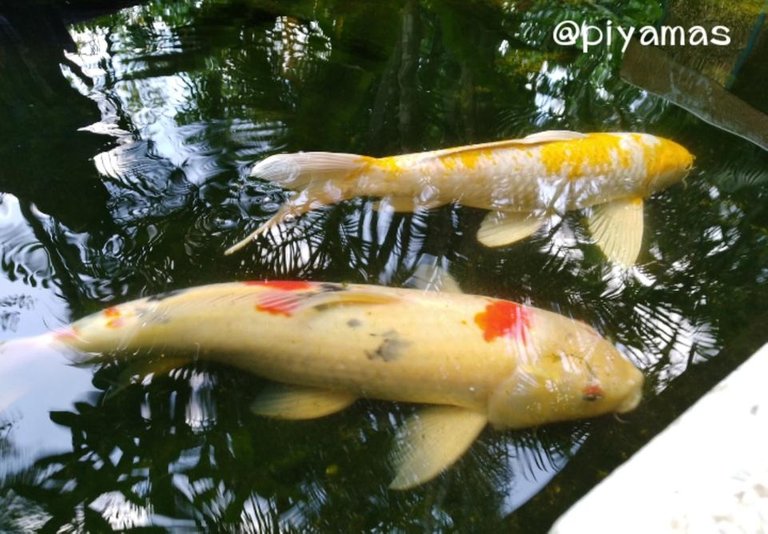 My Colorful fancy carp.
---
.....(Posted No. 338).....6/12/2019
---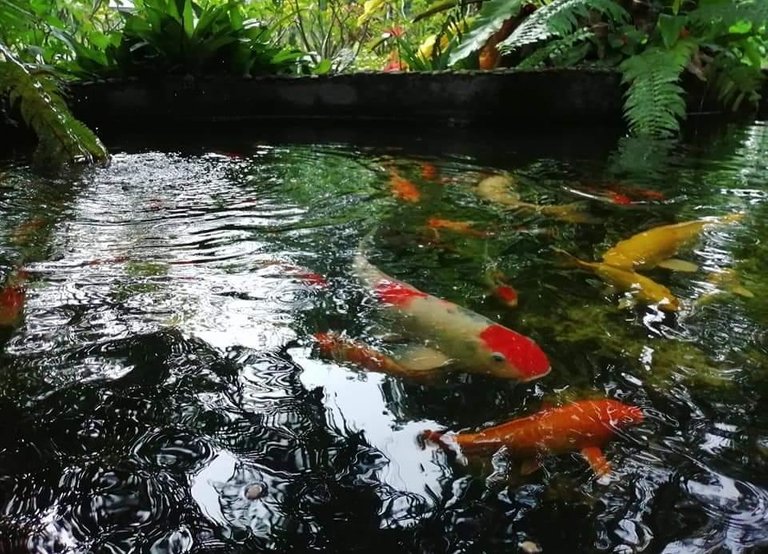 My small carp pond.
---
In front of my house there is a garden and a small carp pond. Which was designed and built by my husband. We have the same idea which is want to have a chill corner for relaxing.Therefore choose free space on the balcony in front of the house to arrange a garden and build a fish pond. While designing the garden I then go to buy 30 small carp fish, about 4 inches in length, 40 baht each and then raised to nursery fish in a small cement pond. My husband spent about 2 weeks to build fish pond, had to put water to rest for another 2 weeks before moving the fish go to add a new pond.
---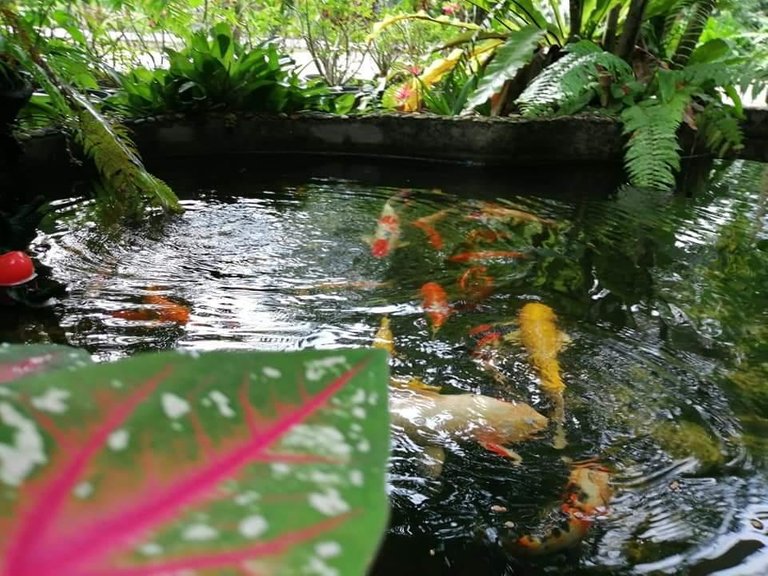 ---
---
I like raising carp, Because they are colorful fish, easy to raise, and have tame. At first I let them into the pond they will wake people and not familiar with new pond. When anyone approached, they would swim away and go to group together in the corner of the pond. When I walk to feed they will quickly swim to eat and then quickly swam to hide. When they started to adapt will invite each other to swim around the fish pond and when I approached they will swim immediately, Ready to open the mouth to ask for food 😆😆
---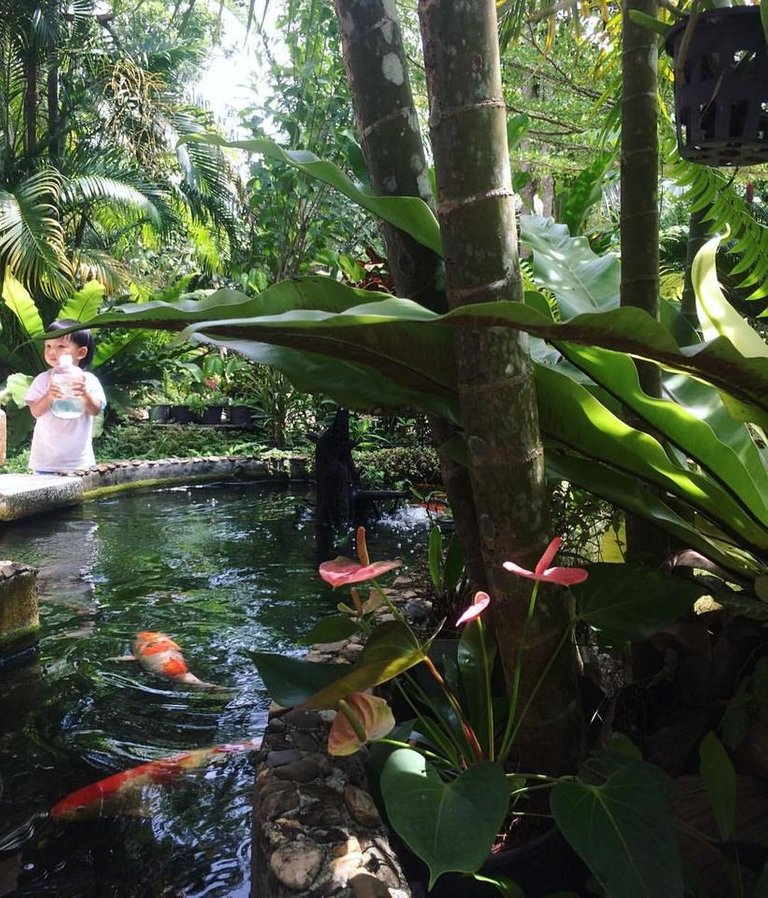 ---
Carp are beautiful fish. That is popular with The fish keeper for a long time, and when I raise it, I fall in love with them. I sit and watch them swim. Feel joy Peace of mind .... bright colored carp, unique and cute even though we can't bring it to hold. Now, I have two sizes of carp, older than 7 years. As for the small almost 2 years. Unfortunately, when designing a fish pond We made it in shallow water. Carp, so they can be fully grown But anyway, for me it's pretty and these carp are a favorite among children. Fish pond corner is a favorite corner of the whole family. Sometimes sitting and hanging his legs in the pond And having fun feeding the fish
---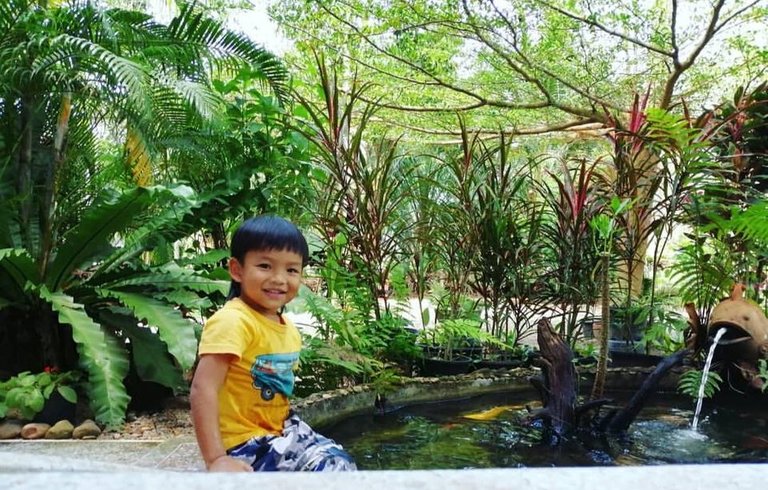 My son, he is hanging his legs in the pond and having fun feeding the fish
---
---
Each day I will take time to clean up the leaves that fall into the fish pond to prevent those leaves from rotting in the water and clogged the water pipes that connect to the treatment pond. I have to observe each carp to see if they have any abnormalities. If any one is sick Normally, they swim in separate groups go to be still alone at the corner of the pond. Mostly gingivitis or a wound on the skin. Aside from looking after fish food also put the medicine in the water. Right now my carp fish is very healthy, bright in color and without any skin sores.

Raising carp for me is not difficult. But not quite easy I have to pay attention to them So that they will become beautiful and strong carp all the time.
---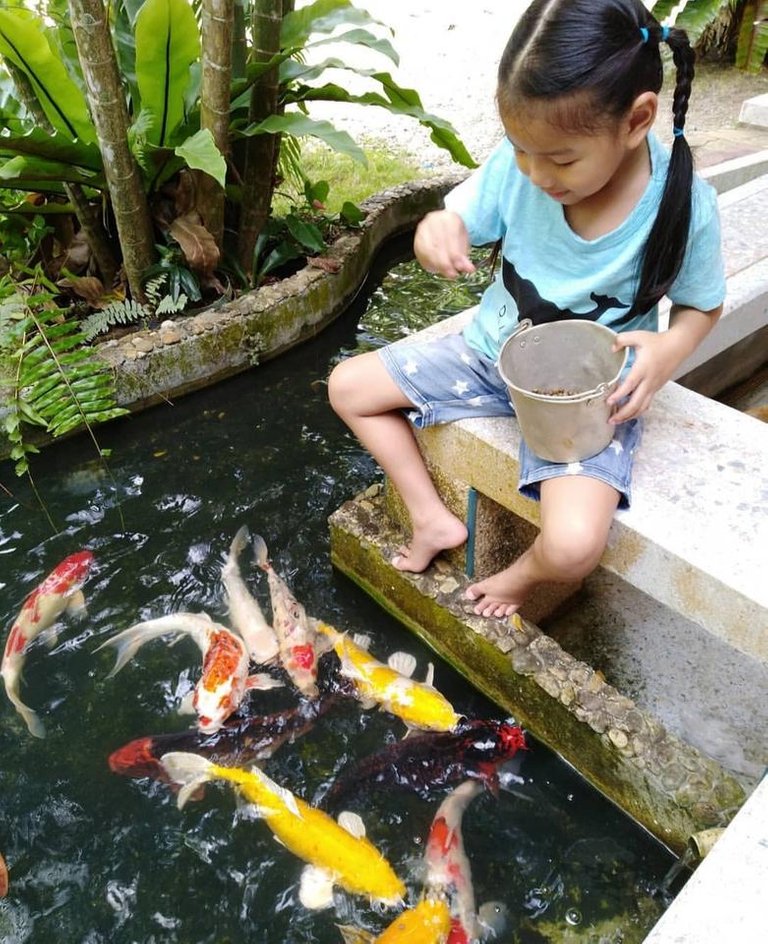 My daughter is having fun feeding carp fish.
---
....สวัสดีค่ะเพื่อนๆ steemians ที่น่ารักทุกคน❤️😆❤️.....สบายดีกันมั้ยคะ
ที่สวนหน้าบ้าน มีบ่อปลาคาร์ปขนาดเล็ก ซึ่งสามีจุ๋มเป็นผู้ออกแบบและก่อสร้าง พวกเรามีความคิดตรงกันก็คือ อยากมีมุมชิลๆสำหรับนั่งพักผ่อนหย่อนใจ จึงเลือกพื้นที่ว่างตรงระเบียงหน้าบ้าน เพื่อจัดสวนและสร้างบ่อปลา ช่วงที่กำลังออกแบบสวน จุ๋มก็ไปเลือกซื้อลูกปลาคาร์ป ความยาวประมาณ 4 นิ้ว ตัวละ 40 บาทเท่านั้น แล้วนำมาเลี้ยงอนุบาลลูกปลาในบ่อซีเมนต์​ขนาดเล็ก....สามีใช้เวลาสร้างบ่อปลาประมาณ 2 สัปดาห์ ต้องใส่น้ำพักบ่อทิ้งไว้อีก 2 สัปดาห์ จึงย้ายลูกปลาคาร์ป​ไปใส่บ่อใหม่

ที่จุ๋มชอบเลี้ยงปลาคาร์ป เพราะเป็นปลาที่มีสีสันสวยงาม เลี้ยงง่าย มีความเชื่ิอง ช่วงแรกๆที่ปล่อยพวกมันลงบ่อ พวกมันจะตื่นคนและไม่คุ้นกับที่อยู่ใหม่ เวลาใครเดินเข้าไปใกล้ก็จะว่ายน้ำหนี และไปเกาะกลุ่มกันตรงมุมบ่อ.....เวลาจุ๋มเดินไปให้อาหาร พวกมันก็จะรีบว่ายน้ำมากินอาหาร แล้วก็รีบว่ายไปแอบ.....แต่เมื่อพวกมันเริ่มปรับตัวได้ดี ก็จะชวนกันว่ายน้ำไปทั่วบ่อปลา เวลาเราเดินเข้าไปใกล้ก็จะว่ายน้ำมาหาทันที พร้อมอ้าปากเพื่อขออาหาร
---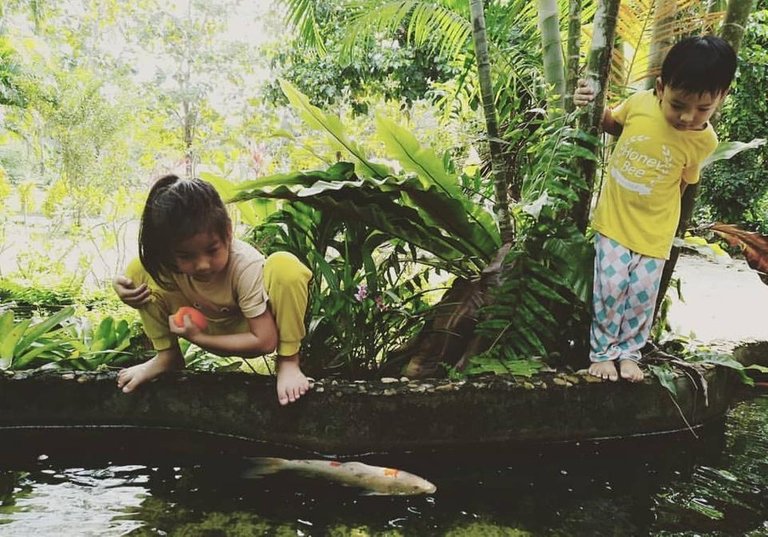 This is a favorite corner for my daughter and son.
---
ปลาคาร์ป​ถือได้ว่าเป็นปลาสวยงาม ที่ได้รับความนิยมจากผู้เลี้ยงปลาสวยงามมานาน พอจุ๋มได้เลี้ยงก็หลงรัก นั่งดูพวกมันว่ายน้ำจนเพลิน....พวกมันสีสวยสด มีความเป็นยูนีค มีความน่ารัก ถึงแม้ว่าเราจะเอามันมาอุ้มเล่นไม่ได้ก็เถอะ....ตอนนี้มี 2 รุ่น ตัวโตอายุเกินกว่า 7 ปี ส่วนรุ่นเล็กเกือบ 2 ปี น่าเสียดายที่ตอนออกแบบบ่อปลา พวกเราทำแบบน้ำตื้นไปหน่อย ปลาคาร์ปก็เลยตัวโตเต็มที่ได้เท่านี้....แต่ยังไงสำหรับจุ๋มแล้วถือว่าสวยกำลังดีค่ะ....และเจ้าปลาคาร์ปพวกนี้ก็เป็นที่ชื่นชอบของเด็กๆด้วยค่ะ ...มุมบ่อปลาคือมุมโปรดของเด็กๆเลยก็ว่าได้ บางครั้งก็มานั่งห้อยขาในบ่อ และให้อาหารปลา เพลินเลยค่ะ
---
---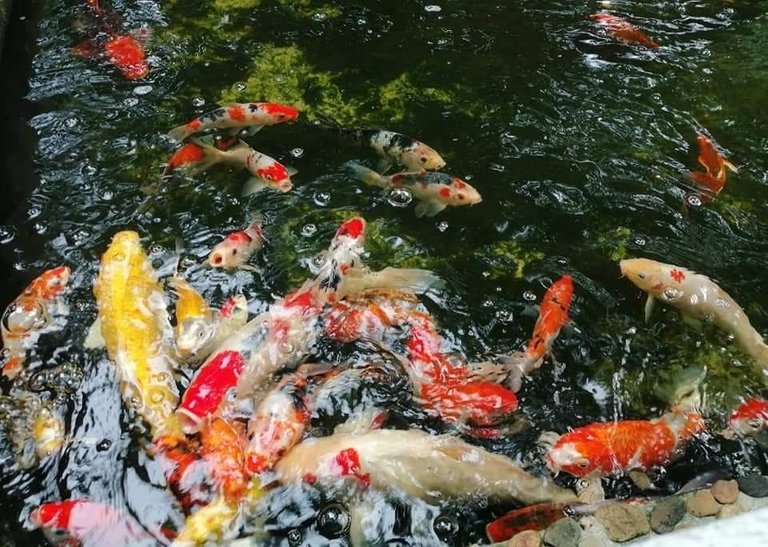 My Colorful fancy carp.
---
ในแต่ละวัน จุ๋มจะใช้เวลาเพื่อเก็บกวาดใบไม้ที่ร่วงลงในบ่อปลา เพื่อไม่ให้ใบไม้เหล่านั้นเน่าในน้ำ และไปอุดตันท่อน้ำที่ต่อไปยังบ่อบำบัด และต้องคอยสังเกต​ปลาคาร์ปแต่ละตัวว่ามีอาการผิดปกติหรือไม่ ถ้าตัวไหนป่วย ปกติมันจะว่ายน้ำแยกกลุ่ม ไปอยู่นิ่งๆตัวเดียวที่มุมบ่อ ส่วนใหญ่จะเป็นเหงือกอักเสบ หรือเป็นแผลตามผิวหนัง นอกจากดูแลเรื่องอาหารปลา ก็ใส่ยาในน้ำด้วย ตอนนี้ปลาสุขภาพดีมาก สีสด และไม่มีแผลตามผิวหนัง.....การเลี้ยงปลาคาร์ฟ​สำหรับจุ๋มไม่ยาก แต่ก็ไม่ง่ายซะทีเดียว ต้องคอยเอาใจใส่พวกมัน เพื่อที่พวกมันจะได้เป็นปลาคาร์ฟ​ที่สวยและแข็งแรงตลอดเวลา
---
My Colorful fancy carp.
---
.....สำหรับโพสนี้ขอลาไปก่อนนะคะ ไว้เจอกันใหม่โอกาสหน้า ขอบคุณสำหรับทุกการติดตามค่า💗
Thank you all for your support and see you soon 💗.
@piyamas (จุ๋ม)​