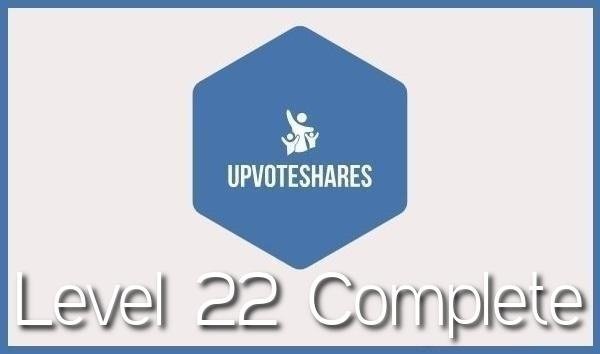 @upvoteshares is a curation project from @costanza that aims to provide reliable upvotes based on a fair model that has proven to be sustainable and scalable over time. This Project is mainly aimed towards Quality Steemians with a long term mindset. The model mechanics are better explained here.
---
Level 22
Level 22 is now fully complete after 35 out of the 50 Shares quickly went out with the 15 remaining being burned as the account reached the required 6046 HP to move on to Level 23! The fact that more shares are getting burned means returns for shareholders continues to increase as the program was designed. This also makes it more attractive for new bloggers to come in. I might be doing some promotion one of these weeks in order to get some more exposure for the project.
---
I added an extra 287HP Lease for the next 15 weeks with the small entry cost that comes with each new shares and the program continues to give out upvotes for different Tribes
---

---
Level 22 Shares
---
---
Previous Levels Information
---
Next post will be posted when the next Curation Reward Dividends will be paid out soon followed by Level 23 Opening up...
---
100% of the token earnings from this post will go towards growing this account and increasing the value of each share. As always feel free to leave remarks, suggestions or questions in the comments and let me know if I made a mistake somewhere not adjusting your voting % properly. Thanks Everyone !