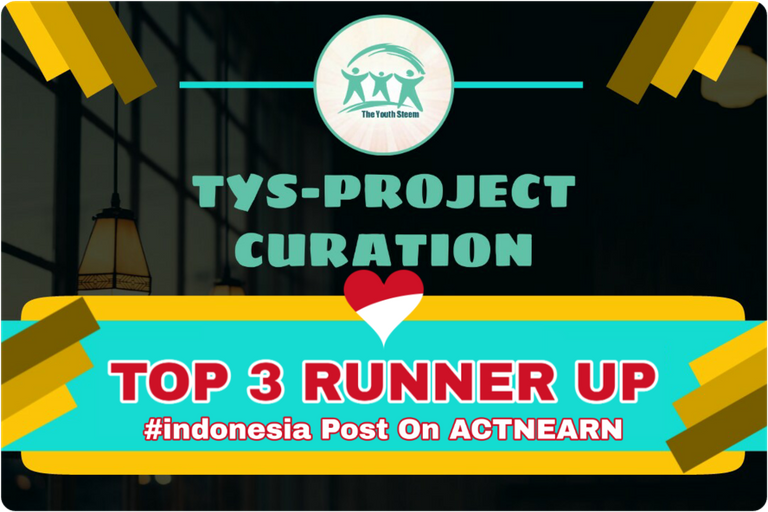 Hello community ...
@tys-project is a community that exists to support influencers and content creators on the ACTNEARN Platform. We have new ways and concepts to grow the ecosystem Steem Blockchain in front of the wider community in real terms. We are working to make a campaign campaign to monetize social media to STEEM Blockchain.
Mainstream social media will certainly be more effectively used as a forum to invite users and investors on the STEEM Blockchain. Meanwhile we will also think to deal with geopolitics that occur in several countries. We believe that the presence of ACTNEARN platform will continue to drive the STEEM Blockchain ecosystem in the future.
As a concrete action, we are present on the STEEM Blockchain to start this campaign. Every day our team will choose 3 posts that are entitled to get more support from our curation team. We are proud to present 3 TOP RUNNER today in taq #indonesia that have been chosen by our curator team.
The following are daily posts curated by @tys-project and our curator team.
Congratulations...!!! 👏

https://www.actnearn.com/realityhubs/@razack-pulo/pulotravels-240-menikmati-ramen-halal-di-shinjyuku-ramen-ouka
Setelah membeli sejumlah pakaian di UNIQLO, kami berjalan menuju sebuah restoran ramen halal yang bernama Shinjyuku Ramen Ouka. Jaraknya cukup jauh, sekitar 20 menit jalan kaki baru sampai kami ke restoran tersebut. Tiba disana sekitar pukul 21.30, dan restoran hampir tutup.
---
https://www.actnearn.com/zzan/@bahagia-arbi/bubuk-kopi-arabika-gayo
Hari ini saya ingin menunjukkan kepada Anda beberapa gambar dari Bubuk Kopi Arabica Gayo yang di bawa oleh teman-teman saya dari Pondok Baru, Bener Meriah. Mereka berkunjung ke Bireuen kemarin.
---
https://www.actnearn.com/realityhubs/@zainalbakri/melirik-keindahan-sabang-surga-di-ujung-barat-indonesia
Beberapa waktu yang lalau saya berkesempatan mengunjungi Pulau Sabang. Sabang yang menjadi titik nol wilayah Indonesia dari ujung barat, merupakan kawasan wisata yang sangat populer. Banyak wisatawan dari berbagai daerah di Indoensia datang ke sini, bahkan tak sedikit dari berbagai negara di dunia.


Delegate Steem Power
The Steem Power delegation to support our community is growing.
Your delegation will be used with wisdom to support great content creators and the growth of a more stable ecosystem.