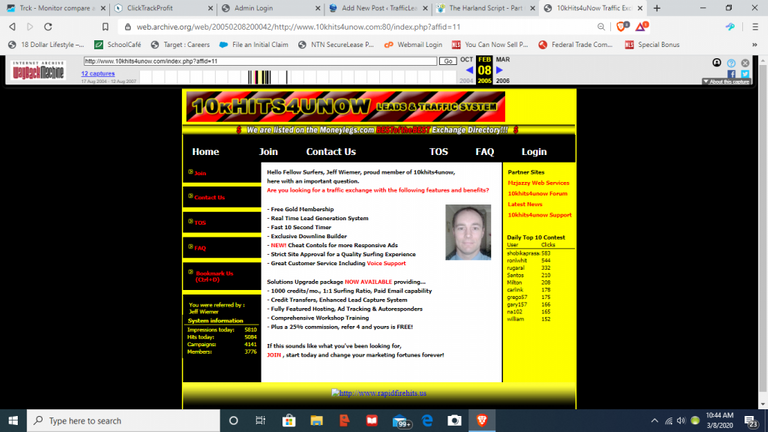 10khits4now has arrived!
Hi Again! Click HERE for Part 6 of the story in case you missed it.
It is now March 8th 2005. The following is going on in the world. My daughter turned 2 and I am a stay at home internet marketing dad! My son was 7 and in 2nd grade. In the world...
The US president was George W. Bush (Republican). In that special week of March people in US were listening to Candy Shop by 50 Cent. In UK Over And Over by Nelly featuring Tim McGraw was in the top 5 hits.
The Good Humor Man, directed by Tenney Fairchild, was one of the most viewed movies released in 2005 while The Killing Club by Marcie Walsh with Michael Malone was one of the best selling books. On TV people were watching The Contender. If you liked videogames you were probably playing Doom RPG or Club Penguin.
The People's Republic of China ratifies an anti-secession law, aimed at preventing Taiwan from declaring independence.
10khits4unow merged with 10khits4u creating the first self replicating lead capture pages in the Traffic Exchange Industry!
We were happy to have a new design and now we did not look like all the other Harland Script sites so we set ourselves apart as we set our course for our first 25000 members (3776 in the picture above)! 10khits4unow would reign supreme in the TE industry for the next few years. We had weekly Sunday Meetings sometimes exceeding 100+ in our Conference Room. I was working closely with Doug Williams from 3Step and Moneylegs and earning a nice side income with that. This proved that you could earn additional income streams from creating a marketing funnel without actually sending the traffic to these extra earning spots. The principle still works and carries on at Trafficleads2incomeVM. So, was this too good to be true? Was there trouble ahead? Tune in next time to find out!
Rob Gehring – Owner of Trafficleads2incomeVM and Leader of Team Massive Success