7 Days has passed since my call on CARDANO, you can check it here and I have to say it has been one of my best trades ever, it has overpassed my target by far but, look, the most important when trading is to have an exit plan, for either, taking profits or stop loss.
Anyway, now I think is time for BITCOIN for recovering some of the dominance left this past few days in favor of the altcoins, an so we can see how the crypto king is really knocking almost the 20000 USD level which is tremendous!!!
For CARDANO, I think it has entered in the correspondent correction, inevitable but not a major one.
In the 4h chart you can see my master plan with ADA: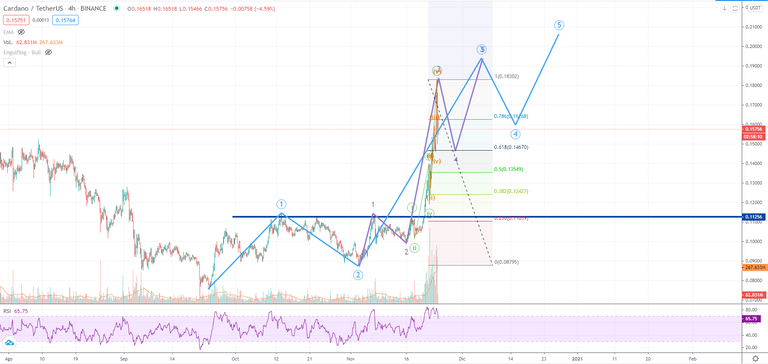 I tried to diferenciate major and intermediate EW count, so, in my opinion, ADA has ended the 3rd wave within the violet 5-waves count and now is correcting to 4 in violet.
Maybe the 1 Hour chart give us a better vision: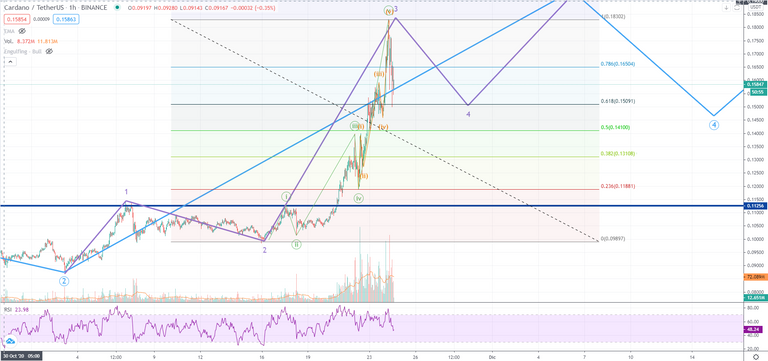 I think a good ground should be the one marked by the 0.618 FIBO retracement of the whole Violet 3rd wave, which is placed around 0.15 USDT so, my entry will be there.
Again, as I said in the past, it is interesting to see how the Open Interest has anticipated the correction on ADA, as you can see below, despite the higher prices, the open interest presented a declining trend meaning that longs were closing.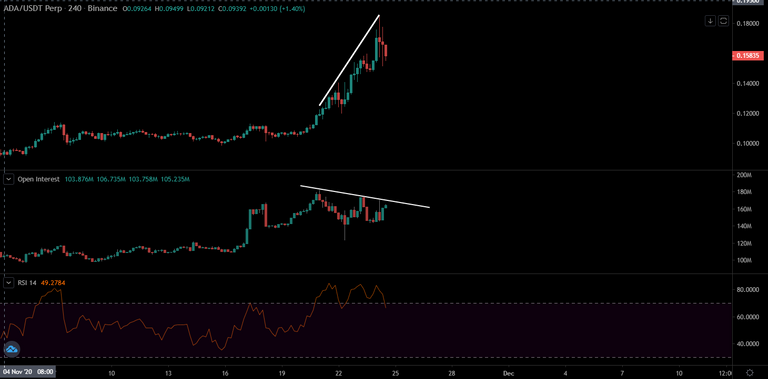 Enjoy!
---
I'm sharing only my quick trading Ideas here, not financial advice at all ;-)
*Disclaimer: This is just my personal point of view, please, do your own assessment and act consequently. Neither this post nor myself is responsible of any of your profit/losses obtained as a result of this information.

---