Not long after we last highlighted positive coverage of our case in Cointelegraph, they were good enough to cover the actual filing of the case with a new article:
$600M Crypto Ad Ban Class Action Filed in Australian Courts

Facebook and YouTube are facing a class-action lawsuit alleging anti-competitive behavior in prohibiting crypto advertising in 2018.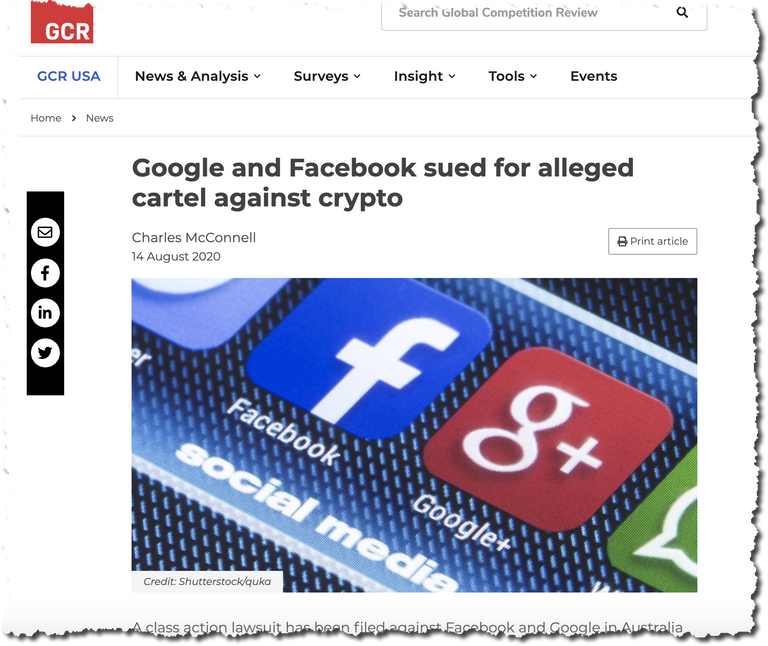 The trade journal Global Competition Review, based out of Hong Kong, wrote a pretty extensive article about the case which is available to their subscribers ($).
Google and Facebook sued for alleged cartel against crypto

Facebook and Google have entered into contractual agreements with their customers and competitors in the markets for the supply and acquisition of advertising to ban crypto-related advertisements, which constitutes a per se violation of Australia's anti-cartel rules, Hamilton told GCR.

The two US-based technology platforms supply advertising, but also acquire advertising for resale and for themselves, Hamilton said. That puts them in competition with all businesses that also supply and acquire advertising services, so Facebook and Google essentially compete with all of their customers in those markets, he added.

Facebook on 30 January 2018 implemented a contractual policy banning all crypto-related advertisements, while Google did the same on 14 March 2018, Hamilton said. That provision is "a clear restriction on the supply of services", he said.

Establishing liability against the companies should be straightforward, Hamilton said. The companies do business in Australia, and they cannot deny that there are contracts with their customers, he explained. Facebook and Google have admitted they are in competition with a lot of businesses – perhaps a strategy to fend off antitrust claims elsewhere – Hamilton added.

The class action lawsuit has also claimed that Facebook's and Google's conduct had the purpose and effect of substantially lessening competition in cryptocurrency markets, as well as violating consumer law statutes.
If you want to read the whole thing, get in touch we can send it out privately.
Finally a note, the full filed documents, now with the return stamps from the Court in Australia, are on our website link here.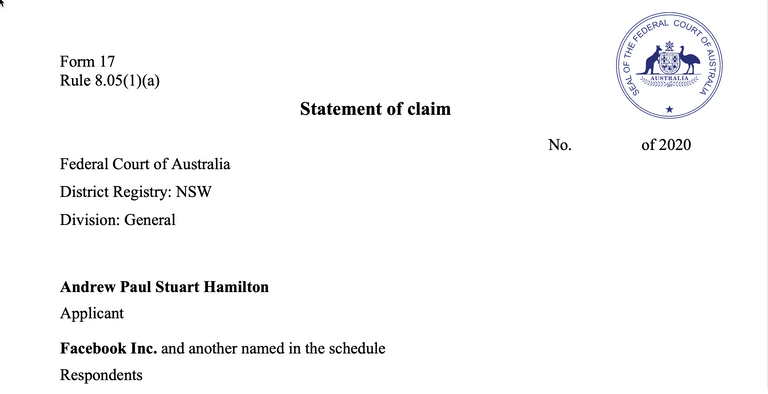 ---