Updated 2020-07-13 at the end with another YouTube scam.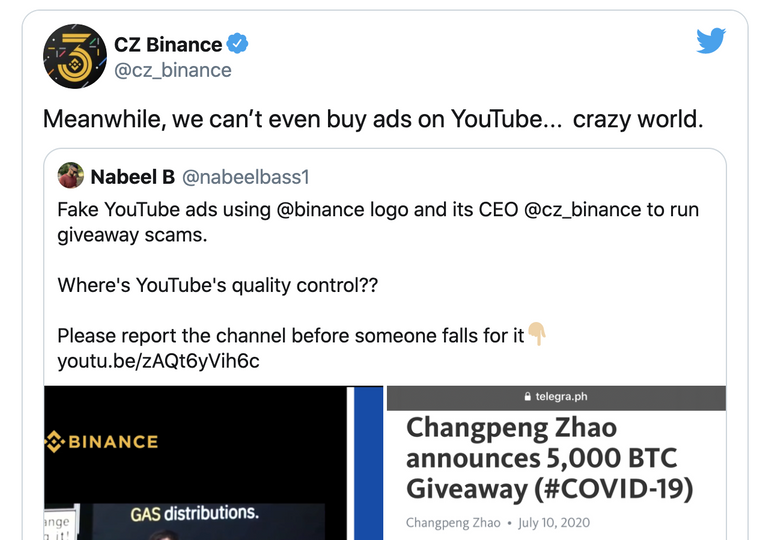 First a note for CZ of Binance: if you're reading this, get in touch with me. You and your company have a huge financial claim against Facebook, Google and Twitter in a class action lawsuit. There is zero risk for you in joining, and huge potential upside. You can remain completely anonymous if you wish.
Crypto Currency exchanges like Binance suffered huge damages to revenue and other loses during 2018 and @jpbliberty is going to prove in a court in Australia that an illegal cartel, formed by these three advertising companies, caused a lot of that damage.
On Saturday morning, as I woke up to make French Toast and get my kids ready for the beach I saw this tweet from Changpeng Zhao aka CZ, founder of the massive crypto exchange, Binance:
Wow. The video linked to in the quoted tweet is still up. I'm watching it right now as I type this. It has 20,466 views at 10:32 AM 2020-07-12 (Israel time).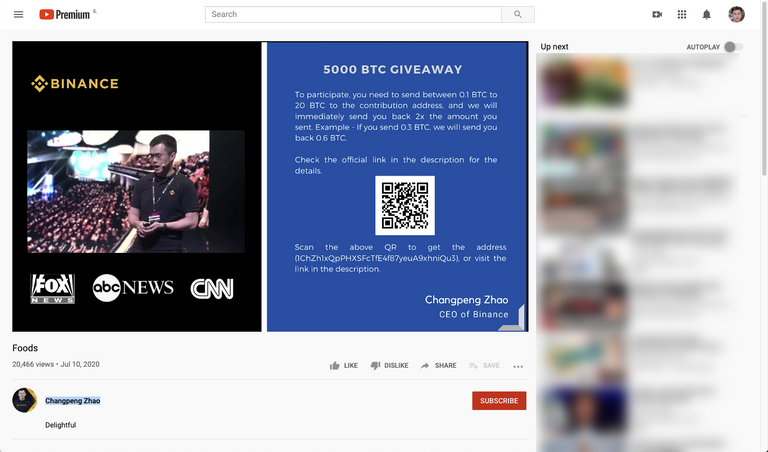 I've seen plenty of this kind of crap on YouTube and Twitter, Elon Musk, Tesla & Space X are other favourite figures the scammers use to run their scams through.
Clearly the promise of returning 2x your Bitcoin is a scam. Any funds sent to the address listed will be gobbled up with no way to get your funds back.
This type of phoney scam has existed for many years, certainly long before Crypto Currencies like Bitcoin were invented. I've now reported that address to the excellent scam-alert.io site (it wasn't reported before).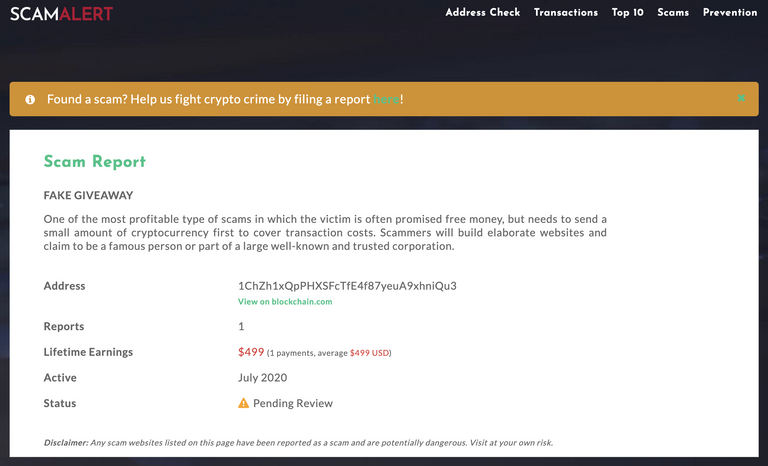 Zcrypto.com wrote about this tweet and gave some background:
The YouTube censorship ban has been active for 12 months and counting. According to the popular video viewing platform, the censored videos, mostly crypto-related content of all kinds, including educational contents based around topics like mining and trading, were taken off the platform after allegedly violating YouTube's terms of service. Just before CZ's recent appearance in the YouTube giveaway scams, Elon Musk was also used as a cover face for the promotion of another fake Bitcoin giveaway.

A cybersecurity firm responsible for tracking down the amount of Bitcoin sent to 66 vanity addresses which contained names like Elon Musk, SpaceX, Tesla (eg.1musk, 1ElonMusk) were found to have received 214 in Bitcoin in total, which is currently worth almost $2 million at the current exchange rate. Many other big names have been used to promote scams of this kind. From the CEO of Coinbase to the founder of Amazon, the co-founder of Apple, and the former founder of Google are a few from hundreds of big names.
However, like most in crypto, they fail to make careful note of something CZ said in his tweet:
"we can't even buy ads on YouTube"
That's right, the Crypto Currency Advertising ban put in place in early 2018 by Facebook, Google and Twitter still continues to directly affect some of the largest busiensses in Crypto. He did not say anything about censorship or demonetisation of user generated, legitimate crypto content: he mentioned buying ads on YouTube. He knows that is hard to do, even though some restrictions have been relaxed, the overall attitude from the big social media advertising companies toward crypto is still negative.
You can read more about our court case on our website JPBLiberty.com and you can join the JPBLiberty Class Action law suit with this link.
This is probably the best short elevator pitch about our class action that I've ever done but please feel free to send me any questions you have in public or private, here on Hive or over on Twitter:
Cardano
Update 2020-07-13
This showed up overnight, yet another one of these scams. Interestingly the YouTube video says it has been taken down by the uploader, not YouTube.
It has come to my attention that a scam has been floating around using my conference keynote to promote a giveaway https://t.co/x2VV2niY68 this is a scam. Please report it to YouTube. We will take legal action if we can against those responsible.

— Charles Hoskinson (@IOHK_Charles) July 12, 2020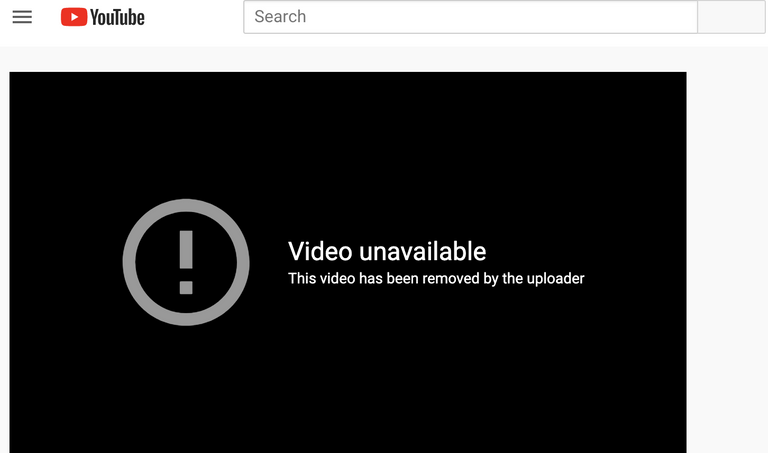 Feel free to give my tweet a boost if you want to help out:
Please DM me. You have an enormous billion dollar claim in our #CryptoClassAction over this.

— 🇮🇱Dr BrianofLondon.me (@brianoflondon) July 11, 2020
---