Just in case you didn't know, a teetotaler is someone who abstains completely from alcohol. A big thanks to @cryptobrewmaster for the latest addition to my #hivegaming experience!
---
Stop by the Inbox to pick up your reward!
---
CryptoBrewmaster - Login Options
Just because I don't drink alcohol, doesn't mean I don't want to make a digital batch lager every now and then.
In order to enter the land of crypto brewing:
Click this link: www.cryptobrewmaster.io
Select your preferred login choice. I personally have been moving away from Google products, but it is encouraging to see main stream login options available for blockchain games.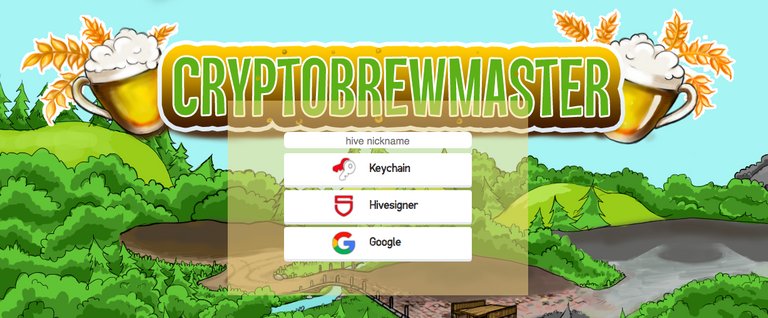 CryptoBrewmaster - Main Screen
Once you log in you will have access to the Crypto Brewmaster Main Screen. I would consider this a minimum viable product as many of the interfaces are currently locked.
Regardless, I would recommend check out ...
the brewhouse - where all the creating takes place
the pub - where all of the transactions take place - buying and selling
the inbox - you might just have a reward to claim
the backpack - where you store your ingredients and wonderful brews
---
Stop by the Inbox to pick up your reward!
---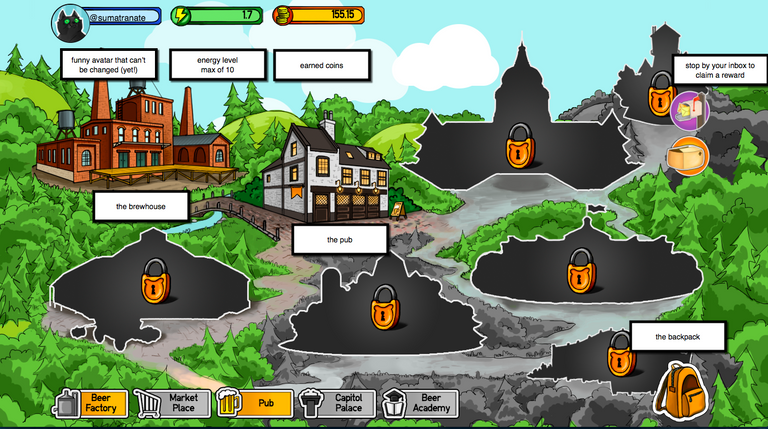 You can navigate to different screens by user the menu located at the bottom of the screen.

CryptoBrewmaster - The Pub
I would highly recommend that you stop by Crypto Brewmaster Pub first. After admiring the great artwork, check out the following:
the bulletin board - this is where you come to complete daily tasks which provide you with the supplies you need to make your brew
the bartender - you can buy a lager to give you an extra energy boost - certain amounts of energy are required to complete daily tasks
the cash register (aka beer trading) - this is where you sell the beer you made at the brew house



CryptoBrewmaster - The Brewhouse (aka Beer Factory)
Besides making the best lager, you want to earn CBM (Crypto Brew Master) Tokens. You can't earn unless you make lager at the Crypto Brewmaster Brewhouse.
Note: You can see you CBM token place at the total of your screen.


The following ingredients are required to make a lager:
2 Row Barley Malt
Brewing Water
Lager Yeast
Local Aroma Hops
Local Bittering Hops



Higher quality ingredients give you a higher percentage of creating finer lager, which in turn will bring in more revenue.
This is what you Brewhouse screen will look like when you are brewing some lager. This screen will tell you how much longer it will be fore your lager is ready.
If you want to speed up the process brewing process, you can click Finish Now (but note that speeding up the process comes with a fee).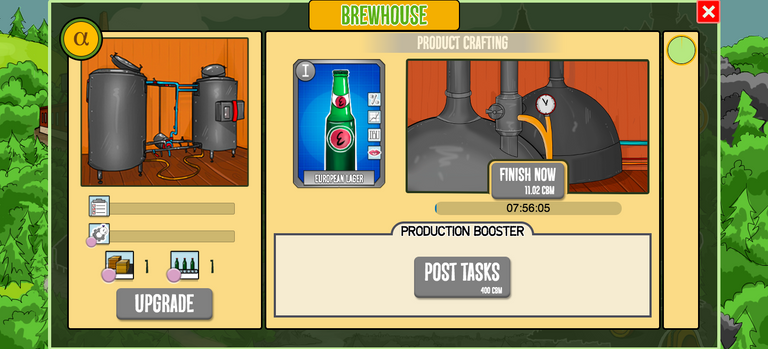 The Post Task and Upgrade buttons are currently disabled.
Final Thoughts
Although
Crypto Brewmaster
is still in early development, the game has a lot of things going for it. The graphics look great and the gameplay is easy to follow.
I look forward to brewing up some more digital lager in the near future.
Thanks for stopping by!
@SumatraNate
---
Stop by the Inbox to pick up your reward!