I see a lot of this regarding the price of crypto's:
SKIP TO 0:41
---
"Nobody knows if the price is gonna go up, down, sideways, or in fucking circles."
Not quite the case when it comes to bitcoin on a yearly chart, in fact, the price is almost down to an exact mathematical law. When you put the price of BTC into a logarythmic graph, this is the chart you produce: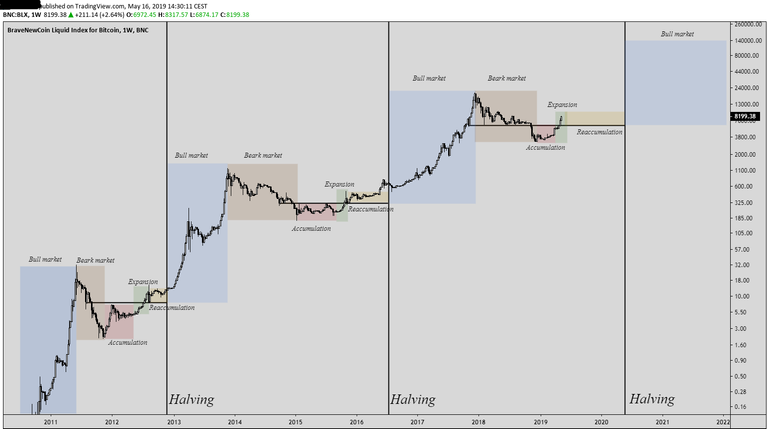 A pattern that many will exploit
As you can see, the price of bitcoin has been tethered strongly to it's halving pattern since 2011. When I first saw this graph, we were in the red accumulation zone. Unfortunately, I did not buy enough bitcoin, instead opting for more alts which have famously decoupled from bitcoin in the last bear market.
So I missed gains on the expansion zone we're going through now, that's not a big problem. I've still got until Q2 2020 to accumulate as much as possible.
You may also have noticed that our next bull market is due to peak in Q1 2022. I am personally a HODLer, however it should be said that hodling crypo after this point is (financially) a bad move unless you have thousands of steem locked up in steempower like myself. I won't sell my steempower.
---
Halving Countdowns
Below I have included the countdowns to both the litecoin and bitcoin halvenings, provided by @coingecko