A reminder that our final price is 14.54 STEEM cents (0.1454 STEEM) and the cashing-out process is going smoothly.
This is just a quick message about the next couple of days. On Monday, MAPR does its payouts and changes the token price, so we are now waiting for that to happen so that more MAPR buybacks are on that market. So, if you see very little activity today, Sunday, it isn't because I've forgotten, but because am just waiting to sell off more of our MAPR holdings at a slightly better price. This has already been factored into the final bonus I added to the grand total.
One other reminder is that for you, the seller, it is fastest to just place a sell order at the final price and wait for it to be triggered. This is more efficient than checking in every few hours.
Below is just a repeat of the data shown in the previous post.

ONECENT News
It's been a long journey, with a starting price of 1 STEEM cent, an opening day average of about 8 cents and a closing price, 200 days later, of just over 14.5 cents.
Here are a couple of graphs to illustrate that journey.
This tracks the ABV over the whole period.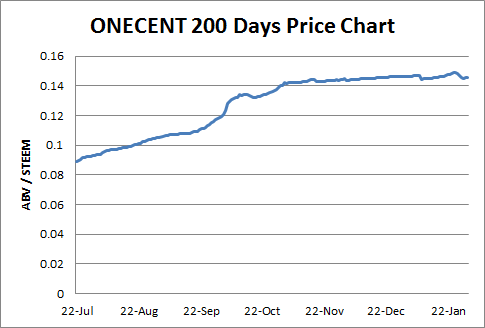 Whereas this is a record of the trading prices.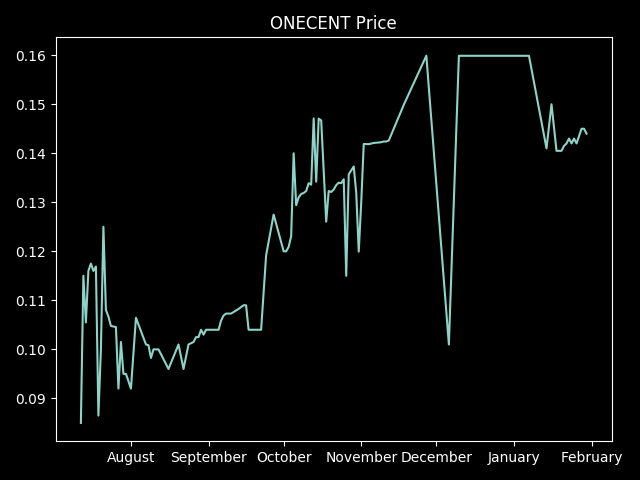 Taking the ABV from Day 1 to Day 200, the price increase comes to 38.6%, equivalent to an APR of 70.4%.
Worth reflecting that this is within a Steem economy where an upvote can yield about 21% APR.
I suspect most players bought well below 8 cents and are sitting on very nice profits.
I shall now place buybacks for the ONECENT token at a final price of 0.1454 STEEM. Please note that I am still selling off the remaining assets. If you see that this buyback price has sold out, then please be patient and I will fill it up again. This should not take longer than 7 days.
I trust everyone is satisfied.
Have a fine day!
---
Crypto News
See above.
The TULIP Mania Game is about to start Round 3.
---
ONECENT Freebies
From Day 190 onwards, as promised, these bonuses will now be used to inform ONECENT token-holders that the game is nearly over and to be ready to cash out their profits.
So, instead of having a few winners, these comments, upvotes and tokens will be cycled through all existing users. This will continue until all users have sold their tokens to realise the profits made through ONECENT. This will continue into the cashing-out week after the fund has defined its final price.
As this is being done manually, you may receive an upvote even after you've sold your tokens. The upvoter will be updated daily, so you will eventually be taken off the list.
Thanks for playing ONECENT!
---
---
Building Steem's Fintech

[BUY MAXUV] - [READ MAXUV]

[BUY MAPR] - [READ MAP REWARDER]

[BUY MAPXV] - [READ MAPXV]

Plus Some Serious Funtech

ONECENT: The First Strategic Token Investment Game (STIG)

---
Recent Posts
If you are reading this article on the steemleo.com platform, then you will see all recent posts listed in the footer below.
If you're not, then you won't - but you could.
Anyway, it saves me from updating these links every day, which I haven't exactly been doing rigorously.
Please do not upvote older posts - I know the vote buttons should be disabled, but they're not!
Instead, you can use the $rewarding command in a comment to generate an upvote for the author.
Full details of the command parameters at steemrewarding.
ONECENT: New Strategic Token Investment Game Now Open
Posted via Steemleo