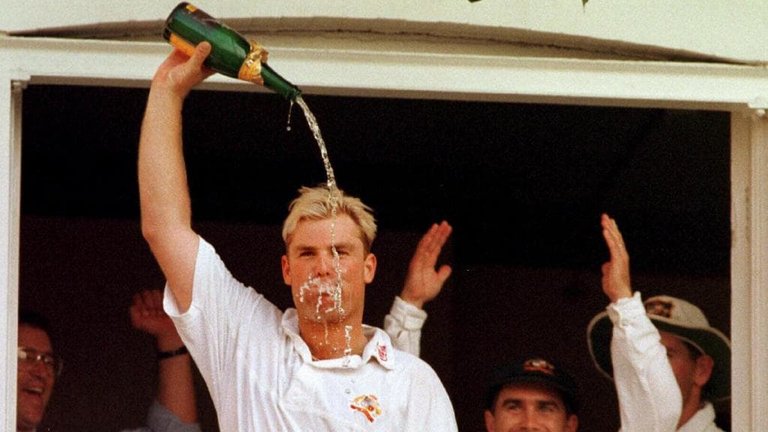 source
Before I go on to describe my showdown with Warney perhaps I should take a moment to explain who Shane Warne is to those of you less versed in the greatest game known to mankind. If you were picking an all-time cricket world 11 he would definitely be on your shortlist as the spin bowler to include. He took a dying art (leg-spin) and brought it back into cricket with such success that every other team (at least outside the sub-continent) was suddenly looking to find it's own attacking wrist-spinner who could win them games from nothing. In pure athletic terms, Warne wasn't much to look at with his bleach blonde hair and chubby physique but my god could he spin a cricket ball. Here are a few of his finest deliveries
Beyond his obvious talent was just a burning desire to win. He was one of the greatest competitors on a sports field you would ever come across and he took great joy in destroying opposition teams especially England over an international career that spanned 15 years.
As a result, I grew-up hating Warne, the spearhead of an Australian side that humiliated English cricket for over a decade. Then in the year 2000, he came to play in England, just down the road from me at Hampshire. At the time, I was studying my A-Levels in a non-descript town called Basingstoke (sarcastically known by locals as Amazingstoke because it's that boring a place to live). This was in the days before Hampshire had built their new all singing all dancing Rose Bowl stadium that is now one of the premier grounds in the country and as with most county teams they would usually play a game or 2 a season at a smaller venue which in 2000 happened to be in Basingstoke.
The ground itself was quite literally at the end of the road my college was located on so being the studious individual that I am I bunked off from my classes to go and watch the match. I am struggling to find a scorecard for the game and even cricinfo's link seems to have been removed (it was nearly 20 years ago) but I am 99% sure that Hampshire were entertaining Durham. I remember watching former England Test batsmen Robin Smith score a half-century for the home side and Durham were then blown away in both innings losing by a monumental amount and ensuring that the game finished early.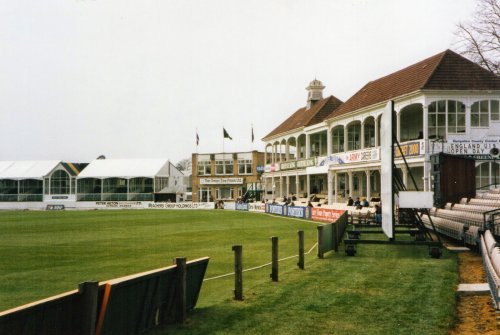 The Old Pavillion at May's Bounty Ground, Basingstoke, Hampshire source
My friends and I not being too keen to go and continue our school work hung around the ground and my one mate who actually played for Basingstoke on the weekends went and got some gear so we could have a net. As we were messing around with the bat and ball who should make an appearance but none other than the blonde bombshell himself, Shane Warne. We had a chat with him, asked him how he was enjoying England and he joked with us about bunking off school. Then he asked if we wanted him to chuck down a few deliveries at us! Without any hesitation, we all said "yes!" In footballing terms, it would be like Diego Maradonna asking "would you like a kick-about?" or in tennis Roger Federer suggesting that you hit a couple of balls with him.
We all faced an over each from Warne in the nets and I am proud to say that I survived! Take that Mike Gatting, Graham Gooch and Andrew Strauss, here's an Englishman that took on Warney and came out on top - I'm sure he was giving me his best stuff ;-)
Warne had a great impact on the Hampshire dressing room just as he did within any team he was a part of. He was a fantastic thinker about the game of cricket and had it not been for his many indiscretions off the field there is a good chance he would have captained his country. While he was competitive to his core he also valued sportsmanship. I still remember in the 2005 Ashes in that epic Test at Edgbaston (a game I was at, a story for another time) him running across the pitch to congratulate Andrew Flintoff who had just smashed him all over the park for playing a counter-attacking innings that left the game in the balance. That kind of act alongside the fact that he took time out of his life to bowl at some kids in a net in a dead-end English town tells me that beyond the plastic surgery, the celebrity girlfriends and the many fallings out with the cricket authorities was a guy who loves the game of cricket! It was my pleasure to have met him and faced him in the nets, thanks for memories Warney.
This my entry to @abh12345.sports writing contest. You can find details here