The reigning champions will be looking to make it back to back wins and as we'll see from the squad analysis below, Mumbai Indians have stuck with a tried and trusted plan that has made them one of the most successful franchises in IPL history.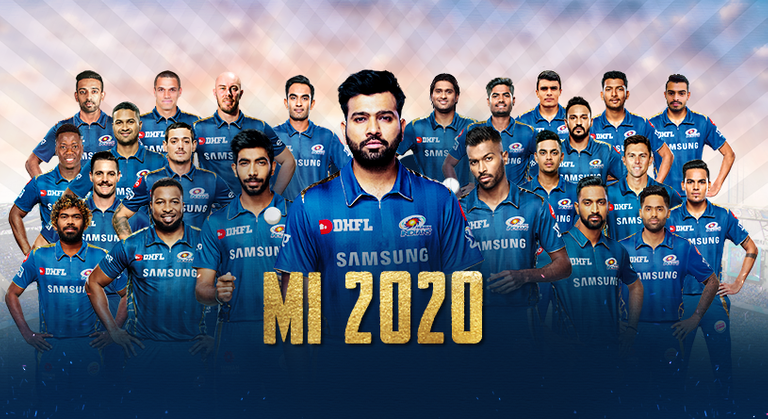 The top of the order will be dominated by 2 of the classiest players in world cricket. Rohit Sharma will lead his team from the front and for company, he will have newly appointed South African white-ball captain Quinton de Kock. Unlike a few of his international colleagues, Rohit comes into the IPL without the scars of the battering that New Zealand have handed out to India in the recently concluded ODI and Test Series there. He did play in the T20 series scoring a couple of half-centuries and helping India to a 5-0 whitewash before limping off during the final match with a calf injury that saw him miss the remainder of the tour - India didn't manage to win another game without him! Mumbai will undoubtedly be hoping that their captain can return to form and fitness in time for the IPL to avoid a similar fate!
To say that de Kock comes into this tournament on the back of some good form would be an understatement. The left-hander had a great 2019 and has now carried that on in all forms of cricket in the early part of 2020. His strike-rate in the 6 iT20 matches that he has played against England and Australia so far this year is an eye-watering 182.45, the highest of anyone in world cricket this year to have played 5 or more iT20 innings. As cover for these top-order greats, Mumbai have brought in Australia's Chris Lynn who depending on how they shuffle the pack in regards the international spots could also bat at number 3. Lynn has spent an ok couple of seasons at KKR but should find the bouncier conditions on home pitches in Mumbai more to his liking.
Moving down the order and Mumbai have a couple of uncapped players in Suryakumar Yadav and Ishan Kishan that again will be worth looking at when it comes to selecting a fantasy team. Yadav may not be a big name like the players immediately above and below him in the line-up are but he is remarkably consistent and given that he plays his domestic cricket in Mumbai he knows the conditions as well as anyone in the squad. Kishan meanwhile has shown glimpses of the talent that he posses over the last couple of years and Mumbai will no doubt be hoping that the 21-year-old can really cement his place in the line-up in 2020.
Last year Rohit, de Kock and Yadav all faced in excess of 300 deliveries and all struck at around the 130 mark per 100 balls. The plan was very simple, lay a good platform with hopefully one of those players going big but with the knowledge that there was hitting power in the lower-middle order that could accelerate the side to an above-average score. Hardik Pandya was the main man in that respect and his striking in IPL 2019 was second only to Andre Russell in its level of devastation. Kieron Pollard also showed why Mumbai have stuck with him over the years by producing some meaty innings late in the piece and between them, Pandya and Pollard struck 51 sixes in last years tournament.
While Pollard rarely bowls these days in T20 cricket, Hardik Pandya is also a key player with ball in hand and is joined in that respect by his brother Krunal Pandya who gives the side balance with his left-arm spin and is a more than capable left-hand batsman. In fact, his role in the side is often understated and while he doesn't possess the star power of his younger brother, the flexibility that he gives the team both in batting where he'll often be sent in higher up the order to protect those big hitters or give the opposition a headache with left-hand/right-hand combination (a tactic that MI have traditionally tried to use) and in bowling where again he'll be used to target players who don't fancy his slow-left arm spin is crucial. Between them, the Pandya brothers bowled 88 overs in IPL 2019 or to put that another way they contributed on average 5.5 overs a game during which time they took 26 wickets, a contribution that takes the pressure off the 4 specialist bowlers and gives Rohit Sharma great options as captain.
In terms of those specialist bowlers, Mumbai have arguably the best white-ball quick in the world in the form of Jasprit Bumrah. When you consider that he bowls most of his overs in the powerplay and at the death, where you would expect most bowlers to be going at over 8 an over then his stats from last year are scarcely good. There did seem to be a sense with teams last year that they were just hoping to survive Bumrah's 4 overs and that, of course, opens up opportunities at the other end when batsmen are forced into risks against the remainder of the attack. In fast bowling terms that attack now includes Trent Boult who was transferred over from Dehli Capitals. His quality and experience seem like the perfect fit for this side and his left-armers replace those of Jason Behrendorff who has been struggling for fitness since last year's World-Cup. Another import is that of Australian quick Nathan Coulter-Nile who is likely to provide competition with the evergreen Lasith Malinga. As we saw in the final last year, writing-off the Sri-Lankan great is never a good idea but at some point, you feel Mumbai will need to move on and Coulter-Nile is a good, no-nonsense fast bowler who also hits a very long ball.
Perhaps the one potential chink in the armour for Mumbai Indians is the lack of high-quality experienced spin bowler to really dominate the middle overs. Rahul Chahar found a spot in the team last season and put in some impressive displays which won him an iT20 cap for India last summer. Being the only real match-winning slow-bowling option puts a lot of pressure on the 20-year-old and as we often see with young wrist spinners the 2nd and 3rd seasons after batsmen have had a look at your variations are often the hardest. For proof of that just remember the plight of Mayank Markande, another young Indian leg-spinner who lit up IPL 2018 for Mumbai Indians and managed just 3 games last season before being transferred out to Rajasthan Royals.
Predictions and Betting
Mumbai can be a little bit up and down in regards their season on season performances but having retained the core of their 2019 winning squad as well as having added quality with the likes of Lynn, Boult and Coulter-Nile it's difficult not to imagine they will be challenging in the later stages of the competition. Of course, form and fitness will be major considerations particularly for their Indian stars Rohit Sharma, Hardik Pandya and Jasprit Bumrah.
Batting wise, de Kock is in such incredible form that it's difficult to look beyond him for top-runscorer. However, Suryakumar Yadav will also provide very good value on that front.
Bumrah will be the main man in wicket-taking terms but Rahul Chahar may also prove a worthwhile bet at more attractive odds. Given the lack of credible alternatives that Mumbai have in the wrist-spinning department, the 20-year-old will likely bowl a lot of overs in the middle portion of the innings with opposition knowing they need to chance their arm against him with the likes of Bumrah, Boult and Malinga to come at the death.